Townsend, Tennessee - Fly Fishing in the Great Smoky Mountains, East Tennessee and Western North Carolina

If you don't see today's fishing report, please refresh your browser to empty your cache.
Welcome to the Fishing Report from Townsend, Tennessee in the Great Smoky Mountains. At 6:09 am, the temperature is 49.8 degrees. Today will be sunny with a high temperature in the low 70's. It may be a little breezy at times today. The low tonight will be in the mid 50's. Expect rain tonight and tomorrow with a high temperature in the high 50's to low 60's.
One weather model I see this morning, indicates rainfall totals of .5" to 1" tonight and tomorrow.
The long term weather forecast should provide great water temperatures for trout through April 25th. Tonight and tomorrow will be a little chilly. That, combined with rain, may drop the water temperatures somewhat. How low they go, I don't know.
Little River is flowing at 264 cubic feet per second (cfs) or 2.13 feet on the flow gauge. Median flow for this date is 327 cfs. The water temperature is 48.6 degrees.
We have the potential for fairly high water in the Smokies streams Tuesday through Wednesday. I don't know if that will happen. You can check the USGS flow gauge by clicking the link further down the page. Pay attention to the gauge reading in feet. Always be careful wading, but, if the gauge is reading 2.5 feet or higher, be especially careful. Pick your wading spots or find a smaller stream to fish.
Fishing should be good today in the mountains, especially this afternoon after the water warms. The temperature should warm quickly into the 50's.
I would try nymphs early, then switch to dry flies or a double rig with a dry and a dropper this afternoon. Watch for hatches or aquatic insects on the water. If you see rising trout, switch to the dry fly. You may see March Browns, Hendricksons, caddis, stoneflies or Blue Wing Olives on the water.
Tennessee Valley Authority (TVA) will have long periods of "no generation" on the Clinch River today. There will less periods of no flow on the Holston. Right now, the Clinch looks very good for anglers. Check the TVA website and see if their schedule works with yours. Fishing on the Clinch remains very good.
My neighbor, Will, told me yesterday, he would not be here this week and one of his cattle will probably give birth. He asked me to check on her daily or more often.
Growing up on a farm, I've seen it done. But I've never done it myself. I guess I have three options if this cow has problems.

1. Call a veterinarian
2. Call Will
3. Pull the calf out myself
I am hoping to walk down to the field and see a cute little newborn calf standing next to it's mother.
I'm a little nervous about option three. No, it's worse than that. I'm VERY nervous about option three. I do own a "come along". I better find it in the barn so I will be ready.
If the first three options don't work, I will probably call the fire department. After all, they retrieve kittens from trees. Or, maybe that is a myth. I may just call 911 and ask them for advice.
Wish me luck!
Have a great day and thank you for being here with us.
Byron Begley
April 11, 2016
Respond to: Byron@littleriveroutfitters.com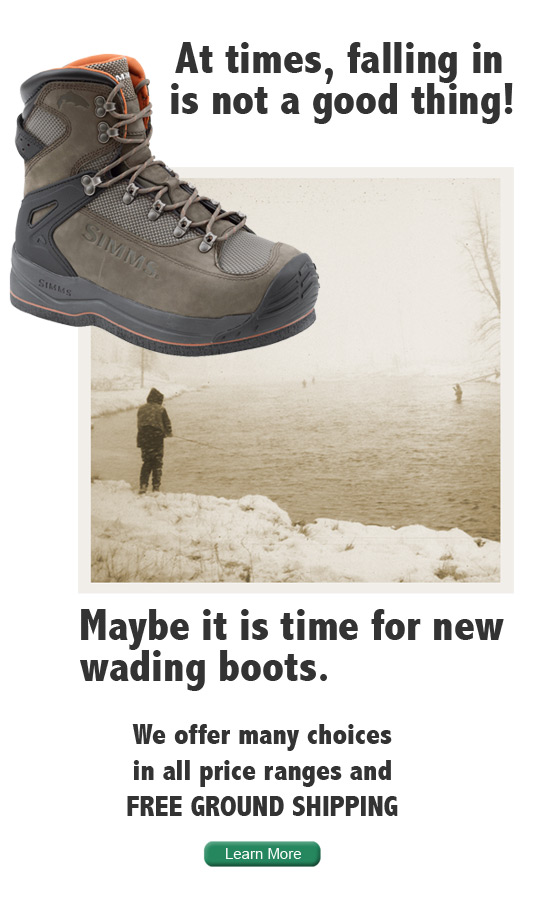 Even if you have brand new wading boots, you can still fall in. We've all done it.
However, if your felt or rubber soles are worn, the likelihood of a spill is greater. Check out your boots and see what you think.
If you decide it is time, please visit our online wading boot department. There you will see some new 2016 models, and in all price ranges. Or, if you live close to Townsend, come by the shop. We are open 7 days a week.
The main brands we stock right now are Simms, Chota and Korkers. We will add Orvis to the lineup soon.
Should you order from us, Ground Shipping is Free in the Continental United States.
You may order online by CLICKING HERE or call us at 865-448-9459. If there is a model you are interested in, that we don't stock, we will have them sent to you.
We hope you consider Little River Outfitters for your next wading boot or any fly fishing related purchase.
Thank you for supporting us.
Lake Information and Tailwater Generation Schedules



Please enter your e-mail address in the box to the left to sign up for our e-newsletter. You will receive news about the shop, events, sale information, fishing info and more important information a fly angler would want to have.

You can opt out at any time. If you decide you don't want to receive our information just change your status or click at the bottom of an e-mail we send you in the "Remove" box.

We do not sell or give your e-mail address to anyone. And, we won't hound you to death with e-mails. You will just get a few per year. Thank You for supporting us.