If you do not see today's Fishing Report, please refresh your browser to empty your cache.
Welcome to the Fishing Report from Townsend, Tennessee in the Great Smoky Mountains. At 5:11 am, the temperature is 50.2 degrees.
Today will be warm, with a high reaching near 80 degrees. Tonight's low should be about 55 degrees. We have a 40% chance for showers tonight. Warm days and nights will continue through the weekend with highs in the high 70's every day.
Little River is flowing at 421 cubic feet per second (cfs) or 2.53 feet on the flow gauge. Median flow for this date is 326 cfs. The water temperature is 54.3 degrees this morning. Yesterday, the water temperature rose to near 58 degrees in the low elevations and at the Townsend gauge. Fifty eight degrees is absolutely ideal for trout activity.
I have not said this in several days, "Fishing is very good to excellent". Stream flows are on the high side of good. The water temperatures in the low to mid-elevations are excellent. Trout are very active. Aquatic insects are hatching.
We held an on-stream nymphing tactics class Sunday. I heard, the students and instructors were on the river, trying to concentrate on using nymphs. Evidently, bugs were all over the water, and trout were rising. It's hard to use nymphs when the bugs are hatching like that.
I talked to a customer yesterday who told me he found himself in an incredible Yellow Sally Stonefly hatch this weekend. He, his dad and his girlfriend were going back yesterday, to enjoy the action again.
You may see many different insects on the water. There could be Hendricksons, March Browns, large stoneflies and now the small yellow stoneflies, and others. This is all due to the time of year and the water temperature.
I hope we don't get any rain tonight. If we do, I hope it is insignificant. This is the week we've been waiting for.
I would fish the East Prong at Elkmont, above or below, through Metcalf Bottoms and downstream further. The Middle and West Prongs are both good choices. Lynn Camp Prong should be awesome. Abrams Creek will be good. I don't know about the high elevations, especially off Newfound Gap Road. The water will be colder there. I don't think many people are fishing high in the mountains, or I have not heard.
The streams will recede more today. If we do not get much rain, they will recede further this week. The water temperatures will remain in the trout's preferred range.
Green hues are moving up the mountains. I can see green trees, with new leaves, on Scott Mountain, from our house. The new leaf color is about 1/3 up the slope from the bottom. The top 2/3's is still brown.
The wild turkey breeding season is in full swing. I took the photo below, from my home office window, yesterday afternoon. This turkey was not as close to me as you might think. I've got a good lens. The light was shining through the forest, and highlighting the features of this turkey's feathers.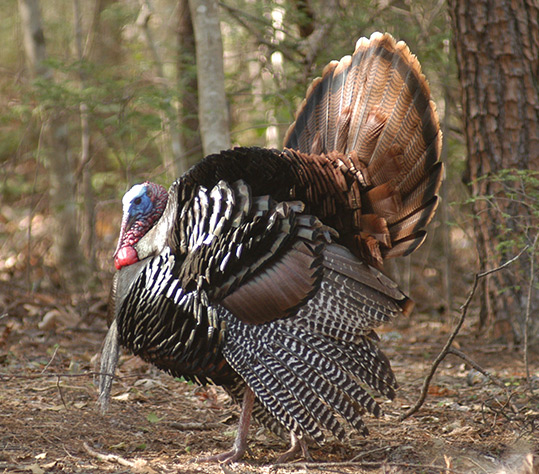 He fanned, then began to strut. He turned in a circle, and I kept touching the shutter release, capturing images of many angles. I chose this one to show you. What an incredible bird. Of course, there were hens out there too.
It is Spring in the Smoky Mountains. This is one fine week to be out there. If you are planning a trip to the Smokies this weekend, check back here to see if fishing conditions have changed. I am hoping the trout fishing will be even better while you are here. Lower water levels would be helpful.
Have a great day and thank you for being here with us.
Byron Begley
April 11, 2017