If you do not see today's Fishing Report, please refresh your browser to empty your cache.
Welcome to the Fishing Report from Townsend, Tennessee in the Great Smoky Mountains. At 5:33 am, the temperature outside is 61.3 degrees. We got a little rain during the past 24 hours. The Airport reports .65" fell. Townsend got .20".
We have a 60% chance for rain today, 70% tonight and 60% tomorrow. The high temperature today should reach 70 degrees. We will have warmer temperatures through the end of the week, climbing to 80 degrees Thursday. A lower chance for rain continues Thursday through Saturday. Rain is more likely Sunday.
Little River is flowing at 218 cubic feet per second (cfs) or 2.04 feet on the flow gauge. Median flow for this date is 268 cfs. The water temperature is 59.5 degrees this morning.
Fishing will continue to be very good to excellent, unless a thunderstorm drops heavy rain in a drainage. The chances for that are low but it could happen. More likely, the rain will be light and not affect stream levels much.
Use dry flies, nymphs or both as a dry and dropper rig. There are aquatic insects and terrestrials on the water. I would start with a Yellow Neversink Caddis or a Parachute Adams. Get a good drift and you should catch trout. A good bushy attractor like Walter's Smoky Mountain Candy is another good choice.
Most any reasonable nymphs will work. I would choose a Bead Head Pheasant Tail because it has always worked well for me. You might try a Squirmy Wormy, Pink or Green Weenie. These trout are hungry. If it looks like food, they will be interested.
Most important is stealth on your part, good presentation and getting a good drift.
Now that the water temperatures have reached the high 50's to low 60's in the lowland rivers, smallmouth bass should be active. Fly fishing for tailwater trout is good. Fishing the lower reaches of the tailwaters for smallies is fair to good.
The lakes are rising. TVA is bringing them up to Summer Pool. From what I hear, the smallmouth bass have been caught fairly deep, making it hard for those fishing with fly rods. That may not be the case now. I don't expect to be catching smallies on poppers in the lakes, not yet. Fishermen using conventional tackle are doing well fishing for largemouth bass on the Tennessee River reservoirs to our south using swim baits.
Fly fishing in this area, overall, is very good and it will only get better, especially when the lakes warm further.
CLICK HERE to read and watch the video, reporting on the "Missing Link" of the Foothills Parkway on the WBIR website. The bridges are almost finished on the 16-mile section that connects Walland to Wears Valley. I have been there, on that section, escorted by Park Service personnel. The views of Townsend and Tuckaleechee Cove are incredible. Some day, we will all be able to drive on this road. It has been under construction since the 1960's and that is not a typo. I meant to type 1960's. Read the article and find out why.
A swift water rescue team bought 20 pair of Korkers boots from us. The check came yesterday. I'm pretty sure that is the largest wading boot, single purchase in our history, from one customer. In fact, I am positive. Thanks guys and gals in Virginia. Evidently, the customer who made the purchase reads this fishing report and clicked on my e-mail link at the bottom of this page. I don't know another way he would have found me.
I designed an e-mail that will be distributed to thousands of fishermen today. CLICK HERE to view the web version. I wrote the fishing report on the e-newsletter yesterday. Fishermen like to look at gear, so they continue to subscribe. I design one of these, every week then "away they go".
I posted some photos I took of an albino raccoon, on this report, over a week ago. I'm still getting e-mail comments. One came from TWRA yesterday. The photos are below, in case you missed it.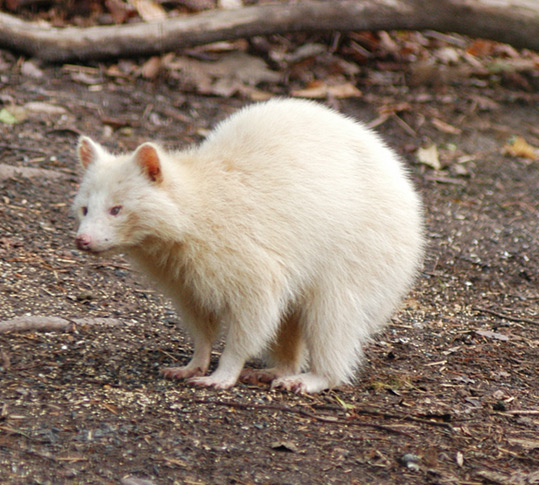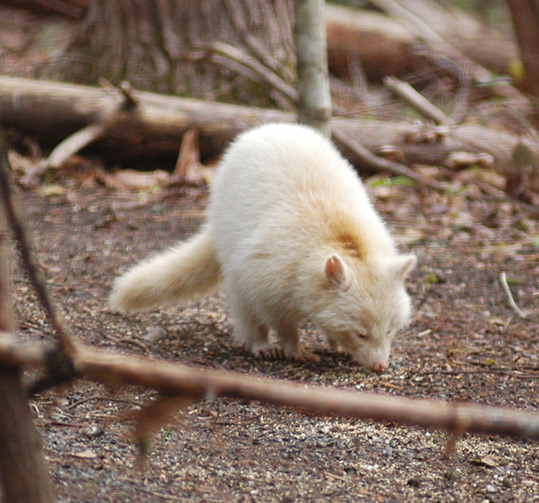 This is a very rare animal. Most albino raccoons die at a young age due to predation. From what I have read, the chance of one being born is one in 750,000. The chance of seeing one is less likely than being struck by lightning. Photographing one is way less likely. What are the odds?
I was lucky. This beautiful animal was outside my home office window two Saturdays ago. I have a DSLR cameral, mounted on a tripod with an 80-200 mm lens attached, next to the window. I have not seen him or her since and probably never will.
I do know of a guide, whose flats boat was struck by lightning twice. Lately, when I hear thunder, I quickly retreat into our house or my truck.
Have a great day and thank you for being here with us.
Byron Begley
April 18, 2017