Townsend, Tennessee - Fly Fishing in the Great Smoky Mountains National Park, East Tennessee and Western North Carolina

Welcome to the Fishing Report from the Great Smoky Mountains. It is 5:30 am and chilly, 48 degrees. Today will be sunny with a high temperature of around 67 degrees.
Little River is flowing at 1,010 cubic feet per second (cfs) or 3.25 feet on the flow gauge. Median flow for this date is 261 cfs based on 50 years of collected data at the flow gauge site, just inside the entrance to the Park from Townsend. The water temperature is 54.5 degrees this morning.
Most of the Park streams will probably be flowing strong, like Little River. You can catch trout, on flies, but your wading will be limited in many streams. The current is strong. Weighted nymphs are a good choice under these conditions. You can cast from near the bank, short distances, getting the nymphs down, and high sticking. You may catch trout on dry flies too. I would fish the smaller streams.
These are not ideal conditions and you should be careful wading.
At this point, forecasts project a chance for thunderstorms tomorrow and showers Thursday. Friday looks pretty good. Saturday does not. Looking at the 10-day forecast, it appears we'll get rain most days. Of course, that is subject to change, in the longer term.
The streams will recede today somewhat. They are likely to rise again this week. The ground is saturated. This has been a wet month. Rainfall totals are about an inch above normal this April, so far. April last year, at this point, was normal.
Most lake levels are on the high side of normal for this date, or higher. Warmwater fishing in the lakes has been excellent. Jack said he and Joe caught hundreds this weekend, mostly white bass.
Dan Munger, who loves fly fishing for Carp, has been off for a couple of days and sent me some photos, including these two. The carp are spawning. He fished two hours, and had 13 takes, 9 fish on and 7 to hand. He said they "Ate everything I put in front of them". The fish were so shallow, their backs were out of the water at times.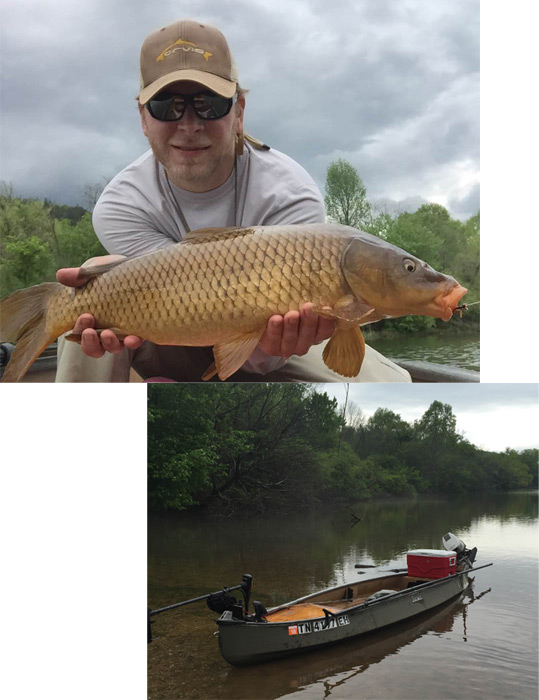 He will be working at the shop today so I'll get the blow by blow when I go in later. Check out his Gheenoe. He just added a new accessory, a push pole he got from Temple Fork. He sight fishes for these carp in shallow water, using flies of his own design and those he found online and tied. Dan stands on that cooler to pole his boat. If I did that, I would spend more time in the water than in the boat.
I guess I'll fish Friday, maybe for carp, or white bass. Thursday might work. I'll try to find suitable water for smallmouth bass fishing. My truck and boat are just sitting there, waiting to go. Today would be perfect, but I should probably work.
I'm trying to learn more about Facebook. I opened an account long ago but have never posted on it. It's not that I don't like social media or writing to the public. This fishing report gives me enough of that every day. But, we have a store Facebook page. You may notice, there is a link to it that I added last week on this page. Daniel, Dan and Paula are trying to help me understand this, whatever it is. Last night, I made a comment on the page, my first ever. It took a while to figure it out.
Danny Krug caught a gar on a Knucklehead and posted a photo and comment on our Facebook page. I've never caught a gar on a fly though I try every time I see one. You can see his post by CLICKING HERE.
I would appreciate any testimonials from you, about your experience with this fly, if you have them. Send me an e-mail and photo. Include your first name and the City and State where you live. I'm thinking about putting them on the website.
I have to call the fly Byron's Knucklehead because there is a bass plug called a Knucklehead. I found that later, after naming the only fly I've ever come up with. I started tying flies in 1962, always tying something someone else invented.
I spend an hour or two each day tying Byron's Knuckleheads. Through yesterday, I've tied exactly 936 of them since mid-January. If they keep selling like they are, it's possible, I'll tie another 2,000 this year.
It's fun for me. I like the fact that I can produce something that works, for me and many other people. It was originally designed to catch smallmouth bass in rivers and lakes. It didn't take long to figure out, they catch about any freshwater fish, willing to eat a floating fly.
We could have them tied overseas and I gave that a lot of thought, even writing a description on how to do it, along with a tutorial we have on our website. You can see that by CLICKING HERE. I was afraid, they would not be tied right in a factory. And if they were not, the potential for a dispute with one of our suppliers, or throwing away thousands of dollars worth of flies, is a risk I'm not willing to take. I'm not much of an innovator so this fly is special to me. It's more of a hobby, than work.
Danny, thank you for sharing your day. You made mine.
Have a great day and thank you for being here with us.
Byron Begley
April 21, 2015