Townsend, Tennessee - Fly Fishing in the Great Smoky Mountains National Park, East Tennessee and Western North Carolina


Welcome to the Fishing Report. It is sunny and 46 degrees in Townsend this morning. The valley and the mountains are getting greener by the day. It is truly beautiful here right now. I like the grey winter mountains too, but nothing beats Spring in the Smokies.
The stream flows are falling back to normal. Little River is flowing at 331 cubic feet per second (cfs). Median flow for this date is 251 cfs. The gauge reading is 2.34 feet. Many anglers think that is perfect. I do too. I like higher water.
The water temperature is warming as well. At 7:50 am the water is 51 degrees. It is going to be 70 degrees today and 73 tomorrow. Lows at night will be in the 40's to low 50's this week in the lower elevations. Fishing will get better every day.
Fly selection right now is wide and varied. I would use a Parachute Adams, Light Cahill, Sulphur or even a Yellow Sally stonefly imitation for a dry fly. The Neversink Caddis may be your best choice even this early. It is a good attractor. Fishing will be best later in the day until dark if you are using dry flies. Nymphs will produce. Use them if the dries are not working. Try a Prince, Bead Head Pheasant Tail, Tellico or Hare's Ear.
As the water warms this week you will see more aquatic insect and trout activity in the Smokies.
Smallmouth bass fishing in the lowland rivers will get better again. When the water temperatures reached the 60's over the past 2 weeks, these bronze-back river fish were on the fly. I got all excited and told you yesterday about Josh Pfeiffer's 6 ½ pound smallmouth. I saw the picture on another smart phone and misunderstood the size of the bass. Josh came in yesterday and told me the story. This fish weighed less than 5 pounds according to him. He weighed it. I think he needs to have his scales checked for accuracy. Below is the picture. Josh is a fly fishing guide working in the Smokies for trout and floating the rivers around here for smallmouth bass. You can visit his website by CLICKING HERE. That is one nice fish! He has a drift boat for floating the tailwaters and a raft for the lowland rivers. I didn't ask, but I think this is a lowland river photo, one of several in our area. I think he caught it last week.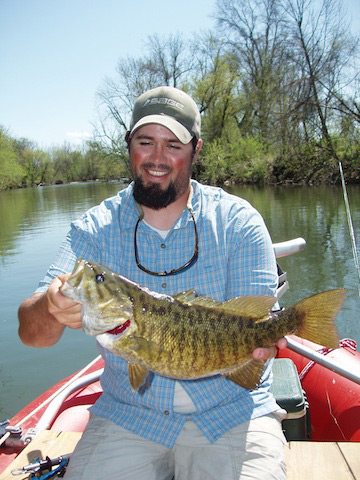 I'm going to try to slip away today and take our boat to Tri-County Marine in Morristown. The thing would not start Wednesday. Being the fine people that they are, the staff at Tri-County tried to help me over the phone. We went over everything. One fellow suggested I pull the carburetor and clean it. I could pull the carb. What worried me most was removing everything else to get to it. I decided to let them do that. They are pros. I can't say enough good things about my relationship with Tri-County Marine. You can visit their website by CLICKING HERE.

Mike Bone is helping us choose new flies to use in the local tailwaters. Buzz Buffington is helping us too. Those two guys fish the Clinch River more than anyone I know. We gave them fly catalogs to go through and mark their choices.
Mike is a professional guide. Though he is young by my standards, I don't know anyone in our area who has guided as long as he has. I call him "the oldest, youngest guide around here". His customer satisfaction ratio must be 100%. Nobody has a bad day with Mike, even if the fishing is slow. Mike has been a good friend of ours for many years. He has an excellent reputation.
We do not have a guide service. What we do is recommend you to Josh Pfeiffer, Rob Fightmaster and Mike Bone. When you do that, you work directly with them. We do not charge a commission or take money from these guys for referrals. We just want you to have a great day on the water. These three guys also work with us in other ways. They are part of our team.
The church bells are ringing. It's 9:00 am. Time to open the shop.
Have a great day and thank you for being here with us.
Byron Begley
April 22, 2013