Townsend, Tennessee - Fly Fishing in the Great Smoky Mountains National Park, East Tennessee and Western North Carolina

Welcome to the Fishing Report from the Great Smoky Mountains. At 5:48 am, it is cloudy and 50 degrees. Today will be sunny with a 40% chance of afternoon thunderstorms and a high temperature of 71 degrees. It will be breezy today.
Little River is flowing at 715 cubic feet per second (cfs) or 2.93 feet on the flow gauge. Median flow for this date is 250 cfs. We don't take beginners in our classes to Little River when the flow is above 2.5 feet. So, the water level is 4.3 10ths of a foot above what we consider safe for beginners. Experienced anglers should be careful as the flow is on the high side, but the streams in the Park are certainly fishable. The water temperature is 51.6 degrees this morning.
I would consider waiting a while for the water to warm today. Fishing should be pretty good. I would also choose a smaller stream to fish. Nymphs and dry flies will produce. Try a dry and a dropper. A small Bead Head Pheasant Tail is a good fly to use as a dropper. The dry fly could be a Tan Neversink Caddis, Stimulator, Parachute Adams, or Elk Hair Caddis.
Lynn Camp Prong has been fishing very well if you are interested in catching brook trout. It may be crowded this weekend.
Unless we get a heavy thunderstorm in the mountains, the rivers will continue to recede and fishing will become easier. The next predicted high chance for rain is Friday night and Saturday.
According to the TVA website, they will be generating at Norris Dam. The lake level is slightly above the high end of the Expected Elevation Range for this date and nearly at the Flood Guide at Summer pool.
TVA expects to be generating at Cherokee Dam today with one generator used this afternoon. That might work for you. Check the TVA website yourself before going. Cherokee Lake's water level is slightly above the Flood Guide and the high end of the Expected Elevation Range.
Basically, most lakes in our area are at a high level for this time of year. Fort Loudoun and Tellico Lake are at about 1 foot below Summer Pool. That is also above the Normal Operating Zone for this date.
One exception is Chilhowee Lake on the Little Tennessee River. That impoundment has been dropped to between 4 and 5 feet below full pool for testing of the dam. Chilhowee is the smallest impoundment of the 9 we have in this area. It is not utilized by many fishermen. We fish there because it is so close to our home. Since we only fly fish, this is an opportunity to see the lake bed, under the water we usually fish. I plan to drive the banks of the 12 mile long lake Friday, making video of the exposed lake bed for future reference. We fished there last week, after the drawdown, and got completely skunked.
I have been in contact with Brookfield Renewable Energy Partners, the owner of the dam, and TWRA about the lake drawdown. Nobody knows how long it will be kept low for testing. If a structural problem is found, we also don't know what will happen next. This lake was drained to the river bed for a long period several years ago for a dam repair. I hope that doesn't happen again. It takes a long time for fishing in a lake to recover from a complete drawdown. Fishing is slow on that lake anyway, for other reasons.
Paula and I will probably fish another lake Thursday, either Tellico or Fort Loudoun. We can drive to a ramp on Tellico Lake in about 45 minutes. Fort Loudoun could be muddy in areas.
Our dams are old with some older than their expected life when built. We are seeing leaks and major repairs, including drawdowns and excessive generation. Three notable examples are Wolf Creek Dam in Kentucky, Center Hill Dam in Middle Tennessee, and now Boone Dam in upper East Tennessee.
Wolf Creek Dam impounds Lake Cumberland. I think I read this is the largest impoundment east of the Mississippi River. The lake has been raised, the tailwater is recovering and fishing has improved greatly in the river. During the past 48 hours, generation at Wolf Creek Dam has been constant at 28,880 cfs. That's a lot of water.
I don't know the status of Center Hill Dam. I do know they are generating often and at full bore. Looking at the past 48 hours there, discharge has been recorded anywhere from 0 cfs to 10,600 cfs. Most of the times of no generation have occurred at night.
Finding a place to fly fish for trout in our region, has been tough lately due to all the rain and generation at dams. The Southern Appalachian streams have been one bright spot around here. At times, those streams have been high too.
That is one reason, I try to encourage fly fishermen, to explore the idea of warmwater fishing. And, to take it one step further, try fly fishing in the lakes. Being flexible gives you more options. Additionally, fishing for warmwater species is challenging and a lot of fun. Try smallmouth bass, largemouth bass, bluegill, carp or stripers. Buy an inexpensive boat, kayak or canoe. It can open up a whole new world for you. I've been fly fishing for warmwater species since 1962. I love fly fishing for trout and live in trout country. But, I also enjoy warmwater and saltwater fly fishing.
At my age, it's a whole lot more comfortable to fish in a boat, that requires only a twist of a wrist, to get the boat moving. We don't worry about shuttles. We launch in one place, maybe fish miles from there, then, return to the ramp. Of course there are times, when the motor won't run. Thankfully, that doesn't happen often. In my case, it has only happened once during the past 5 1/2 years. The trolling motor got us back to the ramp. David Ezell remembers that day.
Below is a photo of our boat. I bought it new, boat, motor and trailer, for $6,700, 5 ½ years ago. It is 16' long and has a 20 horsepower motor with electric start and power tilt. You can see our fishing kayaks in the boathouse. They have their own trailer. We use them mostly in the ocean, but we plan to use them on the lakes and rivers this year. Everything on this boat is saltwater safe, including the trolling motor. If we decide to take it to Florida, instead of the kayaks, we have that option. The V-hull design is great for fishing shallow water as it drafts only a few inches. But, it also takes rough water well. We would only use it in the bay, not out in the Gulf. The boat is light and easy to tow. I wouldn't use this boat on the shallow tailwaters. A jon, raft, kayak, canoe or driftboat would be better for that.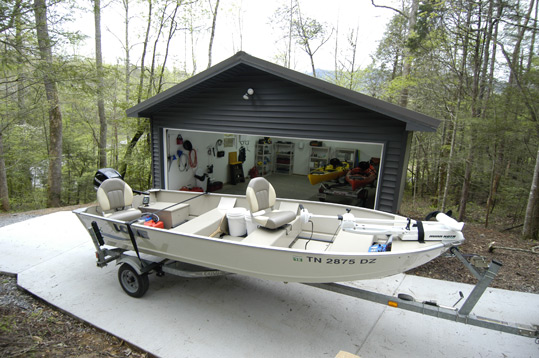 Have a great day and thank you for being here with us.
Byron Begley
April 22, 2015