Townsend, Tennessee - Fly Fishing in the Great Smoky Mountains National Park, East Tennessee and Western North Carolina

Welcome to the Fishing Report from the Great Smoky Mountains. It is 6:15 am and it is barely getting light outside. The temperature is a chilly 39 degrees. I'm taking two days off this week, the first since Easter.
Little River is flowing at 466 cubic feet per second (cfs) or 2.46 on the flow gauge in Townsend. Median flow for this date is 232 cfs. The water temperature is 50.2 degrees this morning.
Today will be sunny and 70 degrees.
Fishing should be fair in the Smokies today, but better later as the water warms. Flows in the Smokies are on the high side of good. I would use nymphs early and maybe all day long. Dry flies could work well too. Due to the cool water, fishing won't be as good as it was earlier this Spring, but you should catch some trout and enjoy a beautiful day.
Tomorrow's weather may be contrary to great fishing in the mountains or anywhere else in our area. There is an 80% chance for thunderstorms. Some may be severe. Or, they may miss us altogether. Rain may also be in our future Sunday afternoon in the form of showers.
Rain is in the forecast off and on next week, along with cool temperatures.
Wow! If the long term weather forecast holds true, next weekend will be awesome. It should be sunny and very warm. Excellent fishing will return. If you are planning a fishing trip here, watch this report closely. Next weekend may be a great opportunity. You will need to take a break Saturday afternoon to watch the Kentucky Derby.
April has been a tough month for fly fishermen in East Tennessee and elsewhere, depending on what kind of fishing you do and where. We've endured rain, thunderstorms, high water, low water, cool temperatures and wind.
I'm trying to fish at least one day each week. This has been a tough month for that. It's been a little cool for me for kayak fishing. The streams have been high. Dams on the tailwaters have been active. And, it has been windy.
Jack Gregory and I fished yesterday, knowing quite well, it was going to be windy. He and I left our house at about 8:30 am. We drove to Fort Loudoun Lake, launched the boat, and motored up a small river to the low head dam. He and Joe fished there Saturday. White bass were schooled there, trying to swim over the dam to spawn. They lost count early, of how many fish they boated. During the week, TVA raised the lake. Jack and I got to the dam, and as you can see in the photo below, the dam was almost covered with water. The white bass swam upstream to spawn and we caught nothing. They were gone. That's Jack in the bow of the boat.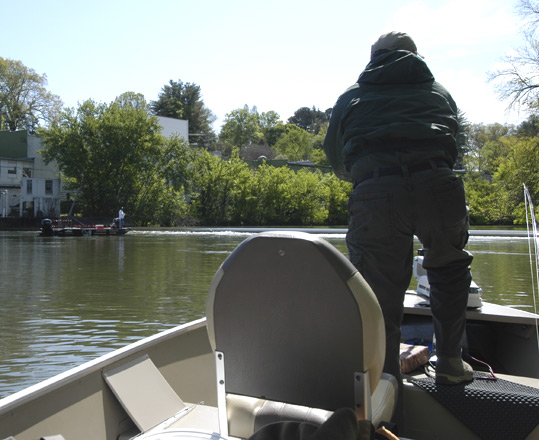 See that big jon boat on the left of the photo. It is larger than it looks. The captain is a rockfish guide from North Carolina. He was scouting spots to take clients. We talked to him several times. That boat is a 28' long jon with a 96" beam. It is powered by a150 hp motor. The bait and live well looked like a hot tub. His trailer is 32 feet long. I told Jack that rig had to cost at least $100,000.
Jack and I finally gave up, loaded the boat and headed to the Little Tennessee River, an hour drive away. The water was so low there, my trailer tires dropped off the end of the ramp. Launching was not easy. The water temperature was 49 degrees and it was windy. We fought the wind and fished hard all afternoon. All we had to show for that was a rainbow trout Jack caught and the largemouth bass I'm holding in the photo below.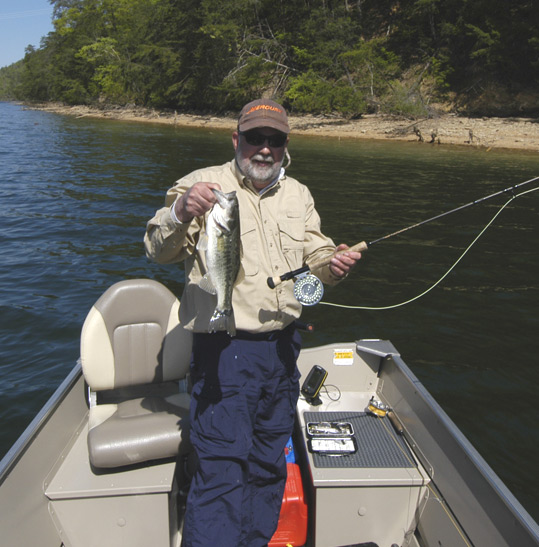 At about 6 pm, the wind died. We were tired. So, we just drifted in the river, with our feet propped up and enjoyed the end of the day sipping on an adult beverage. We got home last night at 8 pm. It was a great day with my good friend. Fishing was awful.
But, it is early Spring. We know, better days are coming. May and June are usually excellent fishing months. Hopefully, the water flows on the tailwaters will be more angler friendly soon. The water will warm in the lakes and lowland rivers. Streams in the Smoky Mountains will warm some and the water levels will be more angler friendly.
Today, I'll pull the larger boat trailer to Maryville and have some new tires I ordered installed. Then, I'll get everything ready to go fishing one or two days next week. I'm already looking closely at the weather report and water conditions.
I keep mentioning this to you. There are so many ways to enjoy fly fishing in our area. We have several hundred miles of wild trout streams nearby, on public land, in the National Park and National Forests. Lowland rivers flow through the area, chocked full of smallmouth bass. Some have trout populations. We have lakes located in every direction. Below the dams are tailwaters, offering excellent trout fishing in the upper reaches and smallmouth bass downstream. Stripers can be caught on a fly in the lakes and tailwaters. You can wade, kayak, canoe, raft, drift or fish from a motor boat.
That is why I live here.
Have a great day and thank you for being here with us.
Byron Begley
April 24, 2015