Townsend, Tennessee - Fly Fishing in the Great Smoky Mountains National Park, East Tennessee and Western North Carolina

Welcome to the Fishing Report. It is a beautiful morning in Townsend if you like cloudy skies and rain. I do. It makes me think about "good fishing". There is a clearly defined line of fog following Little River's path through town. I love that sight. It happens frequently. I drove by Little River at 7:50 am to see if there was any color in the water. She is clear. I checked our rain gauge when I got here and we had .40" at the time. It rained all morning but I didn't expect to see that much water. I think the rain may be over for a while.
Little River is flowing at 240 cubic feet per second (cfs). Median flow for this date is 268 cfs. The water temperature at 7:55 am was 63.7 degrees. Yesterday the high temperature was 65.4 degrees.
We are going to have warm temperatures and frequent rain over the next few days. We could use the rain. Though our rainfall numbers are way above normal for the year, lately it has been a little dry. The streams have been flowing above normal most of the year. I hope it stays that way through the Summer. It has also been hot this year, extremely hot. I read this morning that the Southeast may experience some record high temperatures this week. I hope this trend ends before Summer.
Fishing is good in the Smokies. Trout are taking dry flies and nymphs. Yellow Sally patterns are what I would use. A Parachute Adams or Elk Hair Caddis will work too. I don't think the trout are that picky. Still, the Yellow Sally Stonefly is one of my favorites. Try a Yellow Neversink Caddis or Yellow Stimulator both in sizes #16. Light Cahills will work too.
I have bad news and good news. The bad news is, the Road Prong Trail will be closed on Mondays through Thursdays until mid October. The good news is, the Road Prong Trail will be closed on Mondays through Thursdays until mid October. The Park Service is working on the trail. One of my buddies talked to the crew. They shut down on Thursdays about 4:00 pm according to him. He was headed that way to fish until dark.
Fishing is also good on the tailwaters for trout and smallmouth bass. Fishing on the lowland rivers is good for smallmouth bass. Fishing on the lakes is fair for smallmouth bass. Doug and I fished for 8.5 hours on Monday and only landed about 15. We probably lost that many too. I'm hoping to report next week that the smallmouth fishing is EXCELLENT on the lakes.
I was helping a customer yesterday. He wanted some #16 Yellow Stimulators. We were out! I told him I would check our shipments that had arrived earlier. Sure enough there was a box from Umpqua with what looked like 200 dozen flies inside. Many of them were #16 Yellow Stimulators. Umpqua and UPS saved the day for me. I hate being out of stuff.
I think we are finally getting some Frog's Fanny. Jerry, who owns the company has been out of bottles. Everyone around the world is out of Frog's Fanny right now. We are supposed to get a few cases today. They might have come yesterday. Daniel just buzzed me. THE FROG'S FANNY IS HERE!
I sent out several thousand e-mails to our subscribers about two weeks ago. One of the articles was written and photographed by me. It was called "Tying the Threadfin Shad". I also published the newsletter on this fishing report giving another few hundred people the chance to read it. Only 335 people opened the article. I am disappointed, not for me, but for you. I know, according to our computer system with over a decade of customer buying habit datum, only about 1/3 of our customers tie flies or more specifically, buy fly tying materials. So, I can see why readership would be less than an article about something other than fly tying. But I'm going to give you another chance. READ IT HERE.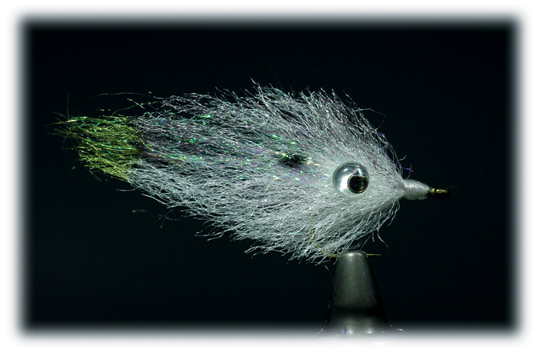 Look at the photo above. This fly is tied on a #4 egg hook and it is about 1 ¼" long. My boat box is teeming with these critters in all sizes up to 4" long. Why? This is one of the most productive flies you can use on a lake or river in the South. And, I can't find anyplace to buy them. We don't sell them. We can't get them. Doug cut a deal with me. We traded venison sausage for Puglisi Threadfin Shads. I made a believer out of him this week. I would never go out in a boat on the 8 or 10 lakes we have around here without a rod lined up with one of these. I would not fish a tailwater in the Southeast without one of these, including the Cumberland River in Kentucky. They work for largemouth bass, smallmouth bass, carp, bluegill, crappie, stripers, white bass, rainbow trout, brown trout and my prize catch last year on one, an 8 pound flathead catfish.
Here is another compelling reason and we had this happen this week. When you hook a smallmouth bass that has been feeding on shad there is often another fish or two that follows the hooked fish to the boat. They are excited. They are going nuts. Some of the followers are larger than the hooked fish. Sometimes the hooked bass regurgitates several shad. Guess what the other bass do? They eat those dead shad. Yukk! When someone gets a fish on and we see another following we simply drop this fly in the water, weighted with a piece of split shot and let it sink. Often, another bass will grab that fly right in front of your eyes. I know, it does not sound very sportsmanlike. But I like to have fun and this my friends is fun. We return the bass to the water of course. I have never killed a smallmouth bass or tasted one.
So take a close look at this article. If you don't tie flies, maybe you should buy some cheap tools, a few materials and make some of these up. If you have venison sausage, trade it for Puglisi Shad with your fly tying buddy.
The point is, don't overlook the importance of a realistic and tested threadfin shad pattern. I am looking out for your best interests by saying this, not mine.
Have a great day and thank you for being here with us.
Byron Begley
May 4, 2012
Respond to: byron@littleriveroutfitters.com