Townsend, Tennessee - Fly Fishing in the Great Smoky Mountains, East Tennessee and Western North Carolina

If you don't see today's fishing report, please refresh your browser to empty your cache.
Welcome to the Fishing Report from Townsend, Tennessee in the Great Smoky Mountains. At 5:34 am, the temperature is 57.7 degrees. I have been in Florida for several days. Daniel has been writing the fishing report in my absence. It's good to be back.
The weather forecast for the first few days of this week indicates warm days, cool nights and a chance for rain returning Wednesday and Thursday. High temperatures will hover around 80 degrees during the period. Lows will be in the high 50's to low 60's.
Fishing conditions in the Great Smoky Mountains are very good again. Stream flows are on the high side of good. Little River is flowing at 350 cubic feet per second (cfs) or 2.34 feet on the flow gauge. Median flow for this date is 222 cfs. The water temperature is 58.6 degrees this morning, which is right at perfect for trout activity.
You should do well using dry flies or nymphs. Fishing should be good all day, each day this week. It will be cloudy most days, which is an advantage for anglers. Water levels will continue to recede for a few days, though expected rain Thursday may change this trend.
It will be breezy today and tomorrow, then again on Wednesday. Tomorrow, winds are expected to be in the 5 to 15 mile per hour range with gusts to 20 miles per hour.
Otherwise, this should be a great week to fly fish in the Smoky Mountains.
TVA generation schedules look somewhat favorable at Cherokee and Norris dams today. Check the schedule and determine if their schedule will work with yours. You may find wade fishing opportunities below Center Hill Dam this morning.
Paula and I spent last week in Florida. We rented a home on the Gulf, right on the beach. I could throw a rock and hit the beach from the deck. The surf was probably 100 feet from the deck. Our fishing kayaks followed us down and back on the kayak trailer.
I always take a Mac with me. If we have bad weather days, I can work. When we arrived, I started the computer and logged onto the internet. The darned thing locked up. I had to unplug the computer to shut it down. I was on the phone Monday with Alan, our Mac guru. We could not figure the problem out. So, I had no computer all week. No e-mail, no address book, no work to be done. Our iPads worked fine. That computer is going to the repair shop this week.
The surf was pounding almost all week. We could see stained water from the beach, out about ¼ mile into the ocean. The bay on the other side of the spit of land was white capping. We didn't use our kayaks the entire time we were there.
We now have one contingency that I never planned on until last year. I bought two surf, and two lighter weight spinning rods, to take to the coast, in case we have wind, which we often do. Before that, I had not used a spinning rod for at least 30 years, maybe longer. Paula had never used one. We've got them now. The fishing was not great on the surf, because of the stained water, but any kind of fishing beats sitting on the deck watching the ocean. We caught some fish. Paula caught a huge pompano, which she filleted and we dined on for two evenings.
We booked the beach house in February. We found another home, a few miles away that was vacant the next week. So, if fishing was good, we could stay two weeks, but we would have to move from the original home. We watched the weather forecast for this week and decided not to stay. We felt like it would be windy again, and returned Saturday.
I have decided to spend my "golden years" traveling to the coast several times each year. We've been twice this year and have another home booked this Fall. I can work from just about anywhere, if my computer is operational.
We had a great time, though the fishing was not what we hoped for. It is always good to get back to our green, lush mountains. I love living here, and visiting the coast. Last night I washed the salt spray off the kayaks, and pushed the trailer back into the boathouse. They are ready to go again.
Today and tomorrow I will be working on our e-mail marketing campaign. I drove to the shop yesterday to see the guys and run some sales reports. One report I ran was Fishpond sales, for the past 16 months. I wanted to find out what our best selling items are, from that company. Fishpond is one of our best selling brands.
I was shocked. Our best selling fly fishing item from Fishpond is the Oxbow Chest Backpack during that 16 month period. I ranked the items in dollars sold, not units sold. The Oxbow is a new 2016 item, which was made available for sale late last year. So, many items were available for sale during the total 16 month period. The Oxbow was not. Still, the Oxbow is the winner. Below is a photo of the Oxbow. You can CLICK HERE to learn more.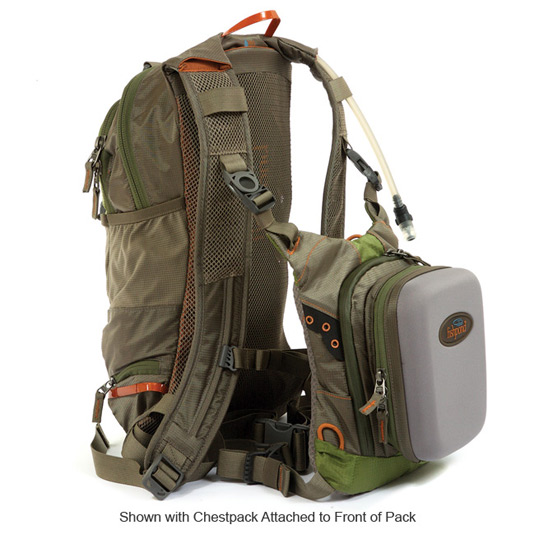 Second, is the Headgate Tippet Holder. This is a low priced item. Still, it's total sales ranked #2. That also took me by surprise. It must have affected Fishpond the same way. They are out of them right now. So are we. They should be available again soon.
The Confluence Net Release ranked #3. They are in stock at our store and at Fishpond.
#4 is the Nomad Native landing net. Again, that is a surprise. Nomad composite landing nets come in many sizes. They are light. They are beautiful. They are popular.
#5 is the Blue River Chest Pack. Now that is no surprise at all. The Blue River has been Fishpond's best selling item for several years. This great looking, no frills, chest pack sells for $79.95. It has been in the Fishpond lineup for a long time. It will probably remain for many more years.
I remember well, when the founders of Fishpond hit the market softly, in 2001. We became a dealer on Day 1. We have found Fishpond items sell well through our mail order business in Europe and Australia. Of course we ship them to customers all over the United States. They sell well in the shop. Fishpond is a great, small company, who we have enjoyed a personal and business relationship with for many years. They are and always have been great folks to work with.
I have no idea how many Fishpond pieces of gear Paula and I took to Florida last week. I can tell you we did have 3 Fishpond coolers on the trip if that is any indication. We also took 3 Westwater Sling packs with us. I use one as a waterproof camera bag, and the others are our fishing packs for wading, kayak fishing and now, surf fishing.
It is good to be home, writing the early morning fishing report again. The Smoky Mountains look awesome right now. The rivers are pristine. I stopped to watch Little River meander through town yesterday. She was more beautiful than ever.
Have a great day and thank you for being here with us.
Byron Begley
May 9, 2016
Respond to: byron@littleriveroutfitters.com
Orvis announced that they are going to be doing a Rod Swap again this year. The way this works is....you bring in a still functioning (doesn't have to be a great rod but it does have to be usable not broken) rod and you will get 20% off a Made-in-USA Orvis fly rod. These rod series are the RECON, Superfine, Superfine Glass, and Helios2. If we don't have the specific model you want we will be happy to order it for you. The rod you trade in will be given to a flyfishing charity. This is a great opportunity to get a deal on some fantastic rods and pass your old rod onto someone else to use and enjoy.
This Rod Swap will start on May 13th and run till June 19th. We can do this via mail order also but please give me a call 865-448-9459 because the Online Catalog prices won't reflect the 20% discount.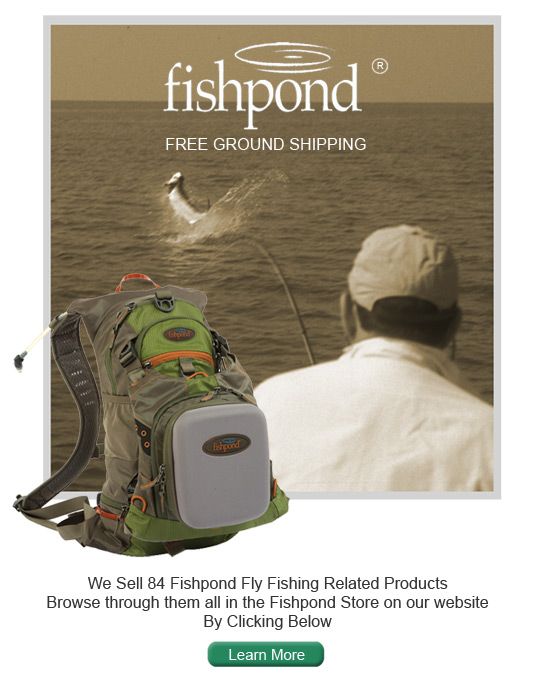 We have been aggressively using and selling fine Fishpond products at Little River Outfitters since 2001. We have enjoyed a great relationship with the owners and staff at the company for many years. Fishpond is one of our highest sales volume manufacturers.
Below are the top 5 Fishpond products we have sold during the past 16 months (January 1, 2015 through April 30, 2016). By "Best Sellers", we mean dollar volume, not units sold. What is interesting is, the #2 Best Seller (dollar volume) sells for $19.95. That means, we sold a heck of a lot of units during the period. It is the Headgate Tippet Holder. By the way, this item is currently out of stock both at Fishpond and our shop. It should be available soon. You may pre- order.
Though we sell plenty of Fishpond items in our store, we have done extremely well selling these products by mail order. One reason is, all wearable products are adjustable, meaning, one size fits most. You don't have to try them on. And, we offer FREE GROUND SHIPPING, even on the Headgate Tippet Holder.
Enjoy looking at these very popular fly fishing products. You can learn more about each one by clicking the links for those items to our online store. You may order online or call us a 865-448-9459, 7 days a week.
Thank you for supporting all of us at Little River Outfitters.

Backcountry or all day fly fishermen take note, "The Oxbow Chest/Backpack is for you"! We've never seen a chest/backpack like this one. There aren't any. Due to it's modular design and Fishpond's forward thinking, this pack can be docked with many other chest/lumbar packs for even more options and possibilities. The Savage Creek Chestpack is included. To learn more or to order online, CLICK HERE, to visit our Online Store.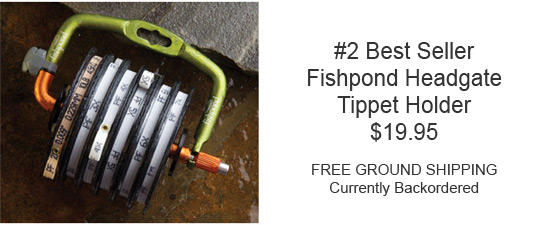 Someone finally invented the perfect tippet holder. That someone is Fishpond and this one has been a huge success. It's called the Headgate Tippet Holder. What a tool!
The Headgate is made from anodized aerospace grade aluminum for light weight and corrosion resistance. It holds up to 7 spools of tippet. The tippet spools can be easily switched out or re-arranged due to the spring loaded pull.
A slot on the frame makes attachment to your vest, boat bag or lumbar pack a snap. A very handy built in, recessed line cutter is mounted to the frame. You can cut tippet with it, but you won't cut anything else by accident. The blade is replaceable. CLICK HERE to learn more about the Fishpond Headgate Tippet Holder. It is out of stock at our store and at Fishond. You may pre-order and wait for it to arrive.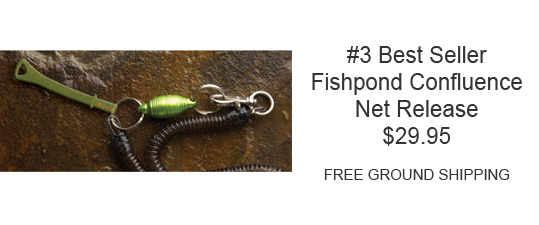 This new release is more convenient than many other methods of attaching your net to a vest or pack. The attachment point is at the top of the hoop of your net. By doing it this way, your net bag stay close to your back, high up. That alone helps keep you from tangling your net bag in branches.
Additionally, when you need your net, just reach behind your lower back and grab the net handle. Give it a tug and it is free. Land your trophy trout. CLICK HERE to visit our online store to order or learn more about the Fishpond Confluence Net Release.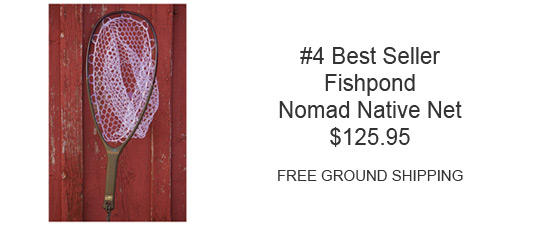 We are excited about this landing net from Fishpond which was introduced last year. The "Native" is their smallest net. We think it is so popular at our store, because it is sized perfectly for anglers who fish in small streams. It's is perfect for trout, in the Smokies streams or tailwaters unless you catch a monster of a trout. Then, you might need the next size up. To visit our online store where this net is located, CLICK HERE.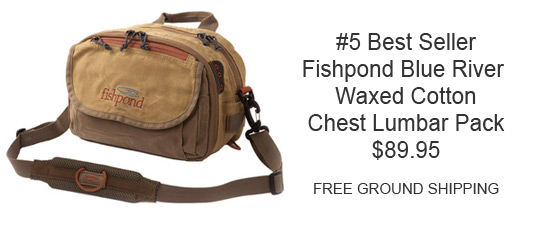 The Blue River Chest/Lumbar Pack from Fishpond is one of the best all time sellers in the line. It's just the perfect size for a day on the river. This one is new though. It's the same Blue River but it is made from waxed canvas for that classic look we all love. Visit this page on our online store by CLICKING HERE.
Lake Information and Tailwater Generation Schedules



Please enter your e-mail address in the box to the left to sign up for our e-newsletter. You will receive news about the shop, events, sale information, fishing info and more important information a fly angler would want to have.

You can opt out at any time. If you decide you don't want to receive our information just change your status or click at the bottom of an e-mail we send you in the "Remove" box.

We do not sell or give your e-mail address to anyone. And, we won't hound you to death with e-mails. You will receive no more than one per week unless unusual or critical fishing news might be of interest to you.