Townsend, Tennessee - Fly Fishing in the Great Smoky Mountains National Park, East Tennessee and Western North Carolina

Welcome to the Fishing Report from the Great Smoky Mountains. At 6:19 am, the temperature is 66 degrees. We have a low chance for thunderstorms today and tomorrow. We have been getting these scattered storms early in the evenings lately. High temperatures this week will be in the 70's to mid-80's. Lows will be in the 50's to 60's. Beginning Friday, thunderstorms are likely every day through Tuesday, May 19th, unless the forecast changes.
Little River is flowing at 173 cubic feet per second (cfs) or 1.77 feet on the flow gauge. Median flow for this date is 233 cfs. The water temperature is 63.3 degrees this morning.
Fishing is good to excellent in the Smokies. Flows are low, at most times. Fishing during the day requires stealth and low water fly fishing tactics. Fish the moving and choppy water in riffles and runs. Dry flies are working well. Yellow Sally stonefly patterns are recommended.
Pat Tulley fished Abrams Creek Saturday evening. I talked to him in the shop before he drove to Cades Cove. When the sun fell behind the hills, the river came alive with bugs and feeding trout. He told Dan Munger he had the best day of fishing, ever, in the Park. I think Dan said Pat caught over 30 trout in two hours. I don't remember having done that in two hours.
Evenings are best. If you don't believe me, ask Pat. I don't know what species of insects were hatching. It was probably many different species and lots of Yellow Sallies.
Spending an evening, fishing on Abrams Creek, is an incredible experience, this time of year.
See the image of the USGS flow gauge below? That straight line going up quickly was a flash flood, at midnight, Saturday. I know, the river only rose 6 inches. And the flow, measured in cfs doubled. That's not a flood, right?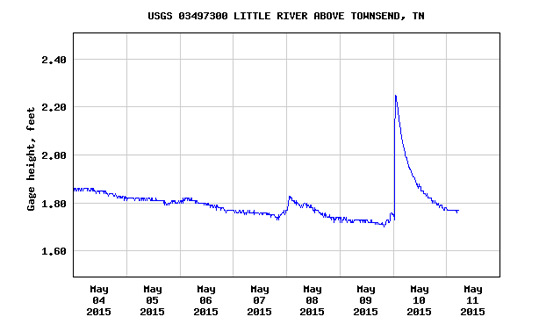 The storm that caused this spike, dropped rain on the East Prong of Little River hours earlier.
At the flow gauge, located just inside the Park from Townsend, the river is wide. Above Elkmont Campground, the river is narrow. One of our customers was fishing, above Elkmont after the time the storm hit upstream from him. He was fishing and heard noise. He looked upstream to see a 2-foot wall of water headed his way. He got out of the river in time, and almost stepped on a rattlesnake.
I've never bought a lottery ticket, not even once in my life. I think I would have done that immediately if I had been him. He is one lucky guy.
These isolated thunderstorms we are getting now, can be dangerous. They could also cause you to be trapped on the wrong side of the river. Just be aware that flash floods are a possibility and keep an eye on the river, upstream. One of the first indications are, the water will quickly become turbid. But, maybe it won't.
This boat caught on fire, after filling with fuel, at Concord Marina yesterday. You can see the photo and read the short story on the WBIR website by CLICKING HERE. I witnessed a boat fire similar to this one, at a marina when I was a kid. One woman was burned but survived and I think she is OK. There were no other injuries.
Always keep a fire extinguisher handy in your boat.
We have a huge black bear roaming around our neighborhood. I have not seen it, but our neighbors have. Night before last, it tore our bird feeder off the 4 x 4 post during the night. I heard the feeder, which is large and made of wood, hit our back door steps. The feeder was 6 feet off the ground. As a precaution, I'm keeping the boat house garage door closed if I'm not in there. That's where I store bird seed. That bear would cause all kinds of damage in the boat house, trying to get the seed.
A unimaginable number of largemouth bass have hatched in Tellico Lake and probably in most lakes around here. Rodney Phillips, the harbormaster at Tellico Marina, took a photo of some babies with their father, and posted it on their Facebook page. You can see it by CLICKING HERE.
Paula and I plan to fish two days out of Tellico Marina this week.
Blackberry Farm won it's third James Beard Award, recently for Outstanding Service. Before that, former Executive Chef Joseph Lenn won the Best Chef in the Southeast in 2014. Andy Chabot won the James Beard Award for Outstanding Wine Program, that same year. Great job guys and gals. You are doing it right! I know you are proud. You can read the story on the Daily Times website by CLICKING HERE.
I heard Joseph Lenn is opening a restaurant in Knoxville. He is an avid fly fisherman and has been a customer of ours, and a friend, for years. We probably won't see him often for a while. Opening a new restaurant is a lot of work. Opening any new business is a lot of work. I wish him well. I think he should name the restaurant, "Joseph Lenn's". I bet he is reading this report today. I mean it Joseph, name it that.
Well, that's about all the news I have today. We've covered flash floods, great fishing, boat fires, bass birth, bears and outstanding food, wine and service.
This is a great time of year to be living or visiting here. That statement could be different, should I get chased by the bear. Paula can definitely run faster than me.
Have a great day and thank you for being here with us.
Byron Begley
May 11, 2015