Townsend, Tennessee - Fly Fishing in the Great Smoky Mountains National Park, East Tennessee and Western North Carolina

Welcome to the Fishing Report from the Great Smoky Mountains. It is cloudy and 66 degrees in Townsend this morning. Paula and I have been on vacation for a week. One thing I noticed this morning that was different since we left, there was more traffic, even at 7:45 am. I guess other people are going on vacation too.
I've been keeping up with what is going on here from Florida. The streams are lower than normal. Last year, they were much higher than normal in May.
Flow right now is 170 cubic feet per second (cfs). Median flow for this date is 226 cfs. The water temperature early this morning was 63 degrees.
Evidently, from what I've read, fly fishing is very good in the Smokies. Trout are taking the lighter colored mayflies and stoneflies. Light Cahills and Yellow Sally patterns are working best according to Daniel. He isn't here yet, I've just been reading this fishing report while I was gone. It makes sense though. It's time for those flies. Nymphs will work well. I would use green or pink Weenies.
Our best selling late Spring and Summer dry fly is the Yellow Neversink Caddis. The trout think it's a yellow stonefly. They eat them up.
Today, you will need to stay hidden from the trout. Wear clothes that blend in and stay low. Don't wade much if at all. When the water is low, stealth is essential. Getting a good drift is also important. And, you need to fish the moving water.
It looks like we are going to have plenty of cloud cover this week. That is good. There is a chance for scattered thunderstorms today. That chance becomes much greater tomorrow, Wednesday and Thursday. Then, we'll see some very cool temperatures, with highs in the 60's and lows in the 40's.
I'm sure the lakes are on fire right now. Smallmouth bass fishing has to be awesome. It always is this time of year. We'll try that next week.
More water will help the lowland river fishing. I bet the tailwaters are fishing well. It's that time of year.
Speckled trout fishing is awesome right now in Florida. The fish are on the weed beds. We rented a house on the bay and had our fishing kayaks right there, 100 feet away. We paddled out about ½ mile off shore to the weed beds Tuesday and Wednesday. We were using 9 weight fly rods and most of the time, a Sand Shrimp fly. We caught a lot of fish. We lost a lot of them too. We were trying to land them with Boga Grips. Sitting right on the water, in a kayak, with fish thrashing around, make for a tough landing. From now on, we'll have nets with short handles on the boats.
I had a nice jack on and thought I would never get him in. We also caught Spanish Mackerel. Paula caught a huge ladyfish.
We took the day off Wednesday to relax and travel around. The weather forecast changed. Here came the wind from the East or SSE. We tried fishing Thursday. The wind that day was blowing 15 miles per hour. That went on for the rest of the week. There were whitecaps and swells out over those weed beds. We wouldn't paddle out there. So, we sat on the dock at the home we rented and watched the wind blow. It really was the best vacation we ever took, anywhere.
Frank, Ron and Brad were fishing down the coast from us in Sewannee. They encountered stained water from the flooded river entering the gulf. They also had the same wind we did. It was a tough trip for them though they had a great time.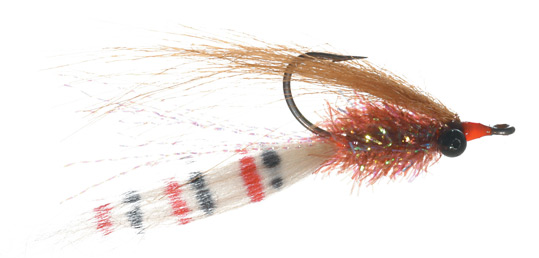 I just can't say enough about a Sand Shrimp fly above. We've been using them for years. Paula and I have caught redfish, speckled trout, sheephead, Spanish mackerel, flounder, ladyfish, jacks and other fish I can't remember right now.
Once we were fishing in the Panhandle with a guide. He told Paula and I about a school of redfish that he would take us to but these fish won't eat anything. We pulled onto a point where the bay met the Gulf and sure enough, there they were. The redfish were suspended. The guide said the reds would sometimes follow the fly but never take it.
He was right, even with a Sand Shrimp, those darned redfish would follow then turn off. I tried something different. When the fish followed the Sand Shrimp, I would speed up the retrieve. The Red would swim faster and I would strip faster. Finally, a redfish attacked the fleeing Sand Shrimp. After that, Paula did the same thing. It worked for her too. We caught several redfish right in a row using that simple tactic. Our guide couldn't believe it.
The Sand Shrimp is easy to tie. I use large bead chain eyes tied in Clouser style. The body is root beer estaz or something similar. The tail is cream craft fur colored with Sharpie marking pens. The wing is brown craft fur. I like the Hareline fur for the wing because it is stiff and does not get tangled in the hook. I use Metz craft fur for the tail. The tail also has a few strands of pearl Krystal Flash. Sometimes I put some in the wing too.
This fly was made famous by Ed Story, the owner of Feathercraft in St. Louis, Mo. I called him once and asked if I could have some tied overseas to sell. He said that was fine. What a nice man he was. Ed died a few years ago. His son and daughter run Feathercraft now.
If you go fishing in the Gulf, especially in clear water, take some of these. You may not use anything else. I did use a Crease Fly last week to catch some speckled trout on top, which is fun. But we caught almost everything else on a Sand Shrimp.
For some reason our Online Store and Message Board are down this morning. I contacted our host early. Hopefully that will be resolved soon.
Have a great day and thank you for being here with us.
Byron Begley
May 12, 2014