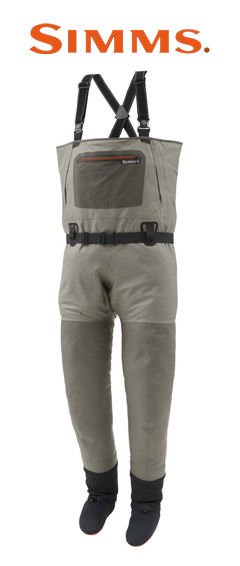 Visit Our
Wader Department
Waders from Simms,
Chota and Orvis

FREE GROUND SHIPPING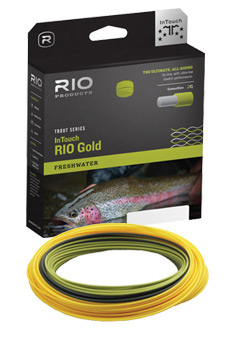 Fly Lines From
Rio, Orvis,
Scientific Anglers

FREE GROUND SHIPPING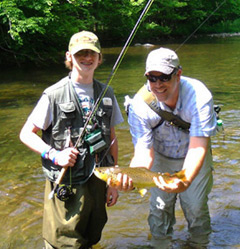 Our Fly Fishing School
Teaching Fly Fishing
For 19 Years

From Beginner to Advanced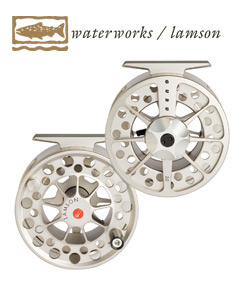 Waterworks Lamson
Fly Fishing Reels
FREE GROUND SHIPPING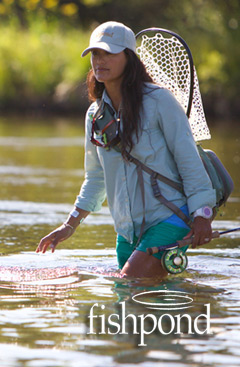 See The Entire
2016
Fishpond Collection
of Fly Fishing Gear

Free Ground Shipping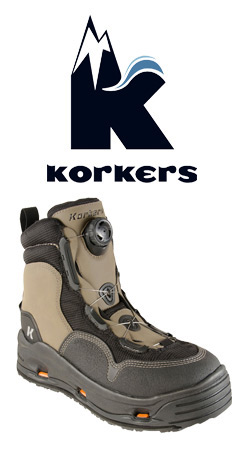 Korkers Amazing
Wading Boots



FREE GROUND SHIPPING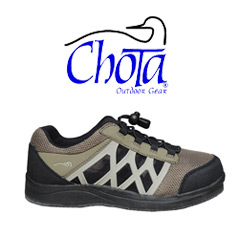 The New
Chota Hybrid
Felt Soled
Wading Shoe

FREE GROUND SHIPPING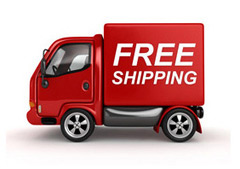 Free Ground Shipping
No Strings Attached
We've been Doing It
For 18 Years

We Take Good Care of Our Mail Order Customers

Buy Online
Or Call 865-448-9459
To Order Anything

Copyright 2006-2016 Little River Outfitters, Inc.
Townsend, Tennessee - Fly Fishing in the Great Smoky Mountains, East Tennessee and Western North Carolina

If you don't see today's fishing report, please refresh your browser to empty your cache.
Welcome to the Fishing Report from Townsend, Tennessee in the Great Smoky Mountains. At 5:18 am, the temperature is 63.7 degrees. I heard thunder rumbling at about 4 am. There is a strong but small cell moving over what appears to be right on top of the Little River Watershed in the Park.
Thunderstorms are likely today and tonight. The National Weather Service warns of the possibility of "frequent lightning and gusty wind". They also mention "heavy downpours". Tomorrow through Sunday will bring us beautiful weather, with highs in the 60's and low to mid 70's. Lows will range from the high 40's to low 50's.
Little River is flowing at 253 cubic feet per second (cfs) or 2.10 feet on the gauge. Median flow for this date is 226 cfs. The water temperature is 61.3 degrees.
Unless we do get some really heavy rain, this could be a fantastic weekend to be fishing in the Smoky Mountains. Chances are, in my humble meteorological opinion, we may get the rain in spots, but the water levels should recede by Saturday. And, there is the chance we won't get much if any rain at all. On the other hand, radar indicates a large storm front moving into Tennessee and possibly heading our way by this evening. So, don't take my word for it until it's over. My meteorological opinion is not reliable.
If you are planning a fishing trip here this weekend, I believe the odds are, fishing conditions will be good. We will know for sure tomorrow morning and you can find out here.
If you fish in the Smokies today, be on the lookout for rising water. If the water turns turbid and the current strengthens, "Get the heck out of the river". We do have flash floods here, when storms develop and dump on the higher elevations, without you even knowing. You don't want to be trapped on the wrong side of the river, meaning, the other side from the road. You could be there a while, waiting it out. Or, you could bushwhack to the next bridge. Both can put a damper on your fishing day.
There are wade fishing possibilities today on the Holston and Clinch Rivers. Check the TVA website and view the current generation schedules. The Holston looks better at this point.
I believe you should keep your lake boat in the garage today. I'm going to.
A bear bit a man's leg, through his tent, while camping on the Appalachian Trail, near a shelter. He quickly took refuge in the nearby shelter. He was evacuated by horseback the next morning. You can read the story on the WBIR website by CLICKING HERE. Imagine riding a horse down from the Appalachian Trail. I have done it, willingly. Given the choice, I might pick being bitten by a bear. Given all options, I would pick neither and walk.
There is also a warning in the article, to those of us who live where we do, about bird feeders. I learned the hard way. Two years ago, I neglected to remove a beautiful bird feeder I built with my own two hands. A bear knocked it off the post. It landed on the steps leading to our back yard, totally destroyed. The feeder was empty at the time. I was looking out the back door the next morning. The bear returned to inspect the damage. He or she appeared to be very proud.
This Spring, I was still scattering millet and sunflower seed on the ground to feed birds. I looked out one day and the sow and cub you see below were loafing 25 feet from our house and stayed there for an hour. I saw the sow licking seed from the ground. I spread the straw you see to stop erosion. Turkeys had scratched the ground all Winter, loosening the soil. After this momma bear and her cub arrived, I stopped feeding the fowl. The bears came back two days later to find the seed was gone. I won't be feeding birds again until next Winter, when the bears den.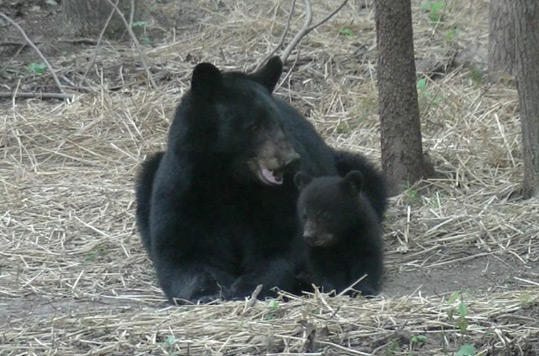 We see a bear or two passing through often. We don't want them hanging around.
Wendy Baker came over last night. Paula and I love Wendy. She and Paula are buds. Wendy and I are buds too. Wendy bought the Strawberry Patch and just recently turned it into a Bed and Breakfast. Paula has been helping her with the decorating. This place is awesome. It is an old timber structure, located right on Little River. The setting is unbelievable. She rents her rooms through "airbnb". CLICK HERE TO SEE IT. Scroll down and look at the photos. Read the guest reviews. You will want to stay there.
This is one of the few places to stay in Townsend, right on Little River and the rates are very reasonable. Strawberry Patch is perfect for fishermen. Wendy will take good care of you. As one guest remarked, "Wendy is an unfailingly gracious and welcoming host".
One room is named "Rainbow Trout". Another is named "Brown Trout". Wendy and I will be working on her new website next week.
Get ready for some great fly fishing, I hope.
Have a great day and thank you for being here with us.
Byron Begley
May 12, 2016
Respond to: byron@littleriveroutfitters.com
Orvis announced that they are going to be doing a Rod Swap again this year. The way this works is....you bring in a still functioning (doesn't have to be a great rod but it does have to be usable not broken) rod and you will get 20% off a Made-in-USA Orvis fly rod. These rod series are the RECON, Superfine, Superfine Glass, and Helios2. If we don't have the specific model you want we will be happy to order it for you. The rod you trade in will be given to a flyfishing charity. This is a great opportunity to get a deal on some fantastic rods and pass your old rod onto someone else to use and enjoy.
This Rod Swap will start on May 13th and run till June 19th. We can do this via mail order also but please give Daniel a call 865-448-9459 because the Online Catalog prices won't reflect the 20% discount.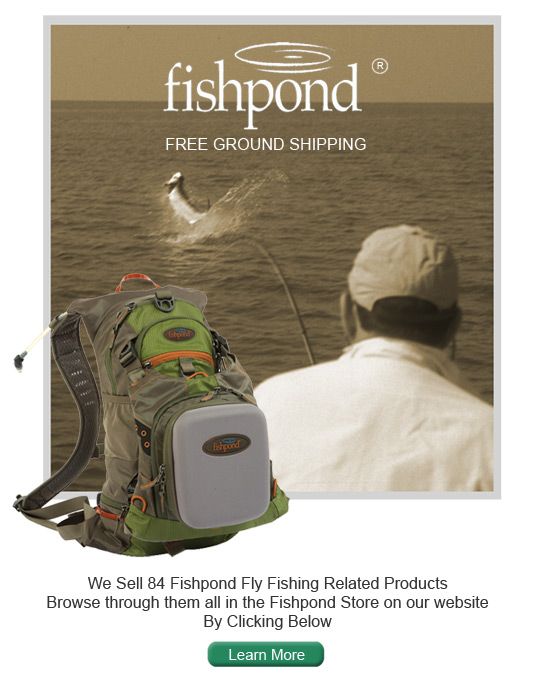 We have been aggressively using and selling fine Fishpond products at Little River Outfitters since 2001. We have enjoyed a great relationship with the owners and staff at the company for many years. Fishpond is one of our highest sales volume manufacturers.
Below are the top 5 Fishpond products we have sold during the past 16 months (January 1, 2015 through April 30, 2016). By "Best Sellers", we mean dollar volume, not units sold. What is interesting is, the #2 Best Seller (dollar volume) sells for $19.95. That means, we sold a heck of a lot of units during the period. It is the Headgate Tippet Holder. By the way, this item is currently out of stock both at Fishpond and our shop. It should be available soon. You may pre- order.
Though we sell plenty of Fishpond items in our store, we have done extremely well selling these products by mail order. One reason is, all wearable products are adjustable, meaning, one size fits most. You don't have to try them on. And, we offer FREE GROUND SHIPPING, even on the Headgate Tippet Holder.
Enjoy looking at these very popular fly fishing products. You can learn more about each one by clicking the links for those items to our online store. You may order online or call us a 865-448-9459, 7 days a week.
Thank you for supporting all of us at Little River Outfitters.

Backcountry or all day fly fishermen take note, "The Oxbow Chest/Backpack is for you"! We've never seen a chest/backpack like this one. There aren't any. Due to it's modular design and Fishpond's forward thinking, this pack can be docked with many other chest/lumbar packs for even more options and possibilities. The Savage Creek Chestpack is included. To learn more or to order online, CLICK HERE, to visit our Online Store.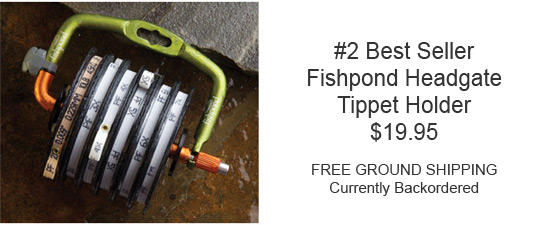 Someone finally invented the perfect tippet holder. That someone is Fishpond and this one has been a huge success. It's called the Headgate Tippet Holder. What a tool!
The Headgate is made from anodized aerospace grade aluminum for light weight and corrosion resistance. It holds up to 7 spools of tippet. The tippet spools can be easily switched out or re-arranged due to the spring loaded pull.
A slot on the frame makes attachment to your vest, boat bag or lumbar pack a snap. A very handy built in, recessed line cutter is mounted to the frame. You can cut tippet with it, but you won't cut anything else by accident. The blade is replaceable. CLICK HERE to learn more about the Fishpond Headgate Tippet Holder. It is out of stock at our store and at Fishond. You may pre-order and wait for it to arrive.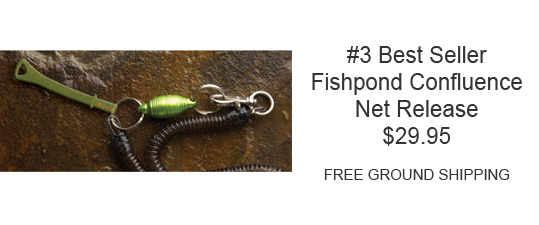 This new release is more convenient than many other methods of attaching your net to a vest or pack. The attachment point is at the top of the hoop of your net. By doing it this way, your net bag stay close to your back, high up. That alone helps keep you from tangling your net bag in branches.
Additionally, when you need your net, just reach behind your lower back and grab the net handle. Give it a tug and it is free. Land your trophy trout. CLICK HERE to visit our online store to order or learn more about the Fishpond Confluence Net Release.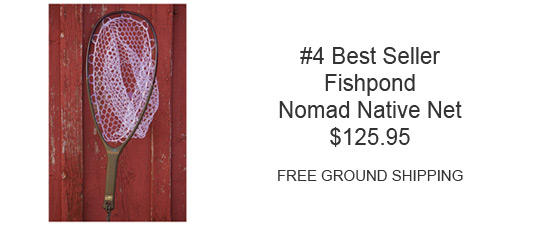 We are excited about this landing net from Fishpond which was introduced last year. The "Native" is their smallest net. We think it is so popular at our store, because it is sized perfectly for anglers who fish in small streams. It's is perfect for trout, in the Smokies streams or tailwaters unless you catch a monster of a trout. Then, you might need the next size up. To visit our online store where this net is located, CLICK HERE.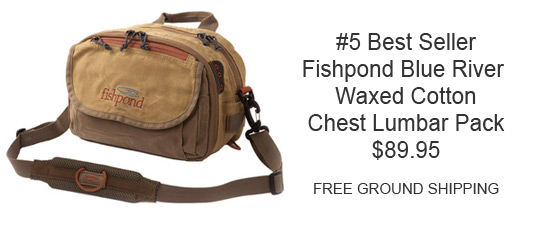 The Blue River Chest/Lumbar Pack from Fishpond is one of the best all time sellers in the line. It's just the perfect size for a day on the river. This one is new though. It's the same Blue River but it is made from waxed canvas for that classic look we all love. Visit this page on our online store by CLICKING HERE.
Lake Information and Tailwater Generation Schedules



Please enter your e-mail address in the box to the left to sign up for our e-newsletter. You will receive news about the shop, events, sale information, fishing info and more important information a fly angler would want to have.

You can opt out at any time. If you decide you don't want to receive our information just change your status or click at the bottom of an e-mail we send you in the "Remove" box.

We do not sell or give your e-mail address to anyone. And, we won't hound you to death with e-mails. You will receive no more than one per week unless unusual or critical fishing news might be of interest to you.