Townsend, Tennessee - Fly Fishing in the Great Smoky Mountains, East Tennessee and Western North Carolina

If you don't see today's fishing report, please refresh your browser to empty your cache.
Welcome to the Fishing Report from Townsend, Tennessee in the Great Smoky Mountains. At 5:55 am, the temperature outside is 39.4 degrees. That's cold! It is going to be warmer now. It appears we will be back to highs near 70 or above all week, with lows in the mid to high 50's. That will be nice. Expect some rain this week, beginning tonight and remaining off and on through Wednesday.
Little River is flowing at 205 cubic feet per second (cfs) or 1.96 feet on the gauge. Median flow for this date is 230 cfs. The water temperature is 53.6 degrees.
You may do best this morning using nymphs. The trout could be sluggish at first until the water warms later today. I think dry flies will work well this afternoon. This should be a great week for fishing in the Smoky Mountains. We will have overcast skies most of the week. That and the warming water will be an advantage in favor of the angler. Unless we get too much rain, which does not seem likely right now, it is going to be a good fishing week.
The lowland rivers and streams, along with the lakes, are fishing well too. Smallmouth bass are active and I've seen some reports of smallies taking top water poppers. The small creeks near your home should not be overlooked. Don't just keep driving by. Stop and give one a try. You may be alone. Most people just drive by. Kids used to fish those local small streams. You don't see that much anymore.
TVA's generation schedules for Cherokee, Norris and Center Hill dams look promising today. The schedules vary. Best fishing times on the tailwaters differ today. I'm really liking what I see for the Caney Fork. Check the TVA website and see what works for you.
The Caney Fork has settled down. It seems like every time I glanced at the generation schedule this year, they were running full bore.
I spent nearly 1/3 of my life living in Middle Tennessee. The "Caney" was my favorite river. In the early days, hardly anyone was there. We didn't see many fly fishermen at all. They say it is different now. At times, there are crowds. I've heard about the canoe and kayak hatch.
That is a long river. I have floated along every inch of those banks in a canoe, from the dam to Carthage. I can't help but believe there is still solitude, where the only observers of your fishing are cows.
The Caney is a wonderful river, with gravel bottoms, farms and big trout. I'm going back soon. I've got so many memories I would like to re-live. The problem is, there are so many great places to fish here, and I'm still working. I like work almost as much as I love fly fishing. Now that I work at home, I don't have to drive to work. Before now, going back over 20 years, my drive to work took only about 5 minutes. I am definitely spoiled.
My Caney Fork fishing skiff was a 15 foot, Royalex canoe. I've still got it. It is at our barn, just sitting there. She is still beautiful. The seats and gunnels are made from mahogany. The hull color is yellow. The cane seats need some work, but otherwise, she is still very serviceable.
I love the way a Royalex canoe quietly slides over rocks and gravel. Canoes make great fly fishing vessels, especially on rivers. You can paddle and steer from the stern, while still fly fishing. If a friend is fishing from the bow, all they have to do is fish.
If you own a Royalex canoe, hang onto it. Unless things have changed during the past few months, they don't make Royalex anymore. I have a friend who bought a new Royalex canoe a few years ago. He has not used it. He is saving it. He fishes out of his older Royalex canoe. Polyethylene just isn't the same.
New Royalex canoes were still available for sale the last time I looked. Evidently, We-No-Nah bought all the remaining inventory of the material. I just checked. They still sell a Royalex canoe. Maybe someone is making the material again. Here is a link to one of their pages. CLICK HERE. Scroll down. The boat is a Prospector 15.
Fishing kayaks are the rage. Paula and I have two. I was down at the boat house last night, cleaning off the leftover salt, from our last trip to Florida two weeks ago. I like fishing kayaks OK. Ours are sit-on-tops. They can't be swamped like a canoe. Their low profile cuts through the wind. They are loaded with dry storage. You sit low on the water, so fish don't see you as well. You can get close to them. Ours are wide and heavy.
My problem is, I can't move around in a kayak. It's hard for me to get to stuff. If you are fishing a shallow river, you can get out of your kayak and get to things you need. Getting out of one is a chore for me. I'm getting older. If I am kayak fishing in deep water, in the ocean or on a lake, I try to have everything I need right between my legs, easily accessible.
I can get to stuff in a canoe. Dropping to your knees from the stern, is easy, without tipping over. Then you can reach your gear and find what you are looking for. If you are in the bow, you can turn and face the stern, get on your knees and dig through your gear. You can stand up. I say that, knowing quite well, I haven't fished in canoes much during the past 10 years. Maybe I would not stand up at this point.
I keep saying this. I need to get that canoe out of the barn, bring it to the boat house, clean it up, fix the seats, and use it, on Little River. Maybe Paula and I will load her up and drive to the Caney Fork. If I get that done this Summer, I'll let you know. If you don't hear from me, the canoe is still sitting on the floor in the barn.
Have a great day and thank you for being here with us.
Byron Begley
May 16, 2016
Respond to: byron@littleriveroutfitters.com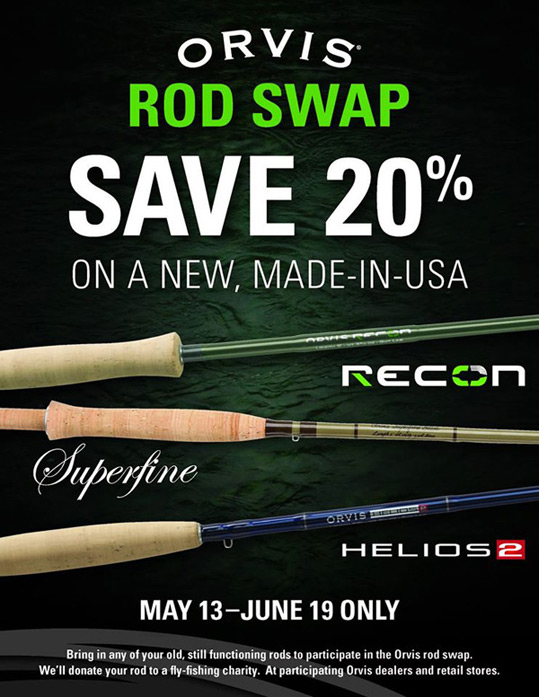 Trade in a usable fly rod at Little River Outfitters, and get 20% off any Orvis Recon, Superfine or Helios2 fly rod. That could amount to a discount of up to $170 for a Helios2 big game rod. This offer applies to only those three rod models.
We will donate your traded rod to a fly fishing charity, one who needs them for beginners.
Bring your rod by the shop and pick out your new fly rod. If you want one that we do not stock, we'll order it for you from Orvis.
If you are shopping online, call the shop first at 865-448-9459. We will adjust the cost of the rod downward by 20% when your online order arrives. We will wait until we receive your trade-in rod, then ship you the new one. You can also just give us a call and we'll handle the transaction over the phone.
We do not charge for Ground Shipping.
This offer expires June 19, 2016, so don't wait too long. The transaction must be complete by that date.
This is an opportunity like we have never seen before from Orvis, for it's participating dealers. You will be helping one of our many fly fishing non-profits with your trade-in.
CLICK HERE to view our Orvis fly rod offering on our online store.
Thank you for supporting all of us at Little River Outfitters.
Lake Information and Tailwater Generation Schedules



Please enter your e-mail address in the box to the left to sign up for our e-newsletter. You will receive news about the shop, events, sale information, fishing info and more important information a fly angler would want to have.

You can opt out at any time. If you decide you don't want to receive our information just change your status or click at the bottom of an e-mail we send you in the "Remove" box.

We do not sell or give your e-mail address to anyone. And, we won't hound you to death with e-mails. You will receive no more than one per week unless unusual or critical fishing news might be of interest to you.