Townsend, Tennessee - Fly Fishing in the Great Smoky Mountains, East Tennessee and Western North Carolina

If you don't see today's fishing report, please refresh your browser to empty your cache.
Welcome to the Fishing Report from Townsend, Tennessee in the Great Smoky Mountains. At 5:47 am, the temperature outside is 54.9 degrees. We have an 80% chance for rain and possible thunderstorms today and a 40% chance tomorrow. The rain chance drops to 30% Thursday then back to 60% Friday. Thunderstorms are predicted Saturday at this point. That could change of course.
High temperatures will be in the low 70's with lows in the 50's.
Little River is flowing at 193 cubic feet per second (cfs) or 1.92 feet on the flow gauge. Median flow for this date is 211 cfs. The water temperature is 55.9 degrees this morning.
Fishing should be good all week, depending on how much rain we get. You might do best using nymphs most days.
Looking at TVA's generation schedules, you should have a good shot at some wade fishing on the Caney Fork today at times and at specific spots during the day. The Caney looks good right now. You may have opportunities on the Holston too. This morning and early afternoon look great on the Clinch River. Check the TVA website for specifics. You may have to move at times to avoid high water, depending on where you plan to fish on these rivers.
I just read an e-mail from David Knapp. He is a friend and guide who lives in Crossville, and guides on the Caney Fork River and in the Smokies. He had a great day with a client on the Caney Fork yesterday. His client lost a rainbow that may have measured 20 inches and he caught lots of other nice trout. Check out his new website by CLICKING HERE.
My Kentucky buddies are trying to plan a trip for us this week. I'll find out in a couple of hours what the deal is. If it works out, we'll fish Hatchery Creek. All they have to do is tell me when and where. I'll be there. I guess we'll stay at Lake Cumberland State Park.
The last time I drove to Lake Cumberland to meet them was in February. I drove 5 hours to get there. It should have taken 3 hours. The road construction on I-75, on Jellico Mountain caused awful traffic problems. Now, I'll go to Crossville, then head north. I don't know what it is like on Jellico Mountain right now but I don't want to find out. It may be fine.
Just about every kind of fly fishing you can think of right now is good in our area. The tailwaters, lowland rivers, lakes and streams in the Southern Appalachians have all been fishing well. The small creeks are fishing well too. I don't know about the ponds.
I learned the basics of fly fishing on farm ponds. That began in 1962. As a child, living on a farm in Kentucky, I had access to more farm ponds than I can remember. There were ponds on our farm. All of our neighbors had ponds. And, I had permission to fish them all. Sometimes I had to walk a few miles to get to some of my fishing destinations. I remember one pond I loved to fish, that required a 2 mile walk, each way.
Back then, I used poppers and streamers to catch bluegill and largemouth bass.
By the late 60's, I could drive. That extended my range. And, sometimes I would drive here, with a buddy to camp and fish. I didn't know the first thing about fly fishing for trout. Moving water was new to me. The whole concept was foreign. There were no fly shops or people to help me learn to fly fish in streams. I resorted to spinning rods to catch trout in the mountains.
When I got home, and back to the ponds, I used a fly rod.
I know that sounds odd. Things were different in the 60's. Many things were different in the 60's. I'm glad I grew up in the 60's. Some of you don't know what you missed. My two buddies I'm meeting to fish with in Kentucky this week understand. We grew up together.
Other than the music, and other things, fishing and hunting are better now, in my opinion. Our resources are managed. Biologists have made a huge difference. Improved land use practices, cleaner water, fish and game harvest limits and enforcement have come a long way, since when I was a kid. Fishermen practice catch and release. There is attention to native fish protection and re-introduction. More people respect and pay attention to our environment.
I hear people complain about the lack of enforcement from our agencies. When I was a kid, there was almost no enforcement. We would sometimes see a game warden on opening day of dove season. I was busted once for gigging a frog out of season. I truthfully did not know there was a frog gigging season. The warden let me go with just a warning, but confiscated my frog, which probably ended up on his dinner plate that evening. Other than that, I don't remember any enforcement.
Back then, where I grew up, game enforcement was not a priority, because there was not much game to protect. I never saw a wild turkey. Now, they are everywhere in these hills and valleys, running around like chickens on a farm. It's the same with whitetail deer. Here, bears are thriving, mainly because, everyone is not trying to kill them.
We do have a bear hunting season in our County. Several are legally harvested every year and that number is growing. If we did not have bear hunters here, the animals would not be afraid of humans and they might be over-populated. Sometimes I think there may be too many bears, at least where we live.
By the way, Rangers in Great Smoky Mountains National Park killed a bear that may have attacked and bit a man several days ago. DNA testing will determine if they got the right bear. You can read the story on the WBIR website by CLICKING HERE. The bear was captured. The decision to euthanize the bear went all the way to the top, to Cash, our Superintendent. Park management takes killing a bear seriously. They also take protecting Park visitors seriously. I bet Cash made the right call. It's not an easy call to make.
Have a great day and thank you for being here with us.
Byron Begley
May 17, 2016
Respond to: byron@littleriveroutfitters.com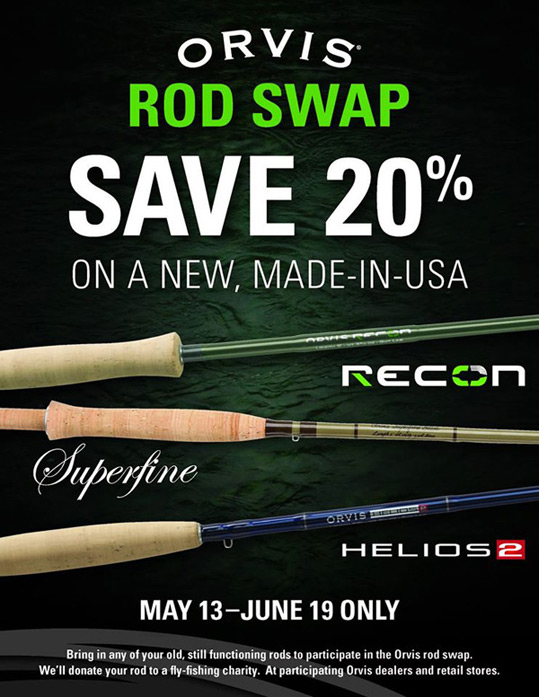 Trade in a usable fly rod at Little River Outfitters, and get 20% off any Orvis Recon, Superfine or Helios2 fly rod. That could amount to a discount of up to $170 for a Helios2 big game rod. This offer applies to only those three rod models.
We will donate your traded rod to a fly fishing charity, one who needs them for beginners.
Bring your rod by the shop and pick out your new fly rod. If you want one that we do not stock, we'll order it for you from Orvis.
If you are shopping online, call the shop first at 865-448-9459. We will adjust the cost of the rod downward by 20% when your online order arrives. We will wait until we receive your trade-in rod, then ship you the new one. You can also just give us a call and we'll handle the transaction over the phone.
We do not charge for Ground Shipping.
This offer expires June 19, 2016, so don't wait too long. The transaction must be complete by that date.
This is an opportunity like we have never seen before from Orvis, for it's participating dealers. You will be helping one of our many fly fishing non-profits with your trade-in.
CLICK HERE to view our Orvis fly rod offering on our online store.
Thank you for supporting all of us at Little River Outfitters.
Lake Information and Tailwater Generation Schedules



Please enter your e-mail address in the box to the left to sign up for our e-newsletter. You will receive news about the shop, events, sale information, fishing info and more important information a fly angler would want to have.

You can opt out at any time. If you decide you don't want to receive our information just change your status or click at the bottom of an e-mail we send you in the "Remove" box.

We do not sell or give your e-mail address to anyone. And, we won't hound you to death with e-mails. You will receive no more than one per week unless unusual or critical fishing news might be of interest to you.