Townsend, Tennessee - Fly Fishing in the Great Smoky Mountains National Park, East Tennessee and Western North Carolina

If you don't see today's fishing report refresh you browswer. You may have an older version in your computer's cache.
Welcome to the Fishing Report from the Great Smoky Mountains. It is overcast and 51 degrees in Townsend this morning. I grilled some hamburgers outside last night and had to wear a fleece jacket. It's been cold, especially for May. Warmer days and nights are coming soon.
Little River is flowing at 340 cubic feet per second (cfs) or 1.95 feet on the gauge. Median flow for this date is 229 cfs. The water temperature at 7:55 am is 53 degrees. Yesterday, that number rose only to 54 degrees.
Flows are perfect for fishing in the Smoky Mountains. I don't know about this temperature issue. 58 degrees is optimum. 53 degrees isn't far from that. Fishing yesterday was probably very good though I didn't talk to any returning anglers. I worked on our website all day. Business was brisk at the shop so I know a lot of people went fishing.
Light colored dry flies are the ticket. Light Cahills and Yellow Sally Stonefly imitations would be my choice. If dries don't work, switch to a nymph, maybe a Pheasant Tail, Tellico or Green Weenie in both colors.
I did talk to some Trout Unlimited Acid Deposition team members yesterday. They had been in the park sampling and testing the streams. They said the water temperature up there at higher elevations was in the low 40's. If you find water temperatures in the low 40's today, you might consider moving to the lower elevations to fish.
Emergency vehicles have been flying by the shop with sirens blazing this morning. One was an ambulance that turned left onto Wears Valley Road. Something happened there for sure.
I took a break yesterday and visited with Ronnie, our police chief. He drove me around in his Police Pickup Truck. We went to his house to show me his new boat building. It is constructed entirely of steel. We are thinking about building a boat and fishing garage at our house. I really liked his building.
Man, something bad has happened. The UT Medical Center helicopter just landed across the street from the shop. That vacant lot is used as a staging area for emergency evacuations. I snapped some photos from one of the windows in the shop. That's Ronnie our police chief and Don our fire chief talking beside the police pickup truck. The pilot is talking to a fireman nearby. They are waiting for the ambulance to arrive.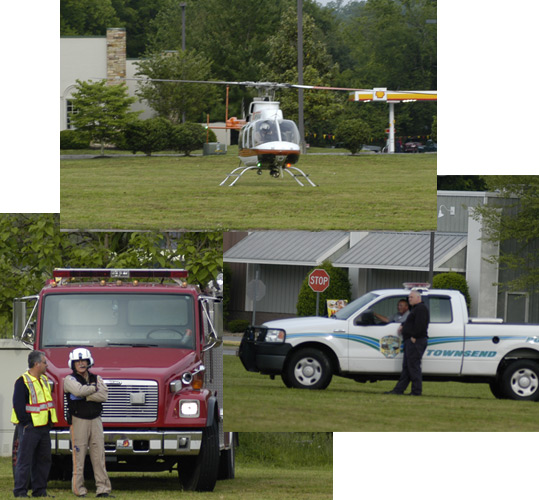 I walked out and talked to a county deputy I know. He said a man from Florida was riding his motorcycle on Wears Valley Road and missed the sharp turn. He is stable and on his way to the UT Med Center in the chopper. I hope he makes it.
I burned my time talking instead of writing about fishing so this is a short report.
Have a great day and thank you for being here with us.
Byron Begley
May 18, 2014