Townsend, Tennessee - Fly Fishing in the Great Smoky Mountains, East Tennessee and Western North Carolina

If you don't see today's fishing report, please refresh your browser to empty your cache.
Welcome to the Fishing Report from Townsend, Tennessee in the Great Smoky Mountains. It is overcast and cool this morning here at the Shop. The weather report is calling for a slight chance of rain this afternoon and more chance for tomorrow.
Predicting the weather in East Tennessee is not easy. There is so many variables with the mountains, the valley, the plateau. I have a hard time trusting in reports. I looked the other day and the forecast was calling for 3 inches of rain on Friday. Now that same weather app is calling for an 80% chance of 0.6" on Friday. Best thing is just remain vigilant and prepared to deal with whatever comes.
Water levels and temperatures in the Little River watershed are excellent this morning. The streamflow gauge is reading 1.88 feet or 181 c.f.s. which is less than the daily normal of 221 c.f.s. Water temperatures are at a good 59.7 F.
We have been hearing good reports from most anglers. Of the anglers we know who generally do very well fishing the Smokies...they are doing VERY well fishing right now. Most are fishing dry flies. Lighter colored patterns have been producing. It is getting to Yellow Sally time of year. The great thing about those patterns, other than the trout love them, is that they are easy to see. I most definitely prefer fishing flies I can see.
Yellow Sally patterns such as Neversink Caddis, Yellow Sallies, Stimulators, etc in sizes #14 - #16 are good. Female Parachute Adams (it is a parachute adams with a golden pheasant tail and an egg sack) are also great flies. Green Weenies are really starting to work also.
Byron is fishing in Kentucky today. Hatchery Creek sounds like a great destination. I have spoken to a couple of guys about it over the last week. They had drastically different opions stemming from what I gather is the same issue. One angler said that there wasn't many fish in there and he had a hard time of it. The other, a local guide, said that the stream had a bunch of good to big fish in it but that they have been fished hard and we very difficult to get to eat. Byron was taking an extremely varied selection of flies from tiny midges to Squirmy Worms to large streamers. Gotta be prepared!
Paul and I found the handiest new gadget. The Catch-A-Lure fly retriever. We don't have it on the online catalog yet so you need to call or stop by the Shop to get one. The video for it is below. We got some in and it works just like they claim. FREE SHIPPING!
Time to start working...number one on my To-Do List for today....order flies! Have a great day and thank you for being here with us.
Daniel Drake
Respond to: byron@littleriveroutfitters.com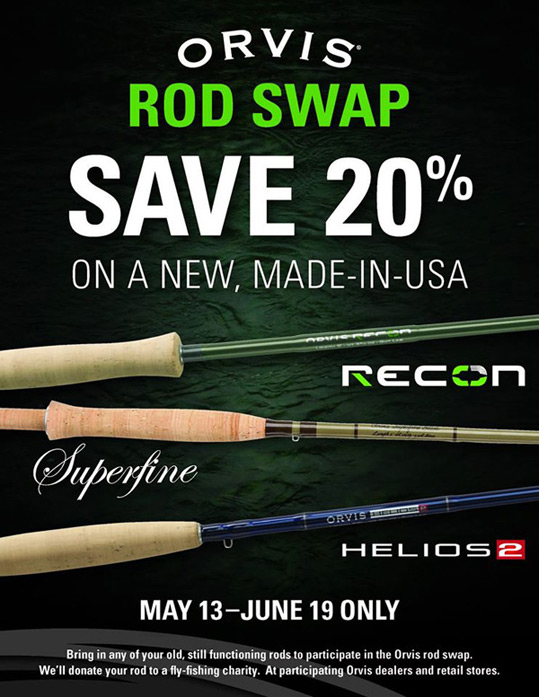 Trade in a usable fly rod at Little River Outfitters, and get 20% off any Orvis Recon, Superfine or Helios2 fly rod. That could amount to a discount of up to $170 for a Helios2 big game rod. This offer applies to only those three rod models.
We will donate your traded rod to a fly fishing charity, one who needs them for beginners.
Bring your rod by the shop and pick out your new fly rod. If you want one that we do not stock, we'll order it for you from Orvis.
If you are shopping online, call the shop first at 865-448-9459. We will adjust the cost of the rod downward by 20% when your online order arrives. We will wait until we receive your trade-in rod, then ship you the new one. You can also just give us a call and we'll handle the transaction over the phone.
We do not charge for Ground Shipping.
This offer expires June 19, 2016, so don't wait too long. The transaction must be complete by that date.
This is an opportunity like we have never seen before from Orvis, for it's participating dealers. You will be helping one of our many fly fishing non-profits with your trade-in.
CLICK HERE to view our Orvis fly rod offering on our online store.
Thank you for supporting all of us at Little River Outfitters.
Lake Information and Tailwater Generation Schedules



Please enter your e-mail address in the box to the left to sign up for our e-newsletter. You will receive news about the shop, events, sale information, fishing info and more important information a fly angler would want to have.

You can opt out at any time. If you decide you don't want to receive our information just change your status or click at the bottom of an e-mail we send you in the "Remove" box.

We do not sell or give your e-mail address to anyone. And, we won't hound you to death with e-mails. You will receive no more than one per week unless unusual or critical fishing news might be of interest to you.