Townsend, Tennessee - Fly Fishing in the Great Smoky Mountains, East Tennessee and Western North Carolina

If you don't see today's fishing report, please refresh your browser to empty your cache.
Welcome to the Fishing Report from Townsend, Tennessee in the Great Smoky Mountains. At 6:10 am, the temperature outside is 56.3 degrees.
We have an 80% chance for rain today and tonight with more rain possible tomorrow. The National Weather Service predicts heavy rain at times. They say we could get up to two inches. Flash flooding is a concern.
High temperatures through the weekend will be in the low 70's. Lows will be in the 50's.
Little River is flowing at 170 cubic feet per second (cfs) or 1.84 feet on the gauge. Median flow for this date is 211 cfs. The water temperature is 59.2 degrees.
If you are planning a fishing trip to the Smokies this weekend, you may find swollen rivers and streams. Or, you may find nothing significant. Most weather websites are not guessing at how much rain we will get, only that it could be heavy at times.
Whatever you decide to do, be aware, that somewhere upstream from where you are, a thunderstorm could be dropping heavy rain. You may not be aware this is happening. You could find yourself moving to shore quickly, avoiding a flash flood. This does happen here.
If the heavy rain misses us, fishing should be good. We will all know tomorrow morning. I'll be watching the water levels today, and update this report if I learn anything you need to know. You can check the USGS flow gauge by clicking the link below.
You will have wade fishing opportunities on the Clinch, Holston and Caney Fork rivers today. Check the TVA website. See if you can work with their generation schedule.
I drove to Lake Cumberland State Park Wednesday morning. That is a 3.5 to 4 hour drive, each way for me. It doesn't seem like it should be, but it is. Upon arrival, I went directly to Hatchery Creek, the new man-made trout stream. The stream looks great, much better than when I saw it in February. Grasses have grown along the stream banks. The water was flowing well, and clear.
I walked down to the water and started talking to fly fishermen. One told me he lost a big rainbow, that was in the 5 pound range. Another young man from Louisville hooked a trout on his first cast. Other than that, nobody reported catching anything.
I picked up the keys to the cabin I rented at the State Park. My longtime buddies, Frank and Mouse arrived. We ate the restaurant and went to bed fairly early. Yesterday, we spent much of the day fishing on Hatchery Creek. We walked and fished much of the one-mile stream. We did not catch anything. Frank and I didn't get a strike. Mouse hooked one trout and saw another. Frank and I didn't see a trout.
I talked to every fly fisherman I saw. That probably amounted to a dozen people. Only one reported catching trout. He said is was doing fairly well, and caught a 16" rainbow just after we spoke to him earlier. We didn't see him catch anything.
It was a bright sunny day. The trout were probably hiding. We did not try to walk or wade through the shaded wetland area. That stretch could have been full of trout.
But basically, Frank, Mouse and I got skunked and apparently, others did too. My advice is, "Go on a cloudy day". On a sunny day, go early or late. Fishing will probably be best, when adult trout move into the stream to spawn. They do and they will.
We had a great time of course. The stream is beautiful, and hard to believe it was man-made. It certainly looked fishy. Though it opened to fishing for the first time in late April, there have obviously been a lot of fishermen there. Well-worn trails indicated that. There are many pools and runs that are very deep. Trout would be hard to see in those areas. The stream has been pounded by fly fishermen and spin fishermen. It is new. Everyone is anxious to try it out. Fishing regulations on most of the stream include "Catch & Release" and "Artificial Lures or Flies".
Except for two people and me, all the anglers I talked to live in Kentucky. Some were local. Others said they lived in or near Lexington and Louisville. I would not judge a fishery based on one visit. I'll be back and can't wait to go. Next time, everything may be different.
That is one beautiful part of the country. Stream access at Hatchery Creek is easy. You can rent a room at the lodge or a cabin at Lake Cumberland State Park, which is very close to the creek and it is an awesome place to stay. The rates are very reasonable, especially if you are my age. I got a 10% senior discount.
A huge, beautiful campground borders Hatchery Creek. It is operated by the Corps of Engineers. Everything is convenient. You can tour the National Fish Hatchery. We didn't. I've done it many times before.
Frank, Mouse and I will be back.
I hope the heavy rain misses us today and tonight. I hope tomorrow brings good news.
Have a great day and thank you for being here with us.
Byron Begley
May 20, 2016
Respond to: byron@littleriveroutfitters.com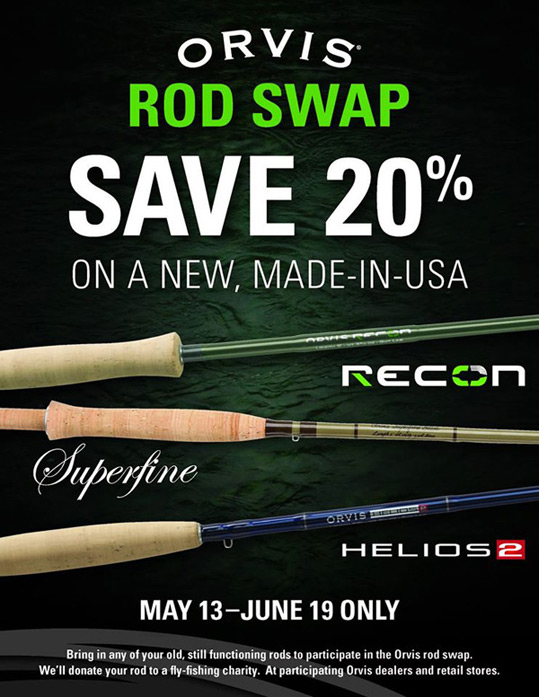 Trade in a usable fly rod at Little River Outfitters, and get 20% off any Orvis Recon, Superfine or Helios2 fly rod. That could amount to a discount of up to $170 for a Helios2 big game rod. This offer applies to only those three rod models.
We will donate your traded rod to a fly fishing charity, one who needs them for beginners.
Bring your rod by the shop and pick out your new fly rod. If you want one that we do not stock, we'll order it for you from Orvis.
If you are shopping online, call the shop first at 865-448-9459. We will adjust the cost of the rod downward by 20% when your online order arrives. We will wait until we receive your trade-in rod, then ship you the new one. You can also just give us a call and we'll handle the transaction over the phone.
We do not charge for Ground Shipping.
This offer expires June 19, 2016, so don't wait too long. The transaction must be complete by that date.
This is an opportunity like we have never seen before from Orvis, for it's participating dealers. You will be helping one of our many fly fishing non-profits with your trade-in.
CLICK HERE to view our Orvis fly rod offering on our online store.
Thank you for supporting all of us at Little River Outfitters.
Lake Information and Tailwater Generation Schedules



Please enter your e-mail address in the box to the left to sign up for our e-newsletter. You will receive news about the shop, events, sale information, fishing info and more important information a fly angler would want to have.

You can opt out at any time. If you decide you don't want to receive our information just change your status or click at the bottom of an e-mail we send you in the "Remove" box.

We do not sell or give your e-mail address to anyone. And, we won't hound you to death with e-mails. You will receive no more than one per week unless unusual or critical fishing news might be of interest to you.