Townsend, Tennessee - Fly Fishing in the Great Smoky Mountains National Park, East Tennessee and Western North Carolina

Welcome to the Fishing Report from the Great Smoky Mountains. At 6:44 am, the temperature is a chilly 48 degrees. The high temperature today will be in the mid 70's. It is going to warm some this weekend and there is no chance for rain, which we need in the worst way.
Little River is flowing at 109 cubic feet per second (cfs) or 1.52 feet on the flow gauge. Median flow for this date is 233 cfs, over twice what we have now. The water temperature dropped like a rock last night to 61 degrees this morning.
This is not going to be a great weekend to fish in the Smokies. You can catch trout. Many fishermen will. Some people will have a hard time due to low water, heavy traffic, tubers, swimmers and sunshine throughout the day most of the time.
I would go early and late. I would fish in a backcountry stream that is shaded. I would use a dry fly and a dropper or use a Green or Pink Weenie. Use light tippet, dress to blend in, fish the pockets in the riffles and don't expect fishing to be what we usually experience in May.
The flows we will see this weekend, as the water levels continue to drop, are what we normally see in August. The water should be cooler than on a typical August day. I looked at last August flow numbers. The flow we have right now in Little River is exactly what we had on the 22nd of August in 2014 and that was right at normal.
Anglers who do fish here, during the Summer, and catch trout then, will be successful this weekend. There should be plenty of aquatic insect activity, more than we see during the Summer, but the water levels will be what we normally see during the Summer.
The good news is, we have a 40% to 60% chance for rain beginning Wednesday and extending through next weekend. I hope we get the rain we need.
AAA expects travel today, to be at a ten year high. I saw lots of travel trailers and motor homes streaming into town yesterday. This is going to be a very busy weekend in Townsend and Great Smoky Mountains National Park.
I asked a business owner yesterday, if he was having a good year. He told me he didn't know. Their season has just begun. It starts this weekend. We differ from normal tourism businesses here. May is our big month. Our season begins in March. We slow down during the Summer, while other businesses in town, are at their peak. The second peak in tourism happens in October, when the leaves change colors. Every business in Townsend is going crazy, except ours. October is not a huge month for us.
TAILWATER TROUT FISHING
Generation schedules on our tailwaters look promising today and should be this weekend. The tailwaters are fishing well. You should be able to find some time to fish this weekend on your favorite river.
LAKES
The lakes are at or close to Summer pool, just in time for the Memorial Day holiday. I would stay off the lakes this weekend. They are going to be crowded with pleasure boaters and what I call ships. And also, there are the jet skis. Wait until Tuesday.
Paula and I plan to fish a lake or two next week. And, the week after that, I'm planning to fish on the Cumberland Plateau with Frank Bryant. We will be targeting bluegill, bass and carp, using flies of course. Maybe we'll catch a bowfin.
My buddy Brandon Bailes, sent me the photo below of a bowfin he caught recently. Brandon is an avid fly fisherman and fly tyer living in Alabama. You would not believe the big bass and other species he catches. His flies are awesome. He e-mailed the photo to me, and I replied, "what's that?" I have heard of bowfin, but never saw one. According to Wikipedia, they are common in the East United States. Their distribution map leaves out our area and parts of Kentucky where I grew up. Maybe that's why I never saw or caught one. "Nice fish Brandon", I think. Yep, that is a good one. You can read about bowfin by CLICKING HERE.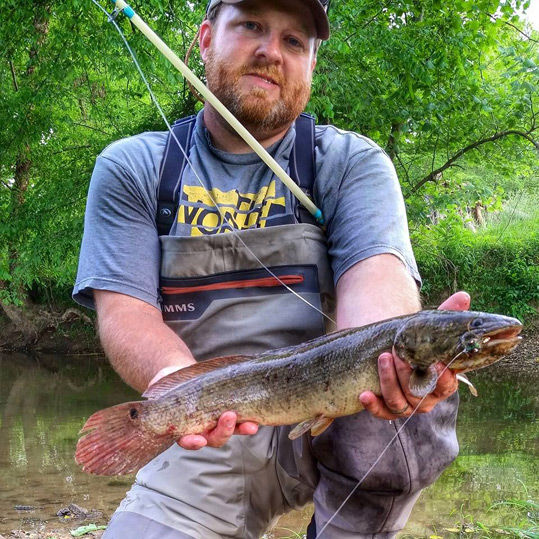 ALUM CAVE CREEK
I mentioned fishing for brook trout in Alum Cave Creek, in this report, earlier this week. That creek is where I caught my first Smokies brook trout over 20 years ago. I forgot to mention, the brookies are gone from there. Alum Cave Creek was acidic even back then. During periods of low water, you could catch a few rainbows and brookies in the stream. I was told by biologists, when it rained, the rainbows ran downstream to avoid the low PH water. The brook trout could tolerate the acidic stream back then.
Evidently, there was a change in the water chemistry due to a landslide that exposed more anakeesta shale, lowering the PH further. From what I understand, the trout are not living in Alum Cave Creek now. Don't go up there expecting the same results I had 20 years ago. There was some discussion about this on our message board after I wrote about fishing there a few days ago.
Well, many of you will be off for three days. We will be open all weekend.
Have a great day and thank you for being here with us.
Byron Begley
May 22, 2015