Townsend, Tennessee - Fly Fishing in the Great Smoky Mountains, East Tennessee and Western North Carolina

If you don't see today's fishing report, please refresh your browser to empty your cache.
Welcome to the Fishing Report from Townsend, Tennessee in the Great Smoky Mountains. At 5:52 am, the temperature is 57.7 degrees. Today will be mostly sunny with a high temperature in the low to mid 70's. We will see clear skies tomorrow and Tuesday. It will be warm during the day, with highs in the mid 70's to 80 degrees. Lows will be in the low 50's.
Little River is flowing at 264 cubic feet per second (cfs) or 2.13 feet on the flow gauge. Median flow for this date is 193 cfs. The water temperature is 59.0 degrees.
Fishing should be very good in the Smoky Mountains through Tuesday. Flows and water temperature are providing excellent fishing conditions. Nymphs or dry flies will both produce for you. It's hard to beat dry fly fishing right now. Try a Yellow Sally Stonefly pattern. Our favorite is the #16 Yellow Neversink Caddis, which trout seem to think is a Yellow Sally. Light Cahills will work too. Most reasonable fly patterns will catch trout right now.
You will find hours of no generation at Cherokee Dam today. The same applies to Center Hill Dam. TVA states they will be generating at Norris Dam most of the day, with 1 unit. Check the TVA website yourself and make plans. Don't take my word for it and go.
It appears TVA will be generating at Wolf Creek Dam all day with at least 2 generators. I was there late last week. The Cumberland River was extremely high. They were generating full bore the two days I was there. I saw Lake Cumberland too. It looked to be at full Summer pool.
I don't know what the lowland rivers and small creeks look like today. Some areas in East Tennessee got some heavy rain yesterday morning and the evening before. If your favorite lowland river or stream is clear, you should enjoy some very good smallmouth bass and other warmwater species fishing today. Try poppers. The smallies are hitting them all over Tennessee.
When I wrote yesterday's fishing report, thunderstorms were active at 4 am near Townsend. Little River was rising quickly. I finished the report but still watched as the river rose. It finally crested at 2.4 feet. I updated the report twice yesterday. At 2.5 feet, I start worrying about people wading. The river never reached that point.
I'm just about finished the re-design and writing of the Rio leader and tippet category on our online store. I worked on it all day yesterday. I'm not happy with the photography, so I'll re-shoot some items. I work at home but our photography studio is at the shop. I wish it were here. I don't have room or I would move it here. We have big flash units on wheels and booms. The whole setup takes up at least 200 square feet. When we are photographing waders, it takes up more space than that.
I shouldn't complain. Back in the old days, before the internet and digital photography, we mailed printed catalogs. I had to shoot photos, take the film to a processor, then scan the photos directly from E-6 slide film. That was a pain! I would shoot photos, drive to Maryville to drop the film off, wait a day or so, then drive back to pick the film up. We didn't have a pro studio back then. The photography was awful. Most of our catalogs were printed black and white, to save money. I would hate to go back to that. The internet has changed everything for us. I'm glad.
Even with the internet, you can't build a mail order company quickly. It doesn't work that way. Mail order customers become loyal over time, like all customers. We have to earn your business.
You can't just place an item on the web and expect people to flock to it and buy. The content has to be carefully written. Search engines look for specific things, so you will be indexed high on their pages. If you don't know that, you are wasting your time. That is why I am re-writing almost every bit of content in our online store, to reach more potential customers. It may seem I have a boring job but I enjoy it, when I see positive results.
Like fishing, when you try new things, you catch more fish.
I will be working today, not fishing.
Morning has broken. I can see back in the forest from my office window. It looks peaceful out there. Tiny bits of light are piercing through the trees and reaching the ground. Spots of light are hitting the tree trunks and leaves. What an awesome sight. Soon, the sun will be high and this period of low light will be over for the day. Dawn is a special time.
I enjoy starting my work-day when it is pitch black out there. Then, the bits of light paint a picture that can't be described while I'm writing this report. Since I began writing the paragraph above, the bits of light have already grown.
I think this is going to be a great fishing day for you. Have fun.
Byron Begley
May 22, 2016
Respond to: byron@littleriveroutfitters.com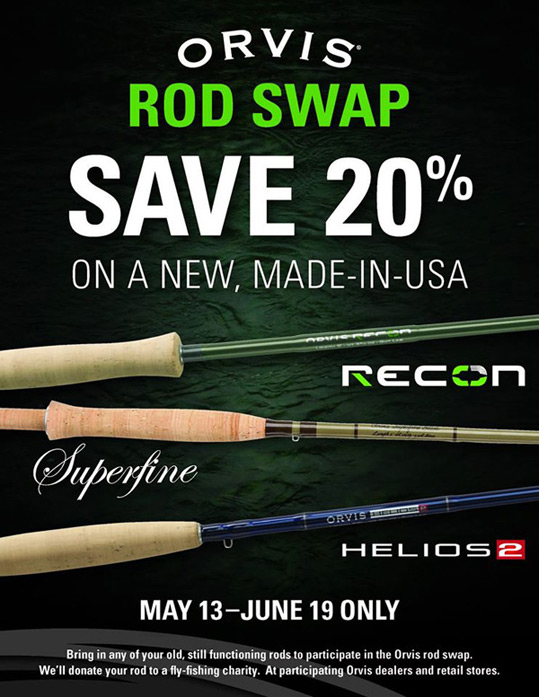 Trade in a usable fly rod at Little River Outfitters, and get 20% off any Orvis Recon, Superfine or Helios2 fly rod. That could amount to a discount of up to $170 for a Helios2 big game rod. This offer applies to only those three rod models.
We will donate your traded rod to a fly fishing charity, one who needs them for beginners.
Bring your rod by the shop and pick out your new fly rod. If you want one that we do not stock, we'll order it for you from Orvis.
If you are shopping online, call the shop first at 865-448-9459. We will adjust the cost of the rod downward by 20% when your online order arrives. We will wait until we receive your trade-in rod, then ship you the new one. You can also just give us a call and we'll handle the transaction over the phone.
We do not charge for Ground Shipping.
This offer expires June 19, 2016, so don't wait too long. The transaction must be complete by that date.
This is an opportunity like we have never seen before from Orvis, for it's participating dealers. You will be helping one of our many fly fishing non-profits with your trade-in.
CLICK HERE to view our Orvis fly rod offering on our online store.
Thank you for supporting all of us at Little River Outfitters.
Lake Information and Tailwater Generation Schedules



Please enter your e-mail address in the box to the left to sign up for our e-newsletter. You will receive news about the shop, events, sale information, fishing info and more important information a fly angler would want to have.

You can opt out at any time. If you decide you don't want to receive our information just change your status or click at the bottom of an e-mail we send you in the "Remove" box.

We do not sell or give your e-mail address to anyone. And, we won't hound you to death with e-mails. You will receive no more than one per week unless unusual or critical fishing news might be of interest to you.