Townsend, Tennessee - Fly Fishing in the Great Smoky Mountains, East Tennessee and Western North Carolina

If you don't see today's fishing report, please refresh your browser to empty your cache.
Welcome to the Fishing Report from Townsend, Tennessee in the Great Smoky Mountains. At 5:44 am, the temperature is 50 degrees. Today will be sunny and warm, near 77 degrees. Tomorrow will be more of the same, but the high temperature will exceed 80 degrees. The week will gradually become warmer. A slight chance for thunderstorms will arrive Thursday.
Little River is flowing at 215 cubic feet per second (cfs) or 1.99 feet on the flow gauge. Median flow for this date is 193 cfs. The water temperature is 58.12 degrees.
Fly fishing conditions in the Smokies are very good. Both flow and water temperatures are perfect.
Use dry flies or nymphs. Both will work. I would choose dry fly fishing. My fly choices would be a #16 Yellow Neversink Caddis or Yellow Stimulator. Light Cahills should work well too. For sub-surface flies, I would choose a Bead Head Pheasant Tail, Green Weenie or Pink Weenie. That's about all you need. Trout should gobble them up.
Generation at Cherokee, Norris and Center Hill dams will be off at times and on at times today. You may be able two squeeze in some wade fishing time today. Check the TVA website and make that determination yourself.
TVA plans to generate at Wolf Creek Dam all day.
Try the lowland rivers and creeks. Fishing should be very good. The lakes are fishing well.
Fly fishing conditions could not be much better in our part of the world, this week. The only thing I can think of that could be better is the generation schedule on the Cumberland River below Wolf Creek Dam. Hopefully, TVA will cut back there soon. Maybe it will be this week. They have been shutting down the generators at times, but usually in the middle of the night.
When the Cumberland settles down, I've got a feeling, fishing will be awesome. I hear the guides are booking well in advance this year. This is a very popular fly fishing destination for many reasons. Floating the Cumberland River is special. The fly fishing is great. I hooked and lost the brown trout of my life there years ago. There are some huge trout living in the Cumberland River.
Stay at Lake Cumberland State Park. I love that place. They give me a 10% discount. No, it's not because I send them customers. It's because of my age. They consider me a senior citizen. I don't feel like a senior citizen. I have to admit though, this afternoon, I'm meeting with my health insurance agent. We will finalize my Medicare insurance stuff today. That begins for me July 1st. I guess I am a senior citizen.
The scenery on and around the Cumberland River is spectacular. Wildlife is abundant. The river has never seemed crowded to me, but I always fish on weekdays. Getting there is not exactly easy, unless you live there. It is well worth the drive. That is probably why the river doesn't seem to get huge crowds of anglers. And, maybe that is why the fishing is so good.
I love it up there. I can't wait to go back.
Frank and I are going to Florida in a few days. We rented a house on the coast for a week. We're taking our kayaks. I'm pumped about that trip. We are hoping for good weather and very light wind. I'm going to take a day off this week and organize my gear. Paula and I were in Florida over two weeks ago. I have not unpacked the gear from that trip. I got home and started working. I did spend a couple of days in Kentucky, fishing with Frank and Mouse last week. Now I've got trout and saltwater gear to get back in order.
After this trip to Florida, we will leave the coast to others until Fall.
Now is trout time in Middle and East Tennessee. We know that for sure. I don't know what is going on with the smallmouth bass on the tailwaters. When those fish start feeding on top, you can have the time of your life. Maybe they are now. I need to talk to Josh Pfeiffer. You can visit his website by CLICKING HERE.
Josh is a guide who drifts anglers down the tailwaters, fishing for smallies and trout. He has both figured out. Some of my best smallmouth fishing days, fishing with Josh, using top water flies, has been during the Summer. I know the smallies are eating streamers now. I know they are taking poppers in the lowland rivers. Are they taking poppers on the tailwaters? It may be too early. Or, maybe not.
We've got some great fishing weather in the near future. Now is the time to go, at least in this part of America. Anglers seem to be making time to fish more, this year. The shop is very busy. I'm fishing more than usual. I'm planning to keep that up, from now on.
Have a great day and thank you for being here with us.
Byron Begley
May 23, 2016
Respond to: byron@littleriveroutfitters.com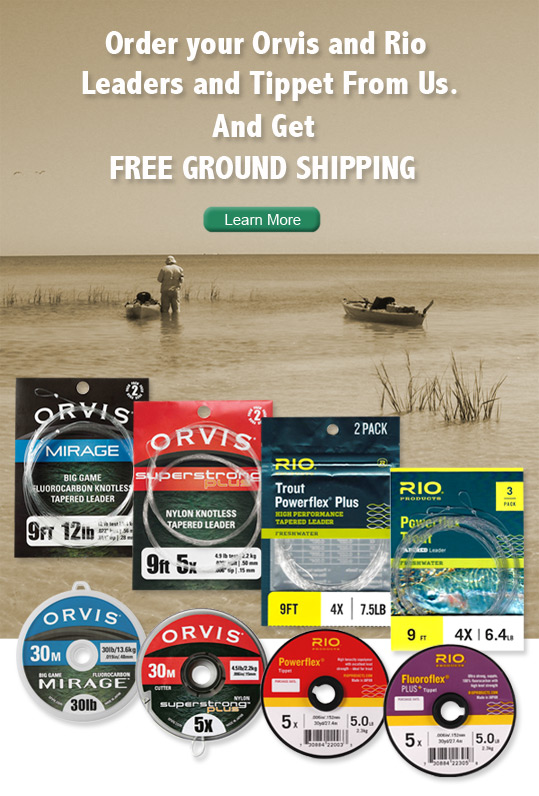 Fly fishermen use leaders and tippet every time they go fishing. Many anglers do not have a fly shop nearby, where they can buy replacements. You hate to order a couple of leaders and a spool of tippet, because the shipping eats you alive.
You don't have to worry about that. We eat the shipping. Order from us, and we'll ship you one leader, if that is all you need. We do it all the time. We slide it in a padded envelope and drop it in the mail to you.
We have a great selection of leaders and tippet material from the top two companies, Orvis and Rio. We have much more than you see in the photo above.
If you use fluorocarbon or nylon, or both, we have plenty of each to choose from.
Make your own leaders? We have got you covered. We stock every size of Orvis Superstrong Plus and Mirage Fluorocarbon, up to 60 pound test. Make your trout leaders, bass leaders or big game saltwater leaders, and buy your material from us.
Ground Shipping is Free, if you live in the Continental United States. If you live somewhere else, we charge you our actual shipping costs and duties.
Please visit our leader and tippet department by CLICKING HERE. You may order online or call us, 7 days a week, at 865-448-9459.
We make it easy. That's what we like to do.
Thank you for supporting all of us at Little River Outfitters.
Lake Information and Tailwater Generation Schedules



Please enter your e-mail address in the box to the left to sign up for our e-newsletter. You will receive news about the shop, events, sale information, fishing info and more important information a fly angler would want to have.

You can opt out at any time. If you decide you don't want to receive our information just change your status or click at the bottom of an e-mail we send you in the "Remove" box.

We do not sell or give your e-mail address to anyone. And, we won't hound you to death with e-mails. You will receive no more than one per week unless unusual or critical fishing news might be of interest to you.