Townsend, Tennessee - Fly Fishing in the Great Smoky Mountains, East Tennessee and Western North Carolina

If you don't see today's fishing report, please refresh your browser to empty your cache.
Welcome to the Fishing Report from Townsend, Tennessee in the Great Smoky Mountains. At 5:48 am, the temperature outside is 48 degrees. Warm air will move into our area today, and remain through the weekend and beyond. Memorial Day weekend is going to feel like Summer. High temperatures through this period will be in the mid to upper 90's. Lows will be in the high 50's to low 60's. There is only a slight chance for rain during the period.
Little River is flowing at 202 cubic feet per second (cfs) or 1.95 feet on the flow gauge. Median flow for this date is 188 cfs. The water temperature is 58.3 degrees.
Fishing is very good in the Smoky Mountains. Flows are great in the streams. Little River is flowing above normal. The water temperature at night is not dropping below the trout's preferred range. So, you can expect active trout, even early in the mornings. We expect very good fishing to continue through the holiday weekend.
Wade fishing opportunities on our tailwaters have been frequent, due to the lack of constant generation. Fly fishermen are enjoying it. I expect this to continue through the weekend, unless TVA decides to make more electricity because it is going to be warmer. However, they must also keep the lakes at Summer pool, for the boating season. I can't predict flows in the future, but I suspect you will find times to fish this weekend on the tailwaters. Check the TVA website before going.
Don't forget the lowland rivers. Smallmouth bass, largemouth bass, rock bass and sunfish are active. They don't see many fly fishermen. Fly fishermen are missing out. Paddle down a river in a canoe this weekend. These shaded and cool waters, meandering through farms could be a great escape from the crowds this weekend. Tie on a popper and enjoy the day.
Personally, I would stay off the lakes this weekend. I stay off the lakes every weekend. We only take our boat out on weekdays, for obvious reasons. Those waters will be choked with captains and their ships.
I hated to read this morning, Rangers and biologists at Great Smoky Mountains got the wrong bear. A bear bit a through-hiker on the Appalachian Trail two weeks ago, while he was sleeping in a tent. The man was evacuated from the area the next day on horseback. He was taken to our hospital in Maryville where he was treated and released.
A 400 pound male bear, showed up at the scene. Rangers and biologists sedated the bear, using a dart gun. I imagine they debated the situation, talked to management on the radio, and decided to put the bear down. DNA testing, after the fact, proved they had killed the wrong animal.
Here is the problem. You can't contain a 400 pound bear in an isolated area on the Appalachian Trail, and wait days for DNA analysis. What are you going to do, tie the bear to a tree? I guess it is possible to keep the bear sedated, long enough to fly in a cage by helicopter. Maybe that is not possible, where they were. The Park made the decision based first on protecting human visitors.
The Park does have new protocols and a working arrangement with a lab to speed up the DNA analysis. Situations like this happen in the Smokies. I know Park personnel do not want to destroy an innocent animal. I am convinced they did what they had to do. You can read a short story with more facts on the WBIR website by CLICKING HERE.
I found another story on the Daily Times website this morning. You can read it by CLICKING HERE. The story is about the "Artistic Bean", a coffee shop in Townsend. It has been open about two years. The shop is located next to Ace Hardware. I have not been in, because I don't drink coffee except when I'm trying to wake up enough to write this report. Evidently I've been missing out.
Lots of people talk about the shop. They roast their beans on location. Business is great. They are expanding their capacity by adding more small roasters. Check it out, and if you love drinking good coffee, visit this shop when you are in Townsend.
I went by the pharmacy I patronize in Maryville yesterday. There, I visit with Terry. She is always talking about restaurants in Townsend. We do have some great food here. She usually mentions the fact that the Black Bear Café is always crowded. It usually is.
There is a reason for that. They serve excellent meals and everyone there is friendly. I doubt if they advertise. They don't have to. Everyone knows. Gail and Randy are always there. The restaurant is small, built to be handled by a small staff. That's the way Gail and Randy like it. They are able to oversee everything from preparing the food to taking good care of customers, and they do it extremely well. If you have to wait this weekend to get in, do it. It is worth the wait.
Terry often asks me where we eat out. I tell her, we don't. "I'm married to a chef." You can visit Paula's food blog website by CLICKING HERE and see what I mean. I went to the doctor yesterday for a checkup. Everything looks good except I gained 5 pounds since my last visit. It's not that Paula's food is fatening. It's because I eat too much. I have a portion problem. Maybe someday I'll have to seek therapy.
We may see Anthony Bourdain in Townsend some day. I can see him right now, sitting in the Parkway Grocery, eating a slaw dog. I may be one of the locals, waiting in line, to get mine. I'll be waiting for three, not two like everyone else. See what I mean? Help me!
I truly believe, we live in a culinary attentive community. We are certainly a resort area, with a tourism based economy and lifestyle. You can't deny that. We really do have some exceptional food. I don't know how many awards Blackberry Farm has earned.

The salad you see at the top of Paula's website, is similar to one we ate at Dancing Bear last month. She tried to re-create it from memory and I think she nailed it. When we ate at Dancing Bear and they served that salad, I remarked, "This is the best salad I have eaten". Theirs had a poached egg served on top. It was awesome.
Our town will be ready to serve you this weekend.
I will be working in our photography studio all day, taking photos for our online store. It's not as fun as it sounds, but I don't mind. There is always something new to figure out. I do enjoy that. Glare is your enemy and your friend, depending on how you look at it, and what I am trying to show you online. Fly fishermen like shiny things. It's always a challenge. The time pays off and it pays the bills.
See the leader and tippet ad below? You may receive a larger version in an e-mail this morning. That's Jack standing in the ocean with our kayaks. We were fishing for redfish, at a small, 300 acre, uninhabited island, a mile or two offshore. We paddeled out there and spent the day.

One thing I'm doing today is re-shooting the Rio leaders. I did that earlier this week and I hate them. I've got a new plan. Rio's packaging is shiny. I like their packaging. It looks good on the wall. It is a challenge to photograph.
Have a great day and thank you for being here with us.
Byron Begley
May 24, 2016
Respond to: byron@littleriveroutfitters.com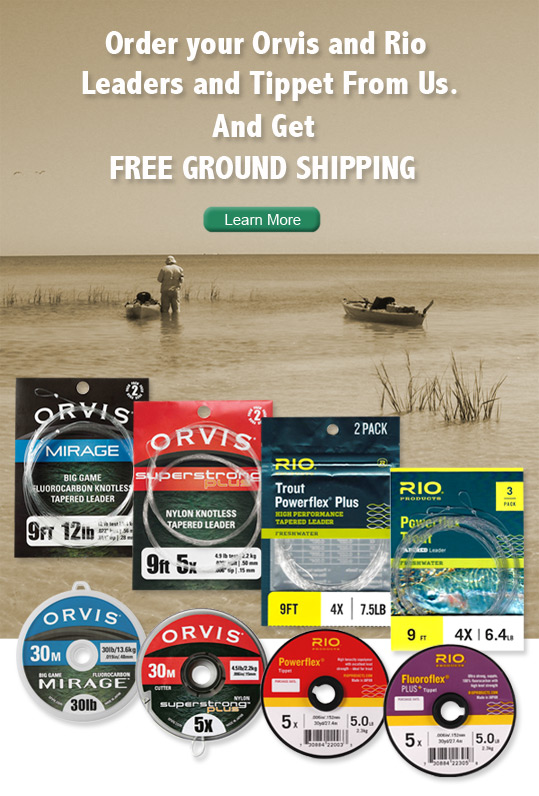 Fly fishermen use leaders and tippet every time they go fishing. Many anglers do not have a fly shop nearby, where they can buy replacements. You hate to order a couple of leaders and a spool of tippet, because the shipping eats you alive.
You don't have to worry about that. We eat the shipping. Order from us, and we'll ship you one leader, if that is all you need. We do it all the time. We slide it in a padded envelope and drop it in the mail to you.
We have a great selection of leaders and tippet material from the top two companies, Orvis and Rio. We have much more than you see in the photo above.
If you use fluorocarbon or nylon, or both, we have plenty of each to choose from.
Make your own leaders? We have got you covered. We stock every size of Orvis Superstrong Plus and Mirage Fluorocarbon, up to 60 pound test. Make your trout leaders, bass leaders or big game saltwater leaders, and buy your material from us.
Ground Shipping is Free, if you live in the Continental United States. If you live somewhere else, we charge you our actual shipping costs and duties.
Please visit our leader and tippet department by CLICKING HERE. You may order online or call us, 7 days a week, at 865-448-9459.
We make it easy. That's what we like to do.
Thank you for supporting all of us at Little River Outfitters.
Lake Information and Tailwater Generation Schedules



Please enter your e-mail address in the box to the left to sign up for our e-newsletter. You will receive news about the shop, events, sale information, fishing info and more important information a fly angler would want to have.

You can opt out at any time. If you decide you don't want to receive our information just change your status or click at the bottom of an e-mail we send you in the "Remove" box.

We do not sell or give your e-mail address to anyone. And, we won't hound you to death with e-mails. You will receive no more than one per week unless unusual or critical fishing news might be of interest to you.