Townsend, Tennessee - Fly Fishing in the Great Smoky Mountains National Park, East Tennessee and Western North Carolina

Welcome to the Fishing Report from the Great Smoky Mountains. At 7:10 am, it is cloudy and 61 degrees. We have a 50% chance for rain today. That chance grows to 60% tonight through Wednesday with a 50% chance Thursday. Bring it on. We need rain.
Little River is flowing at 88 cubic feet per second (cfs) or 1.42 feet on the flow gauge. Median flow for this date is 190 cfs. The water temperature is 63.9 degrees this morning.
Fly fishing in the Park requires low water tactics. Stay hidden from the trout. Keep your body low. Wear muted clothing or camo. Use light tippet. Fish the choppy water in riffles and runs. Dry flies, such as Yellow Sally Stonefly and Light Cahill patterns are recommended. You may drop a small bead head nymph off the dry fly.
A green or pink Weenie would be another good choice. You could drop that fly off a dry, or fish it weighted by a small piece of split shot. A small strike indicator works well fishing the weighted Weenie. Use one that can easily be adjusted to different depths.
I would fish in the backcountry, away from people. The Park will be crowded today. Find a nice shaded small stream. You should catch trout, but, it's not going to be as easy as it was early this month, due to the low water. Anglers who are accustomed to fishing low water, like we usually have during the Summer, should do well today.
BLUEGILL
Bluegill and other sunfishes are hitting poppers and sinking flies on the lakes, lowland rivers and ponds. Fishing is best early and late. One good fly choice is a Rubber Legged Dragon. Dragons catch large bluegill. The larger fish are likely holding in deeper water. Cast a Dragon into a likely spot and let it sink, several feet down. Then, begin a slow retrieve. This tactic is deadly for bull bluegill and shellcrackers. I tie many different versions of Dragons and always keep a box full in our boat. Black, olive, rust and chartreuse colors are favorites.
FLY TYERS WEEKEND 2015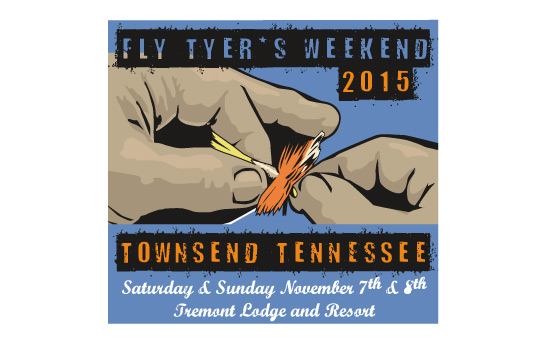 Fly Tyers Weekend will be held November 7th and 8th in Townsend at the Tremont Lodge and Resort. This event has been held by our store, some years beginning in 2005. Last year, our store partnered with Tremont Lodge and brought the event back. It was a huge success.
The event is free. Just show up and watch many fly tyers, demonstrating simultaneously, in shifts, all weekend. We usually have at least 10 fly tyers demonstrating at one time. The facility is large, to accommodate the tyers and attendees. The demonstration space utilizes 4,000 square feet of space on two floors.
This year, we have a new partner, the Southeastern Council of the Fly Fishing Federations (SECFFF). With our new partner, we expect more attendance and fly tying classes. Additionally, SECFFF is holding a fundraiser banquet, with proceeds raised to benefit the new Fly Fishing Museum in Cherokee, North Carolina.
Marvin Cash is President of SECFFF and is in charge of the event. Anthony Hipps will be lining up and scheduling the fly tyers. Mark this one on your calendar and contact the lodge to book a reservation. Mention Fly Tyers Weekend to get a discounted rate. You may visit their website by CLICKING HERE. This is a new website, that is under construction.
You may also visit our Fly Tyers Weekend web pages by CLICKING HERE. There, you will see last year's information but it will let you see the scope of this event and I will be updating that website as fly tyers are added to the roster. I will also change the dates and add the new logo you see above, that was just updated for this year's event.
Today is Memorial Day, the day Americans honor those who have died, fighting for our Country. Today, we should all reflect, honor and pray for those brave Americans, who made the ultimate sacrifice.
Have a great day and thank you for being here with us.
Byron Begley
May 25, 2015