Townsend, Tennessee - Fly Fishing in the Great Smoky Mountains, East Tennessee and Western North Carolina

If you don't see today's fishing report, please refresh your browser to empty your cache.
Welcome to the Fishing Report from Townsend, Tennessee in the Great Smoky Mountains. At 6:26 am, the temperature is 52.5 degrees. It will be very warm today and through the holiday weekend. Expect high temperatures in the mid to high 80's. Lows will be in the low 60's. We have a chance for rain every day, though only on Friday will that chance be fairly high, 60% according to one weather website.
Most days will be cloudy to partly cloudy, which is good for anglers.
Little River is flowing at 178 cubic feet per second (cfs) or 1.87 feet on the flow gauge. Media flow for this date is 188 cfs. The water temperature is 59.5 degrees this morning.
I believe fishing will be very good in the Smoky Mountains this weekend. The water temperature will be very good for fishing, especially in the mornings. I'm not sure how warm the streams will be later in the day. Yesterday, Little River's temperature peaked at 62 degrees. I would go early and late. But, with cloud cover most days, fishing should be good all day long.
We will see times of no generation at Cherokee, Norris and Center Hill dams today. Check the TVA website to see if their schedules work for you. They will be generating at Wolf Creek Dam all day.
Lowland Rivers are a good choice right now. Use poppers and hit the banks and riffles. The riffles will offer best fishing early and late. Renting a canoe from "River Johns" is a good idea. Float from Perry's Mill to River John's island. It is a 7-mile float.
A young man drowned Monday in a cove on Cherokee Lake. He was fishing from a kayak. The boat flipped. He was not wearing a life Jacket. You can read the story on the WBIR website by CLICKING HERE. That is so sad and his life would have been saved had he been wearing a life jacket.
I wear a life vest when our boat is underway and when fishing from a kayak in deep water. Paula and I have self inflating life jackets we use in our boat. When the jacket is submerged 4 inches, the water pressure flips a trigger to inflate the vest. Ours are made by Mustang Survival. These inflatable vests are cool and comfortable. We wear regular fishing life vests in the kayaks. Wearing a PFD can save your life.
I have read, many fishermen drown at the boat dock, getting into their boat. They fall, hit their head, and slip into the water. One resort and marina we visit on Dale Hollow Reservoir, has signs on the docks calling that area, a "Life Jacket Zone". That's a good idea.
I attach the kill switch lanyard on our outboard motor to my leg when our boat is underway. Sometimes I forget. If I know we will be going fast, I always clip it on. If the driver is thrown from the boat, the engine dies. If the engine continues to run, the boat will circle and sometimes run over the person who falls in the water. I saw that happen once, when I was a kid. Miraculously, the man was hit by the boat, had a head injury, but was able to swim to our houseboat. My mother pulled him aboard. I will never forget that day.
I grew up on the water and in boats. I have seen many accidents. I've had a couple myself. Boating accidents can happen quickly. Some boats are capable of speeds up to 70 miles per hour and probably faster.
I have watched two people drown from a distance on different occasions. I saw them go under for the last time. In both of those cases, if the people had been wearing life vests, they would have lived. Both victims were young, in their teens. I have lost three friends to drowning in my life. Another friend broke his back in a boating accident. Some people probably think I am overly careful. If you have seen what I've seen, you would understand.
The lakes will be crowded this weekend. Hot days, a holiday, and being on a weekend will bring the boaters out. I would stay off the lakes this weekend.
Well, that's enough bad stuff to talk about. Sorry.
Be careful and enjoy your time on the water. If you are in a boat, wear your dang life jacket.
Have a great day and thank you for being here with us.
Byron Begley
May 25, 2016
Respond to: byron@littleriveroutfitters.com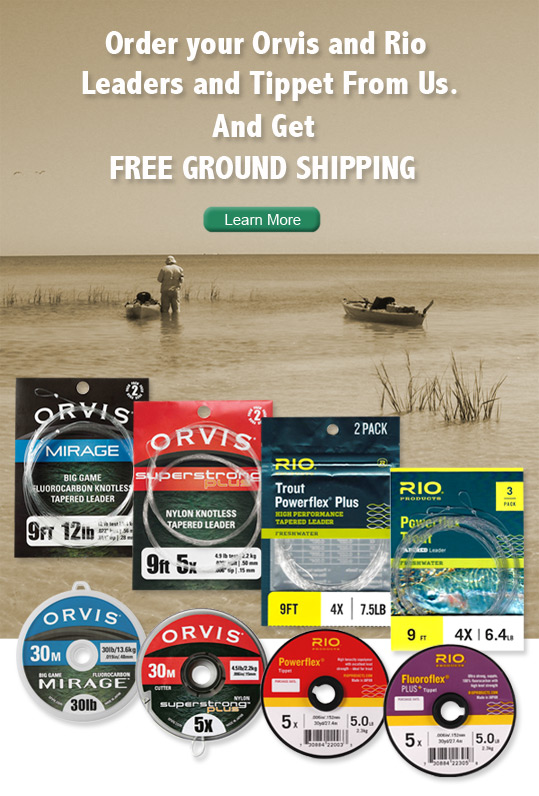 Fly fishermen use leaders and tippet every time they go fishing. Many anglers do not have a fly shop nearby, where they can buy replacements. You hate to order a couple of leaders and a spool of tippet, because the shipping eats you alive.
You don't have to worry about that. We eat the shipping. Order from us, and we'll ship you one leader, if that is all you need. We do it all the time. We slide it in a padded envelope and drop it in the mail to you.
We have a great selection of leaders and tippet material from the top two companies, Orvis and Rio. We have much more than you see in the photo above.
If you use fluorocarbon or nylon, or both, we have plenty of each to choose from.
Make your own leaders? We have got you covered. We stock every size of Orvis Superstrong Plus and Mirage Fluorocarbon, up to 60 pound test. Make your trout leaders, bass leaders or big game saltwater leaders, and buy your material from us.
Ground Shipping is Free, if you live in the Continental United States. If you live somewhere else, we charge you our actual shipping costs and duties.
Please visit our leader and tippet department by CLICKING HERE. You may order online or call us, 7 days a week, at 865-448-9459.
We make it easy. That's what we like to do.
Thank you for supporting all of us at Little River Outfitters.
Lake Information and Tailwater Generation Schedules



Please enter your e-mail address in the box to the left to sign up for our e-newsletter. You will receive news about the shop, events, sale information, fishing info and more important information a fly angler would want to have.

You can opt out at any time. If you decide you don't want to receive our information just change your status or click at the bottom of an e-mail we send you in the "Remove" box.

We do not sell or give your e-mail address to anyone. And, we won't hound you to death with e-mails. You will receive no more than one per week unless unusual or critical fishing news might be of interest to you.