Townsend, Tennessee - Fly Fishing in the Great Smoky Mountains, East Tennessee and Western North Carolina

If you don't see today's fishing report, please refresh your browser to empty your cache.
Welcome to the Fishing Report from Townsend, Tennessee in the Great Smoky Mountains. I'm off today and slept late. It felt good. It is 6:46 am and the temperature outside is a warm 61 degrees.
We are going to have Summer-like weather through the weekend and beyond. High temperatures will be in the mid-80's. Lows will be in the low 60's. We have a low chance for scattered afternoon thunderstorms every day through Monday.
Little River is flowing at 167 cubic feet per second (cfs) or 1.83 feet on the flow gauge. Median flow for this date is 191 cfs. The water temperature is 61.2 degrees. The weather website I'm looking at now, predicts partly sunny days through Monday.
Fishing should continue to be good in the Smoky Mountains through the weekend. I think fishing will be best, early and late. Depending on the rain, if it happens and where it hits, the streams are more likely to recede over the period.
Some or all streams may be flowing fairly low. That means you should be stealthy. Wear muted clothing and stay low or hide behind trees or boulders. Dry flies or nymphs will both work. I would use a Yellow Sally Stonefly pattern for the dry and a Green or Pink Weenie as a sub-surface fly. Other nymphs and dry flies will work too. Those are just what I would use.
There will be periods of no generation at Norris, Cherokee and Center Hill Dams today. They will be generating at Wolf Creek Dam most of the Day. Check the TVA website schedules, and determine if their schedule on your favorite river works for you.
We are expecting a big crowd in Townsend this holiday weekend. This has been a very busy year for us so far and I believe other businesses are seeing the same thing. I hope so.
I'm going to stay home this weekend and work.
If you are here this weekend, be aware that bears are actively looking for food. I found a story on the WBIR website about bears stealing food from people who are grilling out. You can read the story by CLICKING HERE.
Not only can they steal your steaks or burgers, they can turn over your grill and start a fire. We have had bears visiting our home this year. I cooked out on the grill last night. I usually stayed close to the grill, to run off one if it showed up. I guess the outcome could be different. The bear could run me off.
Bears have a keen sense of smell. They can smell your grilling food from a long way off. We have a dense population of bears in our area. One, we have seen twice this Spring, easily weighs between 300 and 400 pounds. They will do about anything for a meal right now.
I've never had a bear raid a grill. Walter has.
I'll be organizing and cleaning our boat house today. It is a mess. Our saltwater tackle is mixed in with the smallmouth bass and trout tackle. I've got gear stashed in the boats. By tonight, everything will be hanging on the wall, organized by species and region.
My buddy Frank and I are going to Florida for a week. We will be fishing mostly from our kayaks, in shallow water, littered with oyster beds. We will also be fishing on the bay and in the gulf, depending on the weather and where the fish are most active.
I haven't looked at the weather forecast for the time we'll be there. I'm afraid of jinxing us.
Paula and I were there earlier this month. It was very windy and the surf was pounding. We did not use our kayaks once, the whole week. We hoped to stay 2 weeks, but the weather was not likely to improve. We were committed only to the one week in the home we rented.
If you rent homes where we go, you have to pre-pay, the whole amount, a month before your arrival date. A 50% deposit holds the house for you until 1 month before arrival. The rental is not refundable.
We buy trip insurance from the rental agency. It costs about 10% of the base rental. If somebody gets sick, and can't go, the insurance pays the rental and/or your deposit. There are other benefits offered under the insurance policy, pertaining to medical evacuation and things like that. I haven't read the fine print. I suspect you would not be paid a claim because the weather is not conducive to good fishing and you decided not to go.
This trip with Frank will be my 3rd week on the coast this year. We have a waterfront Bay home rented this Fall. It has a private dock and small beach. We pull our kayaks up on the beach, so they are ready to go when we are. Frank and I have a small ocean front house rented for the first week in June.
I have always loved the ocean and saltwater bays. Now, I can work from anywhere that has an internet connection. So, I plan to spend more time in Florida and the South Carolina coast. It's what I've always wanted to do, so now is the time to do it. By the way, I think it costs less to rent than own. And, you don't have to worry about a hurricane taking your home away. Also, you have the option to move around. You don't have to spend your vacation cleaning and repairing your home. The list goes on and on.
There are hundreds of homes and small cabins available for rent near Townsend. They are very reasonable, especially when compared to the cost of an ocean front home. Two very high costs, associated with owning a home on the coast are, insurance and property taxes. We have fairly low taxes here. The insurance costs are lower because we don't have hurricanes. So, renting a mountain home is a bargain.
Have a great day and thank you for being here with us.
Byron Begley
May 26, 2016
Respond to: byron@littleriveroutfitters.com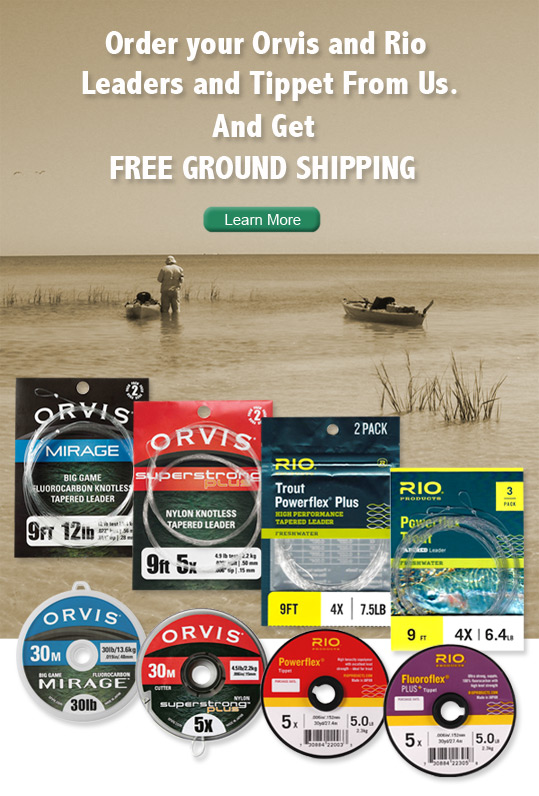 Fly fishermen use leaders and tippet every time they go fishing. Many anglers do not have a fly shop nearby, where they can buy replacements. You hate to order a couple of leaders and a spool of tippet, because the shipping eats you alive.
You don't have to worry about that. We eat the shipping. Order from us, and we'll ship you one leader, if that is all you need. We do it all the time. We slide it in a padded envelope and drop it in the mail to you.
We have a great selection of leaders and tippet material from the top two companies, Orvis and Rio. We have much more than you see in the photo above.
If you use fluorocarbon or nylon, or both, we have plenty of each to choose from.
Make your own leaders? We have got you covered. We stock every size of Orvis Superstrong Plus and Mirage Fluorocarbon, up to 60 pound test. Make your trout leaders, bass leaders or big game saltwater leaders, and buy your material from us.
Ground Shipping is Free, if you live in the Continental United States. If you live somewhere else, we charge you our actual shipping costs and duties.
Please visit our leader and tippet department by CLICKING HERE. You may order online or call us, 7 days a week, at 865-448-9459.
We make it easy. That's what we like to do.
Thank you for supporting all of us at Little River Outfitters.
Lake Information and Tailwater Generation Schedules



Please enter your e-mail address in the box to the left to sign up for our e-newsletter. You will receive news about the shop, events, sale information, fishing info and more important information a fly angler would want to have.

You can opt out at any time. If you decide you don't want to receive our information just change your status or click at the bottom of an e-mail we send you in the "Remove" box.

We do not sell or give your e-mail address to anyone. And, we won't hound you to death with e-mails. You will receive no more than one per week unless unusual or critical fishing news might be of interest to you.