Townsend, Tennessee - Fly Fishing in the Great Smoky Mountains, East Tennessee and Western North Carolina

If you don't see today's fishing report, please refresh your browser to empty your cache.
Welcome to the Fishing Report from Townsend, Tennessee in the Great Smoky Mountains. At 5:58 am, the temperature is already 61.2 degrees. That number may reach the mid-80's today, Saturday, Sunday and Monday. Lows will be in the low 60's through the weekend. We have chance for rain every day, though the chance is not high, around 30%.
Little River is flowing at 164 cubic feet per second (cfs) or 1.82 feet on the flow gauge. Median flow for this date is 205 cfs. The water temperature is 62.6 degrees this morning.
This is my favorite month to fish in East Tennessee. June is usually a very good month too. There are so many options. The mountains are fishing well. The tailwaters are often fishable to wade fishermen. The lowland rivers and lakes are usually fishing very well this time of year.
Right now, it is much like normal. Stream flows in the Smokies are at about normal. It may not look that way today. Today's median flow is higher than it has been earlier this week. Those averages are based on 50 years on Little River.
TVA will be generating most of the day at Wolf Creek Dam. Fishermen could use a break on the Cumberland River. If you are floating with a guide, they are probably meeting you very early, and launching at daybreak, to beat the rising water. I've floated that river many times, ahead of the rising water. Those guides know what they are doing. They will put you on some great fishing, by doing this.
Water temperatures may be slightly warmer than normal this week. I'm not sure. They seem about normal to me. Anglers are reporting good fishing, in the mountains.
There will be long periods of "no generation" at Cherokee, Norris and Center Hill dams today. Hopefully that will be the norm this weekend. The tailwaters have offered some great wade fishing opportunities lately. Check the TVA website yourself and make a determination. Pick your fishing spot based on when you are going. Or pick when you are going based on the flows.
The lowland rivers are fishing well. I would go early or late. If you are floating in a canoe or kayak, cast a popper to the shaded banks during the daylight hours. You should do well. You will probably catch smallmouth bass, rock bass, bluegill and other sunfishes.
I would stay off the popular boating lakes this weekend. If you go, make it early or late. Lake fishing is very good right now. We have 9 lakes nearby. Some are more popular for pleasure boaters. Others are more popular to fishermen.
AAA is predicting an almost record number of people traveling this weekend. Why? Low fuel prices. Though fuel prices have risen for the Summer, they are still low, compared to years past. No doubt about it, more Americans are traveling.
If you want to work, in Tennessee, you probably have a job. Preliminary unemployment numbers were released for April by our State. Unemployment in our County, Blount, was 3.8%. Statewide, the number is 4.3%. More people travel, when they have jobs and fuel prices are low.
People who participate in camping, flock to Townsend. Campers love this place. We have a lot of campgrounds, on Little River, near or in our town. Additionally, there are two large campground nearby in Great Smoky Mountains National Park. They are Elkmont and Cades Cove. There will be a stream of motor homes, travel trailers, pop-ups and truck beds with tent camping gear piled in, tonight, coming to our town. I'm going to the shop this morning briefly, then I'm staying home all weekend. I plan to work. It is peaceful and quiet where we live, every day and night.
We are and will be busy at the shop. We are having the best year we've had since the economy collapsed. Last year was very good too. I think low unemployment and low fuel prices have a lot to do with that. Our store is being run better now. Our marketing is better. Our store is stocked better.
Fly fishing has been good in our area this year, like last year. That helps. In our case though, many of our customers are fishing somewhere else. Our mail order business is doing very well this year.
I expect lots of people will be tubing down Little River this weekend. If you want to fish the stocked water through town, go very early or late. I would hike into the backcountry to fish in the Park. Most of the streams in the Park have trails following their route. On a holiday weekend, you can get away from the crowds by simply hiking along a beautiful river.
A lot of food will be consumed in Townsend this weekend. The restaurants are loading up with food and calling in everyone on the payroll who is willing to work. The grocery stores will be packed with people too.
Many people will enjoy a great weekend in the Smokies. This weekend is the "Kickoff" of our tourist season. I hope all of our local friends and business owners have a great season this year. I think they will.
Have a great day and thank you for being here with us.
Byron Begley
May 27, 2016
Respond to: byron@littleriveroutfitters.com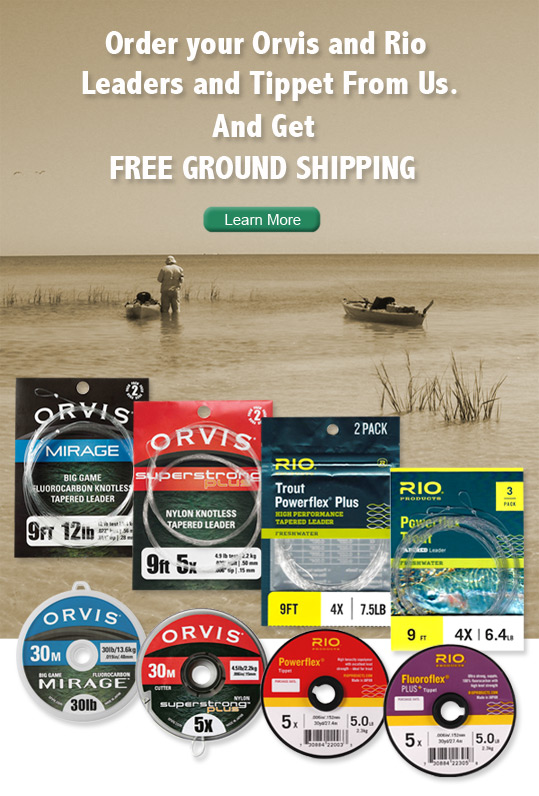 Fly fishermen use leaders and tippet every time they go fishing. Many anglers do not have a fly shop nearby, where they can buy replacements. You hate to order a couple of leaders and a spool of tippet, because the shipping eats you alive.
You don't have to worry about that. We eat the shipping. Order from us, and we'll ship you one leader, if that is all you need. We do it all the time. We slide it in a padded envelope and drop it in the mail to you.
We have a great selection of leaders and tippet material from the top two companies, Orvis and Rio. We have much more than you see in the photo above.
If you use fluorocarbon or nylon, or both, we have plenty of each to choose from.
Make your own leaders? We have got you covered. We stock every size of Orvis Superstrong Plus and Mirage Fluorocarbon, up to 60 pound test. Make your trout leaders, bass leaders or big game saltwater leaders, and buy your material from us.
Ground Shipping is Free, if you live in the Continental United States. If you live somewhere else, we charge you our actual shipping costs and duties.
Please visit our leader and tippet department by CLICKING HERE. You may order online or call us, 7 days a week, at 865-448-9459.
We make it easy. That's what we like to do.
Thank you for supporting all of us at Little River Outfitters.
Lake Information and Tailwater Generation Schedules



Please enter your e-mail address in the box to the left to sign up for our e-newsletter. You will receive news about the shop, events, sale information, fishing info and more important information a fly angler would want to have.

You can opt out at any time. If you decide you don't want to receive our information just change your status or click at the bottom of an e-mail we send you in the "Remove" box.

We do not sell or give your e-mail address to anyone. And, we won't hound you to death with e-mails. You will receive no more than one per week unless unusual or critical fishing news might be of interest to you.