Townsend, Tennessee - Fly Fishing in the Great Smoky Mountains, East Tennessee and Western North Carolina

If you don't see today's fishing report, please refresh your browser to empty your cache.
Welcome to the Fishing Report from Townsend, Tennessee in the Great Smoky Mountains. At 6:17 am, the temperature is 62.8 degrees. Heavy rain fell yesterday afternoon and evening. .87 inches was reported in Townsend. 1.22 inches fell at the Knoxville Airport.
The rain somehow missed the Little River watershed in the Park. The river only rose slightly, then receded to about where it began yesterday morning. Currently, Little River is flowing at 170 cubic feet per second (cfs) or 1.84 feet on the flow gauge. Median flow for this date is 190 cfs. The water temperature is 62.8 degrees this morning.
Flow at the Little River gauge in Maryville, rose to over 500 cfs before peaking. The water has fallen now to 371 cfs. The Little Pigeon River in Sevierville has shown almost no increase in flow since yesterday morning. Cataloochee, Oconaluftee and Tellico Rivers indicate very little change in flow since yesterday morning.
It appears, you will not notice significant water flows in the Park today, unless some rivers that do not have gauges did get more rainfall than Little River.
Today should be mostly sunny with a high temperature in the mid-80's. The same forecast is predicted through Monday, though there is a slight chance for rain tonight and Sunday. Low temperatures will be in the low 60's throughout the period.
It appears we are going to have a nice weekend with good fishing conditions, in the Smoky Mountains.
Trout are taking dry flies or nymphs, whichever you prefer to use. I would use dry flies, most likely a Yellow Sally Stonefly pattern, though many others will do the job. I would use a Green Weenie or maybe a Pheasant Tail for sub-surface fishing.
TVA is planning to generate with only one generator at Center Hill Dam for an hour, most of the day. One generator will be turned on at Cherokee Dam for an hour this morning, then it will be off until 3 pm. They will be churning water at Norris Dam beginning later this morning, and continuing until early evening. Generation at Wolf Creek Dam in Kentucky will be ongoing most of the day. It is off right now. Check the TVA website before going. You may be able to work with some of their schedules.
You may find turbid water in Little River downstream toward and below Maryville.
Most of our lakes will be crowded today.
USA Today featured an article named, "Fly Fishing in the Great Smoky Mountains National Park" yesterday. You can read the article by CLICKING HERE. Some of the time the writer spent was in our shop and fishing on the Middle Prong of Little River. I think they were actually on Lynn Camp Prong most of the time. You will see Daniel and Rob Fightmaster in the article. This article was well done.
The writer referred to Daniel as being "matchstick thin". I'm glad I wasn't there. The word "portly" or "well fed" may have been used to describe me.
WBIR published a follow up story about the backpacker who was attacked by a bear May 10th in the Smokies, on the Appalachian Trail. I thought the bear just bit the man's leg through his tent. It was worse than that. The bear kept coming back. It barely missed grabbing the man's arm. You can read the victim's recount on the WBIR website by CLICKING HERE.
You can draw your own conclusions. I think that man was intended prey. I'm going to be more careful around our house until these animals find more food in the form of berries and fruit. I'm going to suggest Paula do the same thing. This kind of behavior is rare, almost unheard of.
We see bear at our house often. I walked up to a sow and her cub last month and yelled at them. They walked away. They were in the woods, 25 feet from our house. I guess things could have been different. Believe me, I had a clear shot at running to a door at our house quickly, had the bears reacted differently. If they had taken one step toward me, I would have vanished. We saw them again, a little further from our house two days later. We haven't seen them since.
Paula and I are accustomed to bears and don't think that much about it. We've never had one show aggression toward us, not in over 20 years.
I pay more attention to humans than animals. Last night, a strange truck drove along our private road and by our house. I could barely see the truck through the trees, but I could hear it. The driver came to the dead end, turned around and drove out. We can hear a vehicle easily because our road is gravel. Now that got my attention.
Nobody drives in here unless they are our three neighbors or guests. There are four homes on 60 acres. It is desolate back here. We have a sign at the entrance, warning, "Do Not Enter Without Permission", and we mean it. The sign is of course, ignored by the bears.
I spent several hours in the shop yesterday. I intended to stay a few minutes, but ended up talking to customers. One was a nice guy who has never fly fished. He fishes often. He has a 19' bass boat with a 200 hp engine. Someone gave him a fly rod and reel. We talked for a long time. He bought some flies at a big box store.
I suggested he practice, and probably catch some fish, from his bass boat. I can't think of a better place to learn. I told him I would go out there, find a good spot and catch some bluegill. I did mention our school. But, he could go home right then, hook up his boat and go. And, he would probably catch something as he learned to cast. He seemed like the kind of guy who would learn quickly on his own. I also suggested he always take a fly rod with him, when fishing from that boat.
I love fly fishing from a boat, on lakes and in the saltwater bays or the ocean. I really enjoyed talking to that guy. He was interested and willing to try something different. There is a lot to be said about that. I've been taking spinning rods to Florida and intend to do the same next week. I will be fly fishing too. To me, spin fishing is different, something I had not done for decades until last year. I enjoy trying new things.
Have a great day and thank you for being here with us.
Byron Begley
May 28, 2016
Respond to: byron@littleriveroutfitters.com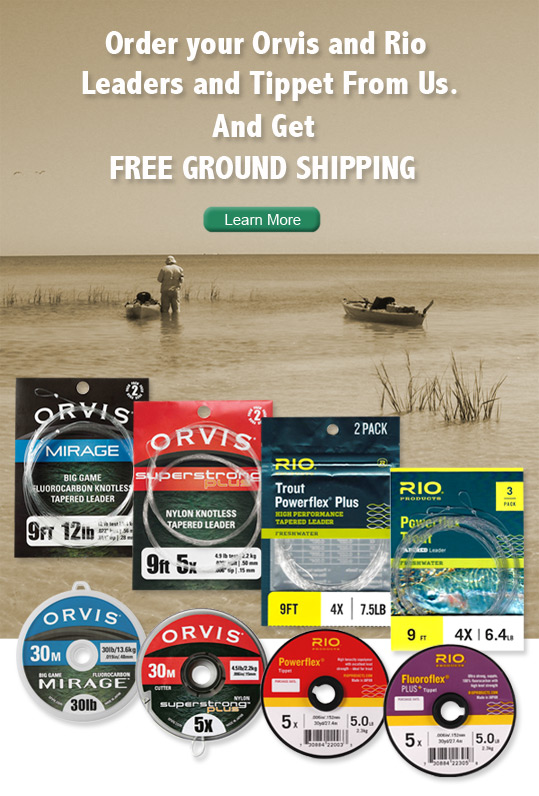 Fly fishermen use leaders and tippet every time they go fishing. Many anglers do not have a fly shop nearby, where they can buy replacements. You hate to order a couple of leaders and a spool of tippet, because the shipping eats you alive.
You don't have to worry about that. We eat the shipping. Order from us, and we'll ship you one leader, if that is all you need. We do it all the time. We slide it in a padded envelope and drop it in the mail to you.
We have a great selection of leaders and tippet material from the top two companies, Orvis and Rio. We have much more than you see in the photo above.
If you use fluorocarbon or nylon, or both, we have plenty of each to choose from.
Make your own leaders? We have got you covered. We stock every size of Orvis Superstrong Plus and Mirage Fluorocarbon, up to 60 pound test. Make your trout leaders, bass leaders or big game saltwater leaders, and buy your material from us.
Ground Shipping is Free, if you live in the Continental United States. If you live somewhere else, we charge you our actual shipping costs and duties.
Please visit our leader and tippet department by CLICKING HERE. You may order online or call us, 7 days a week, at 865-448-9459.
We make it easy. That's what we like to do.
Thank you for supporting all of us at Little River Outfitters.
Lake Information and Tailwater Generation Schedules



Please enter your e-mail address in the box to the left to sign up for our e-newsletter. You will receive news about the shop, events, sale information, fishing info and more important information a fly angler would want to have.

You can opt out at any time. If you decide you don't want to receive our information just change your status or click at the bottom of an e-mail we send you in the "Remove" box.

We do not sell or give your e-mail address to anyone. And, we won't hound you to death with e-mails. You will receive no more than one per week unless unusual or critical fishing news might be of interest to you.