Townsend, Tennessee - Fly Fishing in the Great Smoky Mountains National Park, East Tennessee and Western North Carolina

Welcome to the Fishing Report from the Great Smoky Mountains. At 6:29 am, it is cloudy and 65 degrees. Today's high temperature will be in the low 80's and we have a 40% chance for thunderstorms this afternoon.
It did not rain in Townsend yesterday, however the Airport did receive .62 inches and rain fell in the Little River watershed in the Smokies during the night. The river rose slightly but it is falling now.
Little River is currently flowing at 94 cubic feet per second (cfs) or 1.45 feet on the flow gauge. Median flow for this date is 192 cfs. The water temperature is 66.7 degrees this morning.
If you go fishing in the Smokies today, use your low water tactics. Fish the choppy water and stay hidden. Trout are taking both dry flies and nymphs. My preference would be a Yellow Neversink Caddis dry fly. Other light colored patterns will work too. I'm pretty sure I would use a Green Weenie at times. If I were fishing in a brook trout stream, I would use a Pink Weenie.
Paula and I plan to fly fish for carp again today. This is a learning experience for sure. We will be fishing on Tellico Lake. We had a few follows, one eat and no hookups last week. This is sight fishing for feeding and cruising fish in the 10 pound plus range on flats in shallow water. It is exciting.
DROUGHT MONITOR
The weekly U.S. Drought Monitor was released yesterday at 8:30 am, as usual on Thursdays. As expected, our region was listed as "Abnormally Dry" for the first time this year. You can see the map by CLICKING HERE. This new designation affects middle to east Tennessee, central to East Kentucky, much of North Carolina and South Carolina. Also new to this designation is North Georgia and parts of Alabama, Virginia and West Virginia. There are a few spots of Moderate Drought in the Northeast and south Florida. The far west continues to be in a drought.
In our area, this affects mostly freestone streams and lowland rivers.
The long term weather forecast indicates a high percentage chance for rain almost every day next week.
COOSA BASS
Our friend from Alabama, Brandon Bailes sent me these photos taken on a recent trip in his State. Look at that river. Looks like a trout stream doesn't it? What he caught that day was 26 of these Coosa Bass on a 4 weight glass fly rod. I've never seen a Coosa Bass. They are beautiful. And they live in small streams like the one you see here. He caught them on nymphs, hoppers and micro streamers. Thanks for sharing Brandon.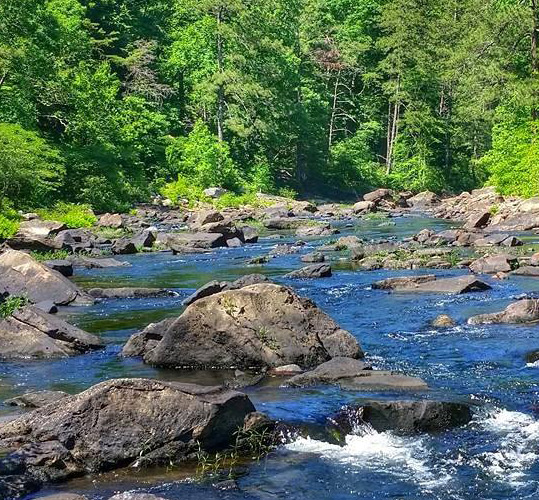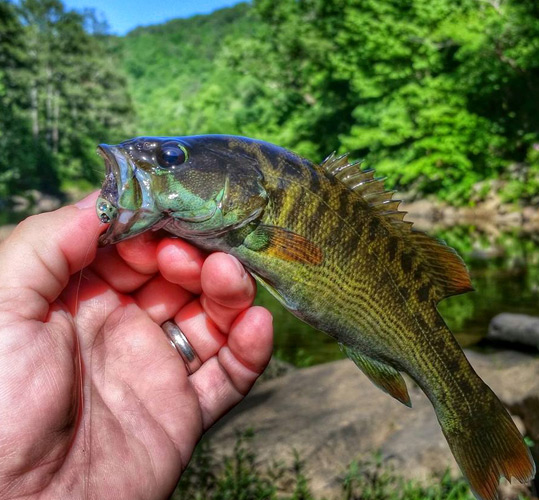 FLY TYERS WEEKEND
Marvin Cash and Anthony Hipps of the Southeast Council of the Fly Fishing Federation (SECFFF) have been working hard, preparing for Fly Tyers Weekend, to be held in Townsend November 7 and 8. It will be held, like last year, at Tremont Lodge and Resort. Anthony will be sending out invitations to fly tyers next week. He has a list of 96 tyers, including everyone who tied last year.
Tremont Lodge and Resort, has a list of all who have been invited to tie. If you decide to be an exhibitor, you will get a 50% discount on your room. As an attendee, you will get a 15% discount. If you call to reserve a room, be sure to tell the reservation people you are attending Fly Tyers Weekend to get the discount. You will only get the 50% discount if you agree to demonstrate at the event. You can visit the new Tremont Lodge website, which is under construction, by CLICKING HERE. Or, call 866-448-3200 to make a reservation.
This is going to be a huge event. Don't miss this one. SECFFF will hold a fundraiser banquet during the event to benefit the new Fly Fishing Museum in Cherokee, North Carolina.
BUSINESS IN TOWNSEND, WALLAND AND AMERICA
Everyone I talk to says business is very good. We are busy too. The Memorial Day Weekend was evidently much better than normal. People are traveling. Fuel prices are lower. Americans are spending money. I watch the Gallup Daily U.S Consumer Spending Report. Gallup polls 1,500 adults every day. Those people are asked how much money they are spending on a daily basis, not including home, vehicle or normal household bills. The report uses a 14 day rolling average. On February 13, 2010, a low point, that number was $59. Yesterday, the number was $91. That is a 54% increase. One of the high points, before the crash, was May 4, 2008. The number that day was $104.
Well, we're going to hook up the boat and go fishing.
Have a great day and thank you for being here with us.
Byron Begley
May 29, 2015