Townsend, Tennessee - Fly Fishing in the Great Smoky Mountains, East Tennessee and Western North Carolina

If you don't see today's fishing report, please refresh your browser to empty your cache.
Welcome to the Fishing Report from Townsend, Tennessee in the Great Smoky Mountains. At 5:54 am, the temperature outside is 64.6 degrees. Today will be mostly cloudy with a 30% chance for rain and afternoon thunderstorms. The high temperature will be in the low 80's. Memorial Day will be warmer.
Little River is flowing at 149 cubic feet per second (cfs) or 1.76 feet on the flow gauge. Median flow for this date is 189 cfs. The water temperature is 64.4 degrees this morning.
Fly fishing in the Smokies remains good. I love fishing on cloudy days. Today will be one of them. You will do well using dry flies or nymphs. My choice would be dries, and #1 would be a Yellow Sally Stonefly pattern. Anything reasonable will work. You might want to drop a nymph off your dry. I would probably choose a Green Weenie.
If you are a tailwater angler, take a look at the generation schedule at Cherokee Dam. You should have some wade fishing time available to you today. Flows on the Clinch River do not look as good today for you. They will be generating there much of the day.
Our friends in Middle Tennessee should enjoy today's flows on the Caney Fork. The Caney has been fishing well as of late.
Even the Cumberland River below Wolf Creek Dam in Kentucky looks to be fishable today, or much of the day. I haven't seen a generation schedule like this one in a long time. Fishing there will take some planning. TVA will turn the generators on for a short time this morning, then again this afternoon. Maybe you can work around the periods of high water, especially if you are fishing from a boat.
The river guides there know how to keep you fishing all day. The Cumberland River is an amazing trout fishery.
As always, these schedules are subject to change. Check the TVA website yourself before going.
Personally, I would stay off the lakes today. They will be crowded with Captains and their ships. Fishing has been good on our many area lakes. You might go early or late to enjoy the lakes today.
So, fly fishermen in the region have many options. Watch out for those thunderstorms.
If you have access to a great farm pond, go late in the day and fish until dark. Bass and bluegill are actively feeding in the evenings. I would use a popper, and it would be a BoogleBug popper or a Knucklehead. The same is true on our lowland rivers. Go early or late and offer the warmwater fish a popper. Do the same thing on the lakes. It is popper time in the South!
Fly fishing with poppers takes me back over 50 years to my childhood. Before I became combustion engine mobile, I would often walk to the ponds on our family farm, or to one of our neighbor's ponds to fly fish until dark.
The terrain was flat in Central Kentucky where I grew up. If I stayed too late, and forgot my flashlight, I could always find my way home. Our house was built on high ground. If I was fishing, my parents turned on plenty of lights. They assumed I would be home late. I could see that house from miles away and I knew the routes by heart. I walked in the darkness, clutching my fly rod and a box of poppers, thinking about all the fun I had that evening.
I practiced catch and release as a child. I wanted to fool them again. I hoped they would be larger, next time and harder to fool. I grew up at a time when everyone kept everything they caught and shot everything they saw. It is different now. I was different then, compared to most.
We are selling poppers like crazy right now. In fact, yesterday, I saw a mail order processed on my home computer. Of course everything is handled at the store, but I can see what happens from home.
A man or boy ordered 20 BoogleBug poppers. And, he happens to live in Kentucky. I would like to meet him, and compare notes. Maybe it is a Dad, ordering poppers for his 12 year old son or daughter. Maybe the kid walks to farm ponds to fish, and walks home in the darkness like I did.
It could be, the customer is my age, reliving his childhood and mine. Sometimes when I look at mail orders, I wonder what becomes of the tackle we sell. Will they enjoy it the way I would? I hope so. Where do they live? Have I met them? Every mail order has a story, one I would enjoy hearing. Sometimes I do. I get an e-mail from the customer.
You may browse through our BoogleBug Popper selection by CLICKING HERE. It is a pretty amazing selection. I think these are the most beautiful and durable poppers available.
I'm going fly fishing in Florida for a week. When I get home, I'm going to organize my poppers, maybe buy a few more, and begin enjoying my Summer popper fishing. I can't wait. It's nice having something, fishing related to look forward to. I will be tying saltwater flies in the evenings this week, preparing for the Florida trip.
Preparation is a form of anticipation. Fishing is an important form of anticipation in my life. It has always been that way. If you enjoy fishing, you love anticipation.
Have a great day and thank you for being here with us.
Byron Begley
May 29, 2016
Respond to: byron@littleriveroutfitters.com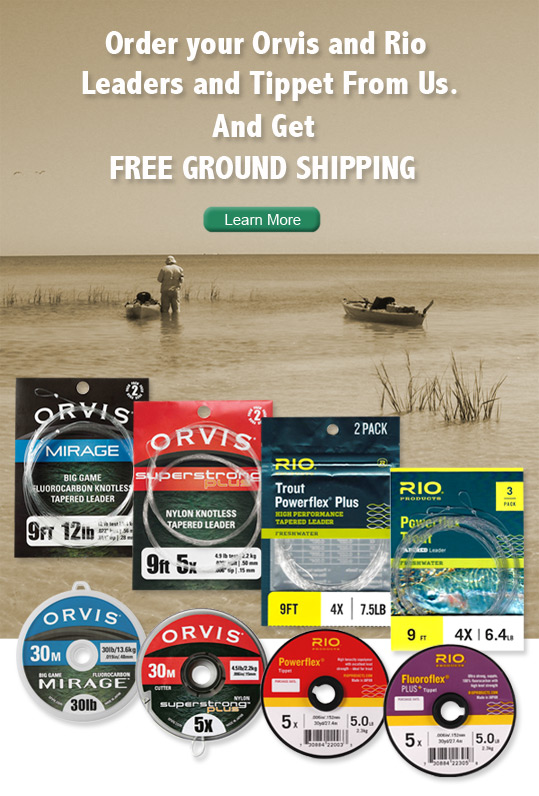 Fly fishermen use leaders and tippet every time they go fishing. Many anglers do not have a fly shop nearby, where they can buy replacements. You hate to order a couple of leaders and a spool of tippet, because the shipping eats you alive.
You don't have to worry about that. We eat the shipping. Order from us, and we'll ship you one leader, if that is all you need. We do it all the time. We slide it in a padded envelope and drop it in the mail to you.
We have a great selection of leaders and tippet material from the top two companies, Orvis and Rio. We have much more than you see in the photo above.
If you use fluorocarbon or nylon, or both, we have plenty of each to choose from.
Make your own leaders? We have got you covered. We stock every size of Orvis Superstrong Plus and Mirage Fluorocarbon, up to 60 pound test. Make your trout leaders, bass leaders or big game saltwater leaders, and buy your material from us.
Ground Shipping is Free, if you live in the Continental United States. If you live somewhere else, we charge you our actual shipping costs and duties.
Please visit our leader and tippet department by CLICKING HERE. You may order online or call us, 7 days a week, at 865-448-9459.
We make it easy. That's what we like to do.
Thank you for supporting all of us at Little River Outfitters.
Lake Information and Tailwater Generation Schedules



Please enter your e-mail address in the box to the left to sign up for our e-newsletter. You will receive news about the shop, events, sale information, fishing info and more important information a fly angler would want to have.

You can opt out at any time. If you decide you don't want to receive our information just change your status or click at the bottom of an e-mail we send you in the "Remove" box.

We do not sell or give your e-mail address to anyone. And, we won't hound you to death with e-mails. You will receive no more than one per week unless unusual or critical fishing news might be of interest to you.