Townsend, Tennessee - Fly Fishing in the Great Smoky Mountains, East Tennessee and Western North Carolina

If you don't see today's fishing report, please refresh your browser to empty your cache.
Welcome to the Fishing Report from Townsend, Tennessee in the Great Smoky Mountains. Light rain is falling this morning. It poured last evening at our house, but it appears no rain fell in the Little River watershed others in the Park.
We have a slight chance for rain or thunderstorms this afternoon. The high temperature is expected to be in the mid-80's.
Little River is flowing at 146 cubic feet per second (cfs) or 1.75 feet on the flow gauge. Median flow for this date is 184 cfs. The water temperature is 64.6 degrees this morning.
Fishing is good in the Smoky Mountains. About any fly will work for you. I would use a Yellow Neversink Caddis dry fly. You may want to drop a nymph off the dry. Make it a Green Weenie or Bead Head Pheasant Tail. Anything reasonable will work. The trout are looking for food. Most importantly is getting a good drift and staying hidden from the trout.
There will be some periods of no generation at Cherokee and Norris dams today. You should be able to find times to fish those rivers. Generation will be light today at Center Hill Dam. There is no doubt, anglers will be fishing on the Caney Fork today.
TVA will be generating for one hour this morning at Wolf Creek Dam in Kentucky, but they plan to churn water later, through this evening.
Check the TVA website, to see if their generation schedules work for you.
Jack came over yesterday afternoon and stayed for dinner last night. Paula smoked ribs for 5 hours. We spent a lot of time outside enjoying the cool evening. He spent the night and we're all up early today. I'll be working all day.
I haven't been to town since Friday. Jack told me Townsend is packed with people and they were lined up waiting to be seated in restaurants. He said our store parking lot was littered with cars. It sounds like the tourism business is alive and well this weekend. Americans are traveling. People are spending money.
Last night Jack and I talked about all the fishing trips we have been on together. There are many, from the Rocky Mountains, to the Catskills, and south to Florida.
One of our favorite places, we have visited is a small island offshore in the Florida Big Bend area. We had to paddle out a mile or two from the mainland to reach it. It is small, maybe 300 acres. It is a National Wildlife Refuge.
The photo in the leader and tippet ad below is that island. That is Jack standing in the water next to a kayak.
Fishing was good there. We saw almost no people. I remember catching a few redfish.
The water was murky along the mainland. Freshwater rivers pour into that area. I we paddled out to the small islands, the water was clear.
Jack is sitting in my office right now and we just talked about going back.
It is nice, living in the Smoky Mountains, but traveling to the Gulf at times during the year. Frank and I are going to Florida Saturday. We will trailer our kayaks and spend a week. We have a house rented on the water. I can't wait to go again.
Frank and I started the first grade together in 1957. The weather could be bad and the fishing could be slow. Or, maybe everything will be perfect. I can tell you one thing for sure. We will have fun. We have been best friends for nearly 60 years. There are stories that will be told.
Today, we honor the brave Americans, who made the ultimate sacrifice, so that we can be free. We honor the men and women who gave their lives for our country. Today, I also honor those who served in our military, and were wounded or injured. This is their day.
Have a great Memorial Day and thank you for being here with us.
Byron Begley
May 30, 2016
Respond to: byron@littleriveroutfitters.com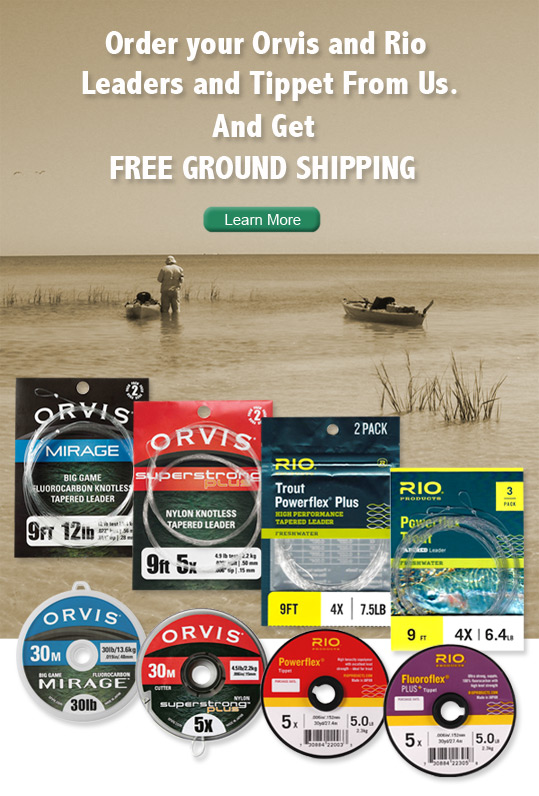 Fly fishermen use leaders and tippet every time they go fishing. Many anglers do not have a fly shop nearby, where they can buy replacements. You hate to order a couple of leaders and a spool of tippet, because the shipping eats you alive.
You don't have to worry about that. We eat the shipping. Order from us, and we'll ship you one leader, if that is all you need. We do it all the time. We slide it in a padded envelope and drop it in the mail to you.
We have a great selection of leaders and tippet material from the top two companies, Orvis and Rio. We have much more than you see in the photo above.
If you use fluorocarbon or nylon, or both, we have plenty of each to choose from.
Make your own leaders? We have got you covered. We stock every size of Orvis Superstrong Plus and Mirage Fluorocarbon, up to 60 pound test. Make your trout leaders, bass leaders or big game saltwater leaders, and buy your material from us.
Ground Shipping is Free, if you live in the Continental United States. If you live somewhere else, we charge you our actual shipping costs and duties.
Please visit our leader and tippet department by CLICKING HERE. You may order online or call us, 7 days a week, at 865-448-9459.
We make it easy. That's what we like to do.
Thank you for supporting all of us at Little River Outfitters.
Lake Information and Tailwater Generation Schedules



Please enter your e-mail address in the box to the left to sign up for our e-newsletter. You will receive news about the shop, events, sale information, fishing info and more important information a fly angler would want to have.

You can opt out at any time. If you decide you don't want to receive our information just change your status or click at the bottom of an e-mail we send you in the "Remove" box.

We do not sell or give your e-mail address to anyone. And, we won't hound you to death with e-mails. You will receive no more than one per week unless unusual or critical fishing news might be of interest to you.