Townsend, Tennessee - Fly Fishing in the Great Smoky Mountains, East Tennessee and Western North Carolina

If you don't see today's fishing report, please refresh your browser to empty your cache.
Welcome to the Fishing Report from Townsend, Tennessee in the Great Smoky Mountains. At 5:51 am, the temperature at the Knoxville Airport is 64 degrees. It is probably about 60 degrees in Townsend.
I check a website, connected to a remote weather station near Little River in Townsend every morning, to determine the current temperature and past rainfall totals. That website has been down two days.
It is going to be very warm for 3 days, with high temperatures in the upper 80's. Lows will be in the low to mid 60's. Rain will be likely Thursday night through Friday night.
Little River is flowing at 144 cubic feet per second (cfs) or 1.74 feet on the flow gauge. Median flow for this date is 171 cfs. The water temperature is 65.1 degrees this morning.
Fishing in the Smoky Mountains is probably good, though I have not talked to anyone about the subject since Friday. I spent the weekend at our home and never ventured out. I did read one report from an angler who fished this weekend on the East Prong. He said fishing was very good. The stream conditions are fine.
I would use a dry fly and dropper. My choice would be a Yellow Neversink Caddis #16 with a small Bead Head Pheasant Tail dropper. A Green Weenie will work well for you too. Most any reasonable fly pattern are working. The trout are hungry. They are looking for food, in the form of aquatic or terrestrial insects.
The lakes are fishing extremely well. It was probably tough for anglers this weekend, due to the heavy lake traffic. Smallmouth bass fishing is excellent in the lakes. Other species are active too. Jack stayed with us Sunday night. His wife is out of town. He and Joe have been catching a lot of big smallies. Jack caught one last week that weighed 6 pounds and lost a larger one.
You should not have problems finding angler friendly conditions on some of the tailwaters today. The generation schedules at Cherokee and Center Hill dams show promise to wading anglers. TVA plans to generate at Norris Dam all afternoon, through the evening. Check the TVA website. Look at their schedules. See what works for you.
I talked to Brad Redmon yesterday. He worked on the design/build team at Hatchery Creek, below Wolf Creek Dam in Kentucky. He fished all day Saturday and caught 19 trout, with the two largest being fat 19" rainbows. He was using midges. You can see one of those rainbows by visiting Brad's Facebook page. CLICK HERE.
Brad knows Hatchery Creek like the back of his hand. He spent two years there, building that man-made stream. Brad is guiding part-time on Hatchery Creek. Hiring him for a day would be a great experience for you. His contact information is on his Facebook page. Choose the "About" tab on the page.
Frank and I are both packing our gear. We are going to Florida, to fish for a week. We are leaving Saturday, towing our fishing kayaks behind. As always, we are hoping for good weather. Right now, the weather forecast looks pretty good, from a wind perspective. It is going to be hot! We have a house rented, right on the Gulf.
Paula is organizing our food and necessary cooking stuff. These rental houses have just about everything we need to prepare a seafood feast every night, but we don't take chances. We are taking the kitchen box and a cooler full of food. Driving to a restaurant is not a viable option where we are going. Our intent is to fish, not spend the night on the town.
When we rent Florida coastal homes, they are usually far away from restaurants and shopping areas. That's the way we like it. We try to get away from people, in undeveloped areas when we can. I never mention the names of these places on the internet. I want to keep these spots that way.
Jack showed me how to tie a Bendback Copperhead fly pattern yesterday. Jack is the best and most knowledgeable fly fisherman I know. I would never have thought of this. We will be fishing shallow water on or near oyster beds for redfish. We would normally be getting snagged on the oysters. The hook rides up on a bendback fly, hopefully making them practically snag-proof. I'll tie a bunch of them this week.
Another pattern we use is a Sand Shrimp. We will also fish with Crease Fly Poppers. Really, Copperheads, Sand Shrimp and Crease Fly patterns are about all you need when fishing in the Florida Panhandle or Big Bend area. We use Spoonflies occasionally too, when fishing thick weed beds.
Well, the holiday weekend is over. I'm planning to emerge from isolation and see Townsend today. I'll go by the fly shop too.
Have a great day and thank you for being here with us.
Byron Begley
May 31, 2016

SPECIAL NOTE: The synchronous firefly viewing shuttles are in operation from the Sugarlands Visitor Center to the Elkmont Campground area. This will continue until the evening of June 7th. You may park and fish in that area. But, you must leave by 4 PM.

Respond to: byron@littleriveroutfitters.com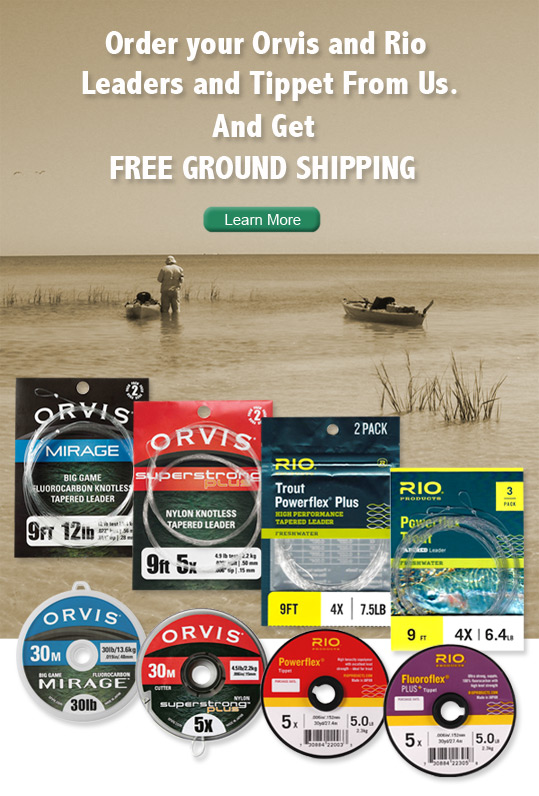 Fly fishermen use leaders and tippet every time they go fishing. Many anglers do not have a fly shop nearby, where they can buy replacements. You hate to order a couple of leaders and a spool of tippet, because the shipping eats you alive.
You don't have to worry about that. We eat the shipping. Order from us, and we'll ship you one leader, if that is all you need. We do it all the time. We slide it in a padded envelope and drop it in the mail to you.
We have a great selection of leaders and tippet material from the top two companies, Orvis and Rio. We have much more than you see in the photo above.
If you use fluorocarbon or nylon, or both, we have plenty of each to choose from.
Make your own leaders? We have got you covered. We stock every size of Orvis Superstrong Plus and Mirage Fluorocarbon, up to 60 pound test. Make your trout leaders, bass leaders or big game saltwater leaders, and buy your material from us.
Ground Shipping is Free, if you live in the Continental United States. If you live somewhere else, we charge you our actual shipping costs and duties.
Please visit our leader and tippet department by CLICKING HERE. You may order online or call us, 7 days a week, at 865-448-9459.
We make it easy. That's what we like to do.
Thank you for supporting all of us at Little River Outfitters.
Lake Information and Tailwater Generation Schedules



Please enter your e-mail address in the box to the left to sign up for our e-newsletter. You will receive news about the shop, events, sale information, fishing info and more important information a fly angler would want to have.

You can opt out at any time. If you decide you don't want to receive our information just change your status or click at the bottom of an e-mail we send you in the "Remove" box.

We do not sell or give your e-mail address to anyone. And, we won't hound you to death with e-mails. You will receive no more than one per week unless unusual or critical fishing news might be of interest to you.