Townsend, Tennessee - Fly Fishing in the Great Smoky Mountains, East Tennessee and Western North Carolina

If you don't see today's fishing report, please refresh your browser to empty your cache.
Welcome to the Fishing Report from Townsend, Tennessee in the Great Smoky Mountains. At 6:07 am, the temperature is 66 degrees. It is going to be warm, in the mid-80's through Saturday. We have a 40% to 60% chance for thunderstorms each day beginning tomorrow, through Sunday.
Little River is flowing at 132 cubic feet per second (cfs) or 1.69 feet on the flow gauge. Median flow for this date is 175 cfs. The water temperature is 65.7 degrees.
Fishing is good in the Smoky Mountains. Trout are taking dry flies or nymphs. I think dry flies are a better option, but that is my personal preference when the streams flowing lower, which they are now. We are entering a period of time when stream flows are historically low. Of course they fluctuate due to rainfall. It appears we will see rain this week. Many fly fishermen prefer lower flows in the Smokies streams.
Later this week may be a completely different story, if we get the expected rain.
TVA plans to generate at both Cherokee and Norris Dams today. There will be short periods of no generation this morning. At noon, they plan to make electricity.
My friends in Middle Tennessee have better fly fishing opportunities on the Caney Fork today. The TVA schedule currently indicates very little generation this morning, then they plan to shut the generators down.
Check the TVA website before going.
Paula and I had dinner last night at the Strawberry Patch B & B, with Wendy, the owner. Another friend of hers joined us. We sat on the porch, where Little River flows by within a few feet from where we were sitting.
What a wonderful place to stay. Little River looks beautiful right now. I could see trout rising to something on the surface. Business is good at Strawberry Patch. After the holiday visitors checked out Monday, more arrived yesterday. We met one couple from California. Other guests were from a different country in Europe. Most of the rooms had guests last night. You can visit Wendy's Airbnb page by CLICKING HERE. This is a beautiful place to stay in Townsend. Wendy is a great Inn Keeper. She is a good friend of ours.
I would love to fish Little River, below the Park this week. I don't have time. I need to work and tie saltwater flies for the Florida trip I'm going on Saturday.
I'm sure, fishing is great in the lowland rivers. The flow in Little River looked perfect for wade fishing last night. I would go early or late, and use poppers for smallmouth bass and rock bass.
I woke this morning to a cow bawling. Our neighbor has cows but they are usually quiet, especially when it is still dark outside. Their pasture is quite a distance from our house. That seemed odd. I sat here writing, and all of a sudden, a cow bawled right outside my office window. She was so loud, it sounded like she was in my office with me. I opened the blinds, and there she was, her face almost touching the window. She walked away after we stared at each other for a few seconds.
I went outside. It was barely light out there. She was standing in our carport, with my truck and Paula's Outback.
I held out my hand and she touched it with her nose. She recognized me. I said, "Come on girl, let's go home". She followed me down the gravel road to the pasture gate. I opened the gate and she walked in to join the other cattle. She seemed happy to be back with them.
I love having those cattle nearby. When our neighbors are out of town, I take care of the cattle during the winter months.
They were in Spain early this spring. One cow was about to drop a calf. I checked on that cow every day, sometimes twice a day. I have the phone number to call the vet if there is a problem. I grew up on a farm in Kentucky. I know about cow and horse birthing problems. I found the newborn calf one afternoon. It was laying on the ground in their barn. The calf had not opened it's eyes. I got there shortly after the cow gave birth, probably minutes after.
When we sit on our front porches or the deck, and I hear a cow bawl, I know, I live in a great place. That is about all we hear back here, except for the turkeys.
Have a great day and thank you for being here with us.
Byron Begley
June 1, 2016

SPECIAL NOTE: The synchronous firefly viewing shuttles are in operation from the Sugarlands Visitor Center to the Elkmont Campground area. This will continue until the evening of June 7th. You may park and fish in that area. But, you must leave by 4 PM.

Respond to: byron@littleriveroutfitters.com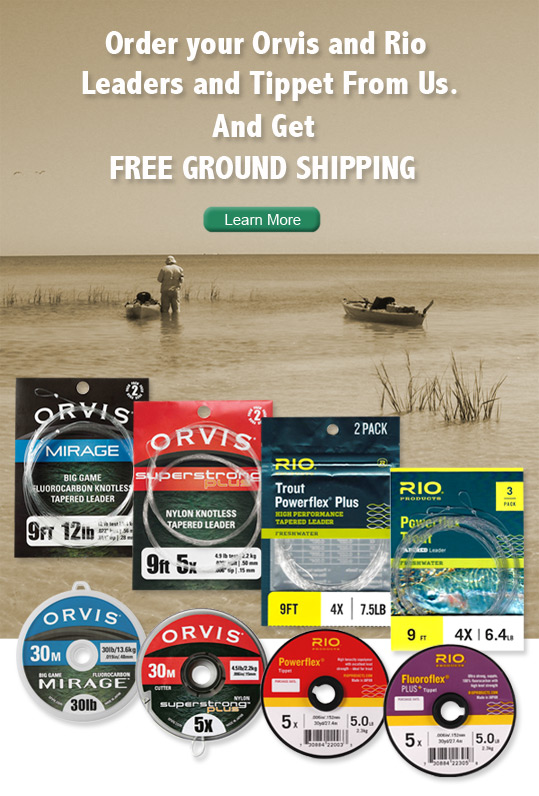 Fly fishermen use leaders and tippet every time they go fishing. Many anglers do not have a fly shop nearby, where they can buy replacements. You hate to order a couple of leaders and a spool of tippet, because the shipping eats you alive.
You don't have to worry about that. We eat the shipping. Order from us, and we'll ship you one leader, if that is all you need. We do it all the time. We slide it in a padded envelope and drop it in the mail to you.
We have a great selection of leaders and tippet material from the top two companies, Orvis and Rio. We have much more than you see in the photo above.
If you use fluorocarbon or nylon, or both, we have plenty of each to choose from.
Make your own leaders? We have got you covered. We stock every size of Orvis Superstrong Plus and Mirage Fluorocarbon, up to 60 pound test. Make your trout leaders, bass leaders or big game saltwater leaders, and buy your material from us.
Ground Shipping is Free, if you live in the Continental United States. If you live somewhere else, we charge you our actual shipping costs and duties.
Please visit our leader and tippet department by CLICKING HERE. You may order online or call us, 7 days a week, at 865-448-9459.
We make it easy. That's what we like to do.
Thank you for supporting all of us at Little River Outfitters.
Lake Information and Tailwater Generation Schedules



Please enter your e-mail address in the box to the left to sign up for our e-newsletter. You will receive news about the shop, events, sale information, fishing info and more important information a fly angler would want to have.

You can opt out at any time. If you decide you don't want to receive our information just change your status or click at the bottom of an e-mail we send you in the "Remove" box.

We do not sell or give your e-mail address to anyone. And, we won't hound you to death with e-mails. You will receive no more than one per week unless unusual or critical fishing news might be of interest to you.