Townsend, Tennessee - Fly Fishing in the Great Smoky Mountains National Park, East Tennessee and Western North Carolina

Welcome to the Fishing Report from the Great Smoky Mountains. It is sunny and 66 degrees in Townsend this morning. The weekend is over and traffic was light on my way to work. It really feels good outside. Paula and I sat on the tree deck last night for a long time. It was cool and peaceful. We live in a very peaceful place.
Sometime yesterday, it rained in the Little River watershed. I don't know where but it happened about mid-day. The water rose a little. I guess it could have been lots of tubers causing the water to rise. I didn't think about that. No, it was rain.
Right now, flow in Little River is 105 cubic feet per second (cfs) or 1.57 feet on the gauge. Yesterday, the water level jumped slightly to 1.75 feet. Median flow for this date is 172 cfs. The water temperature at 7:55 am is 65.8 degrees.
Fishing is good for some and excellent for others. Trout are taking dry flies, even during the middle of the day at times. The water is low. Keep a low profile and blend in so the trout don't see you. I would use a dry fly, a Light Cahill or Yellow Neversink Caddis. Any Yellow Sally Stonefly imitation will work. I believe the trout think the Yellow Neversink Caddis is a stonefly. That is our best selling dry fly and has been for years. Following this fly is the Parachute Adams.
We had a great weekend at the shop. Business was good. We had a 2 day beginner fly fishing class. We do those twice per month and that always adds some excitement to our days.
Saturday, I noticed we had some really eager and talented students. I think there were 7 students. I look out my office window when they are casting. What I saw were a bunch of brand new fly fishing enthusiasts and they were casting well. Two were women, good friends who I later saw at Pizza Hut after the shop closed.
Also, among the students were a father and son. The son, Miles is 12 years old, I heard. Saturday night, Dad posted on our Message Board that he and his son had a great first day with Walter and Rob. He said they were looking forward to their second day class on Sunday.
Rob and Josh take the students to the streams in the Smokies for the second day class. Both of these guys are excellent professional fly fishing guides who we have worked with and been close friends of ours for many years.
Walter and Rob teach the first day class on Saturdays. Walter started fly fishing when I was 3 years old. I am almost 63. Walter and I both attended the Joan Wulff Fly Fishing Instructors School together in New York a long time ago. I'll never forget that trip. Walter, Brian Courtney and I drove to the Catskills. It was a 30 hour round trip. I laughed at Walter's stories for 30 hours and never heard the same one twice.
Last night after closing time, Rob came in my office. He told me Miles caught a 20" brown trout "right off the bat". I said, "You're kidding."
And, listen to this, he caught it on a dry fly. I think it ate a Neversink Caddis. The picture below is Miles and Rob holding this unbelievable trout, his first trout ever on a fly rod. You can tell Miles is happy. Rob is certainly happy. Miles' dad is happy. I'm happy. Everybody happy!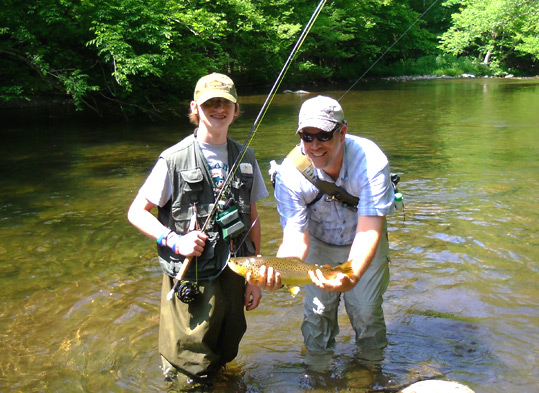 We have been teaching beginner classes for probably 18 years. This beats them all.
A couple of years ago Rob and Josh and a group of students on the river for their second day. Josh was talking to a lady who was one of the students. They were standing on the bank of Little River. They were about to start the class. Josh noticed a large brown trout laying on the river bed nearby. He pointed the fish out to the lady. She asked if she could try to catch it. Josh told her to "go ahead". She made the cast, the 19" brown ate her fly, and she landed it. I told her she was ruined for the rest of her life.
I wish I could tell you this will happen if you take our beginner class. It won't. Well, it probably won't. If it would, our waiting list for schools would require a computer and a huge spreadsheet to keep track of everyone.
But, when it does happen, it makes for a great day around here, we'll be talking about this for a long time and, writing a fishing report like this one is more fun than it is most days.
CLICK HERE to read the post about Miles and his big fish, written by his dad on our message board. I promise, it will make you feel good and start your week out right.
Have a great day and thank you for being here with us.
Byron Begley
June 2, 2014