Townsend, Tennessee - Great Smoky Mountains National Park
Welcome to the Fishing Report. It is sunny and warm again in Townsend this morning. Today the high temperature is supposed to be 91 degrees. When I pulled out onto our private road this morning a confused hen turkey was trying to cross in front of me. First she went one direction, then turned an ran another direction. Finally she have up and flew over my truck. I bet I had her blocked off from her brood hiding in the woods in front of our house. She wanted to get over there in the worst way.
Little River is flowing slow and low again. Right now the flow is 81 cubic feet per second. Median flow for this date is 164 cfs. The water temperature was 71 degrees at 8:15 am. I saw a kid's bicycle parked next to the swinging bridge. He was out on the bridge with a spinning rod. I guess he was trying to spot fish.
I did not talk to any anglers yesterday. Most of the people who actually fished in the Park probably went up high to the cooler spots in the Park. That is what I would do. The water will be cool and it will be more comfortable for you. The low water requires you to stay hidden and fish the riffles or choppy water where a riffle enters a pool. It is more important than ever to wear clothing that blends in with your surroundings. I would probably fish in the evenings right now.
For flies I would use a small Yellow Stimulator, Yellow Neversink Caddis or a Light Cahill. It is time to fish Green Weenies. These flies have saved the day for many anglers. The Fl Shell Pink version works well too. What we have are summer conditions and that requires summer tactics. Lighten up on your tippet. Go to 5X or 6X.
We had a sales representative from Phillips Lighting here yesterday. He and our electrician are making suggestions for us to change over to fixtures that are more efficient. Our fluorescent fixtures are about 8 years old. Ballasts are failing. Bulbs are failing. Now might be a good time to phase in a change. If I remember correctly the first batch of bulbs for the shop cost about $3,000 eight years ago. We use bulbs with a high color rendering index. They make the colors pop in the shop. They cost a lot more than the yellow tint cheaper bulbs.
At 3:00 today we'll see how much interest there is in re-building Laurel Lake. The meeting will be held at our shop in the classroom at 3:00 pm. Our County Mayor, Ed Mitchell was invited. Doug Overbey, our State Senator was invited. He always shows up for meetings held here. Our State Representatives have both been invited I think. They are Art Swann and Bob Ramsey. I've know Art for almost 20 years. We are not in Bob's district so he may not come. He did attend the last meeting we held at the shop. Even though he does not represent us he is always helpful. He is a nice guy and our problems with the Tennessee Department of Transportation are important to him.
Gordon Wright one of our County Commissioners will certainly be here. Trying to get this lake built was one of his promises made when he ran for office. There will be other interested people here for this meeting. I don't know if Bill Haslam, our Governor was invited. I know he will be very interested in this. His home is a few miles from the shop and he enjoys the outdoors. Though he has been in the shop, I don't think he fly fishes. He was here once to meet the Townsend folks when he ran for Governor. Again, our shop was picked for an important meeting like that.
Our store has become a neutral place for powerful meetings. We have held many here with high level government officials. We are non-government for one thing. And everyone knows where we are. We are easy to find. I'm always involved in these things and we are willing to share our facility to benefit the public.
I caught a great fish last week on Thursday. Paula and I were fishing a rock bluff on Dale Hollow Lake. I was trying to entice a large smallmouth bass. I used a 7 weight rod with a full sinking line with a Enrico Puglisi Threadfin Shad for my fly. I kept casting toward the bank, letting everything sink then stripping slowly. All of a sudden, something big took my fly. I set the hook and both of us saw a brownish fish that was big.
Our depth finder indicated we were in 17 feet of water but this fish ran straight down peeling line off my reel. I moved us quickly into 50 feet of water to prevent losing this thing in a sunken tree.
Finally I got the fish to the surface. You can see below he was not a smallmouth bass but a catfish instead. I posted this photo on our message board and claimed it was a world record 8# tippet class smallmouth bass. Some of my friends remarked that I may have made an identity error. That happens when you get excited. If I ever catch that record smallmouth, I'll post the picture on the Message Board and call it a catfish.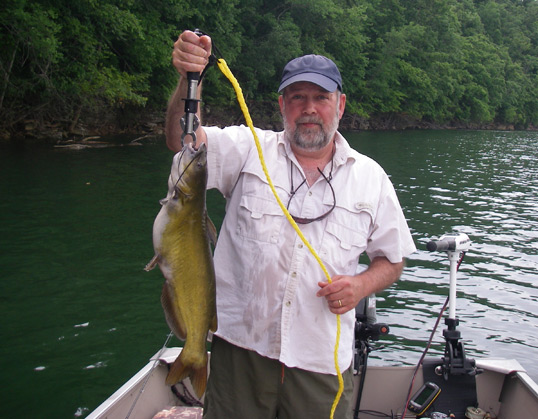 Have a great day and thank you for being here with us.
Byron Begley
June 3, 2011
Respond to: Byron@LittleRiverOutfitters.com


FLY FISHING CLASSES
Our fly fishing classes will be offered from March to October 2011. To sign up just call the shop at 877-448-3474. You can read more on our website in the Schools Section. The fly fishing class schedule follows:

Saturday May 21 – Beginner Day One
Sunday May 22 – Beginner Onstream Day Two
Saturday June 11 – Beginner Day One
Saturday June 25 – Beginner Day One
Sunday June 26 – Beginner Onstream Day Two
Saturday July 9 – Beginner Day One
Saturday July 23 – Beginner Day One
Sunday July 24 – Beginner Onstream Day Two
Saturday September 10 – Beginner Day One
Saturday September 24 – Beginner Day One
Sunday September 25 – Beginner Onstream Day Two
Saturday October 8 – Beginner Day One
Saturday October 22 – Beginner Day One
Sunday October 23 – Beginner Onstream Day Two
Respond to: byron@littleriveroutfitters.com