Townsend, Tennessee - Fly Fishing in the Great Smoky Mountains, East Tennessee and Western North Carolina

If you don't see today's fishing report, please refresh your browser to empty your cache.
Welcome to the Fishing Report from Townsend, Tennessee in the Great Smoky Mountains. At 5:34 am, the temperature is 66.2 degrees. Today's high temperature is predicted to be in the mid-80's. Sunday will be cooler. The predicted high temperature Sunday is 78 degrees. There is a good chance for rain and thunderstorms through the weekend.
Little River is flowing at 149 cubic feet per second (cfs) or 1.76 feet on the flow gauge. Median flow for this date is 163 cfs. The water temperature is 65.5 degrees this morning.
Fishing is good. Stream conditions in the Smokies are fine right now. Trout are taking dry flies and nymphs. I tend to use dry flies when the streams are at this level. Flows are near normal, but normal this time of year is on the low side. Dry flies are deadly when the streams are like they are.
I would choose a #16 Yellow Neversink Caddis. That pattern is one of two top sellers in our shop, for those fishing the Smoky Mountains. The other is a Parachute Adams.
I drove over Little River yesterday, on my way to Vicky's house to get a haircut. The river looked perfect, just the way I like it, when fishing for smallmouth bass in the lower reaches.
Vicky has been giving me haircuts for 20 years. She works by appointment only, 2 days a week. This is a very small town. As far as I know, there are no barber shops or salons in Townsend. If one is here, I have not seen it. One beauty salon was open for a few years but closed a year or so ago.
TVA generation schedules do not look too promising for wading anglers today on the Holston and Clinch rivers. You may be able to squeeze in some time on the Clinch River early, and longer, depending on where you fish and how willing you are to drive around.
The Caney Fork, below Center Hill Dam looks better today.
Check the TVA website before going.
The lowland river flows are fine. I would use poppers. In fact, if I went fishing today on Little River, poppers and Knuckleheads would be the only flies in my Fishpond vest. If they were not hitting poppers or Knuckleheads, I would not catch anything. Go early and late. Or, float the rivers in a canoe or kayak.
I don't know what to expect this weekend. The rain may miss us completely. These rivers could become stained and possibly very high. The same is true in the mountains. If you are fishing this weekend, watch what is coming at you from upstream. These scattered thunderstorms can drop a lot of water in the watershed where you are fishing and the stream can rise quickly. You may not know what is happening further upstream. If the water you are fishing becomes turbid, get the heck out.
I guess I'll be sweating and getting eaten alive by bugs for a week. I'm going to Florida tomorrow with my buddy Frank. We are staying one week. We have a home rented on the ocean. We'll have our kayaks with us.
Frank has a Malone kayak trailer just like ours. We are taking his. Frank's trailer has been slightly modified for his kayak. He has a Jackson Big Rig. It is as it sounds, a huge fishing kayak. It's like a bass boat. Mine will fit on the trailer on the other side.
Paula and I both have Wilderness Systems 135 Ride Kayaks. They are very stable too, just not as stable as Frank's Big Rig. The Big Rig weighs more, but only 10 or so pounds more. That's not bad. I floated the Holston River in his boat two years go. To me, it was just as fast and easy to paddle as mine.
They are both sit-on-top kayaks. I would not venture out into the ocean on anything but a sit-on-top. Sit-on-tops are self bailing. They can't be swamped. We have been offshore, in 3 foot swells. The waves came in the boats, then the water ran out. I admit, it was a little tense at the time. You do not want to be a mile from shore, in a swamped kayak in deep, shark infested water. How would you get out of that mess? I have no idea.
Last Fall, Frank, Ron, Jack and I were fishing in the bay, maybe ½ mile from shore in our kayaks. We were spread out, but we could all see each other.
Jack hooked and landed a small shark. He was sitting in the kayak seat, which was elevated to the high position, (a bad idea we all found out), trying to unhook the shark. The shark bit his finger. He quickly leaned back away from the shark, a natural thing to do. As you can probably imagine, Jack flipped the kayak. Jack, his tackle, rod and the shark were dumped into the bay. He held onto his rod. His leader was wrapped around his leg, and the shark was still hooked at the other end.
He managed to get untangled from the shark, which would have been my highest priority at the time. He put the rod back into the rod holder and tried to get back into the kayak. He couldn't do it. He tried from the side of the boat. It leaned toward him when he attempted to pull himself in. It would have flipped over. He tried to enter from the bow and the stern. That would not work.
Luckily, Ron saw this happen and started paddling toward Jack. When he got to Jack, he held one side of the kayak down so Jack could climb back in. They gathered all of Jack's stuff, that floated. He lost a couple of things. The shark was released.
Frank and I missed the whole thing. We didn't see it happen.
Paula and I were fishing from our kayaks in the same bay, a year earlier. She dropped her Abel pliers in the water. I think the water was about 6 feet deep where she was. I paddled over to her to offer assistance. We decided, since she is 10 years younger than me, more nimble, the lost expensive pliers were hers and she dropped them, that she would dive down to get them back. She did. I held one side of her kayak down, while she climbed in. It was not a big deal at all, at least from my perspective.
Kayak fishing in the ocean is fun, as you can tell by reading above.
Daniel will be writing this report starting tomorrow, until next Sunday.
Have a great week and thank you for being here with us.
Byron Begley
June 3, 2016
SPECIAL NOTE: The synchronous firefly viewing shuttles are in operation from the Sugarlands Visitor Center to the Elkmont Campground area. This will continue until the evening of June 7th. You may park and fish in that area. But, you must leave by 4 PM.
Respond to: byron@littleriveroutfitters.com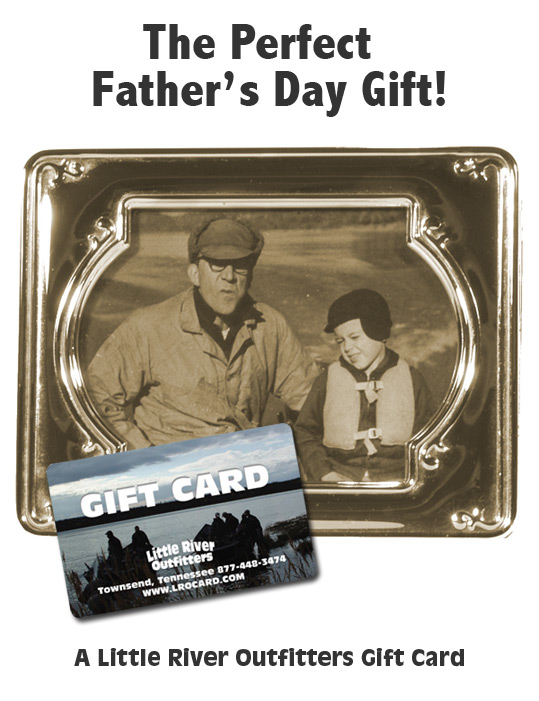 Thank Dad for all the great fishing times together. Or thank him for all he does for his family. Show your love.
A little River Outfitters Gift Card is the perfect gift for the fly fishing angler. You can choose whatever you really want now, or decide later. Our gift cards never expire. If you lose your card, we have your store credit stored on our computer. No problem! Use them to buy tackle, clothing, flies or schools. It's up to you.
You may order a gift card online by CLICKING HERE. We will send Dad (or you) a plastic gift card in a special greeting card, from you or whoever you choose to be the giver.
You may choose any amount. That's your call.
You may also order by phone by calling 865-448-9459. We are here 7 days a week to take your call.
Or, stop by the store and purchase a gift card. We're always glad to see you.
Redeem in many ways. You can use your gift card when visiting our store. Use it when you call us to order. Or, use it when ordering online. It's easy. It's better than cash. Redemption is flawless.

Visit our Online Store by CLICKING HERE.
Happy Father's Day to all and thank you for supporting all of us at Little River Outfitters.

Lake Information and Tailwater Generation Schedules



Please enter your e-mail address in the box to the left to sign up for our e-newsletter. You will receive news about the shop, events, sale information, fishing info and more important information a fly angler would want to have.

You can opt out at any time. If you decide you don't want to receive our information just change your status or click at the bottom of an e-mail we send you in the "Remove" box.

We do not sell or give your e-mail address to anyone. And, we won't hound you to death with e-mails. You will receive no more than one per week unless unusual or critical fishing news might be of interest to you.