Townsend, Tennessee - Fly Fishing in the Great Smoky Mountains, East Tennessee and Western North Carolina

If you don't see today's fishing report, please refresh your browser to empty your cache.
Welcome to the Fishing Report from Townsend, Tennessee in the Great Smoky Mountains. It is already warm this morning but not supposed to get too hot today. The mountains are always cooler especailly down near the stream. Scattered thunderstorms are in the forecast for this afternoon and tomorrow. They are just like they are called...scattered. Keep a watch for storms but I wouldn't let it stop you from going if you have a chance to.
Water levels are great right now. The streamflow gauge on Little River is giving a reading of 1.76 feet or 149 c.f.s. This is just a bit lower than the daily normal of 167 c.f.s. Water temperatures are about 67F in the lower elevations.
This is perfect wet wading weather. I like to ditch my waders as quick as I can in the Spring. I like the cool of the water and the freedom of not having bulky waders on. Of course the thoughts of spiders and snakes on my legs freaks me out a bit....I stick to the rocks. Sandals have been my footwear of choice. They drain so much better than boots and booties. One major disadvantage is your two are exposed to the rocks. Another is I like wading with felt and you can't find a felt sandal anymore. This year there are finally some good alternatives to sandals for wet wading. Chota has the Hybrid Shoe and Simms has the new Intruder Boots (we have these in the store but they aren't listed on the Online Catalog yet). Both of these shoes give you the traction and protection you need but still have the light agile feel for wading.
OK, back to fishing for today. We have had some rain over the past few days. Very scattered storms. Water levels haven't changed much. If you are out on the stream where are storm has occurred be careful as water can rise rapidly. Fishing has been good all over the Park. The one place I would avoid today would be the Elkmont Campground area. We are right in the middle of the annual firefly chaos. You can get to the river early in the day but they are wanting people to leave in the early afternoon. With so many other great places to fish I would just go somewhere else and save Elkmont for a different weekend.
The West Prong of the Little Pigeon can be a great destination. It is higher elevation and higher gradient so it fishes well even when the water is warming. Just off the side of US 441, the stream is a short hike through the woods so it has more of a backcountry feel even though you are still not far from the car.
Dry flies have been working well. We have moved to the Summer patterns of the Yellow Sallies, Green Weenies and Terrestrials. Concentrate on the faster water. It is easier to sneak up on the trout and that is also where the feeding fish will be. Remember to fish quick...cover ground.
Have a great week and thank you for being here with us.
Daniel Drake
June 4, 2016
SPECIAL NOTE: The synchronous firefly viewing shuttles are in operation from the Sugarlands Visitor Center to the Elkmont Campground area. This will continue until the evening of June 7th. You may park and fish in that area. But, you must leave by 4 PM.
Respond to: info@littleriveroutfitters.com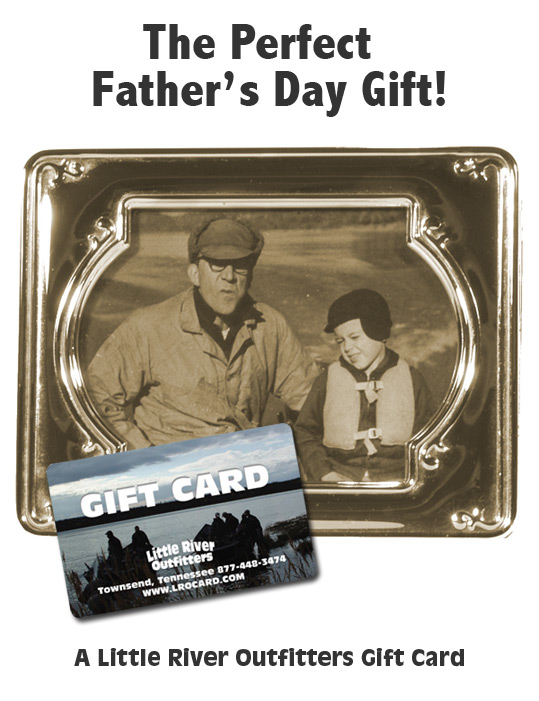 Thank Dad for all the great fishing times together. Or thank him for all he does for his family. Show your love.
A little River Outfitters Gift Card is the perfect gift for the fly fishing angler. You can choose whatever you really want now, or decide later. Our gift cards never expire. If you lose your card, we have your store credit stored on our computer. No problem! Use them to buy tackle, clothing, flies or schools. It's up to you.
You may order a gift card online by CLICKING HERE. We will send Dad (or you) a plastic gift card in a special greeting card, from you or whoever you choose to be the giver.
You may choose any amount. That's your call.
You may also order by phone by calling 865-448-9459. We are here 7 days a week to take your call.
Or, stop by the store and purchase a gift card. We're always glad to see you.
Redeem in many ways. You can use your gift card when visiting our store. Use it when you call us to order. Or, use it when ordering online. It's easy. It's better than cash. Redemption is flawless.

Visit our Online Store by CLICKING HERE.
Happy Father's Day to all and thank you for supporting all of us at Little River Outfitters.

Lake Information and Tailwater Generation Schedules



Please enter your e-mail address in the box to the left to sign up for our e-newsletter. You will receive news about the shop, events, sale information, fishing info and more important information a fly angler would want to have.

You can opt out at any time. If you decide you don't want to receive our information just change your status or click at the bottom of an e-mail we send you in the "Remove" box.

We do not sell or give your e-mail address to anyone. And, we won't hound you to death with e-mails. You will receive no more than one per week unless unusual or critical fishing news might be of interest to you.