Townsend, Tennessee - Fly Fishing in the Great Smoky Mountains National Park, East Tennessee and Western North Carolina

Welcome to the Fishing Report from the Great Smoky Mountains. At is 6:15 am, it is cloudy and 66 degrees. We have a chance for rain every day except Saturday, over the next 10 days, mostly in the form of afternoon scattered thunderstorms.
The U.S. Drought Monitor released yesterday, showed improvement Tennessee's conditions. Last week, 63.77% of the state was considered to be abnormally dry. This week, the number is 22.07%. We are in that 22% area. Rainfall at the Knoxville Airport, year to date, is 4.04 inches below normal. If my memory serves me correctly, we went through most of last year with a 4" deficit.
Little River is flowing at 73 cubic feet per second (cfs) or 1.34 feet on the flow gauge. Median flow for this date is 152 cfs. The water temperature is 64.5 degrees this morning. Last year on this date, Little River was flowing at 87 cfs and the water temperature was 67.5 degrees.
Flows vary this time of year in the Smokies due to the scattered and sometimes heavy rain. I talked to one customer yesterday, who said the Little Pigeon look like chocolate milk one day this week. On the other hand, Little River is very low this morning. That's just the way it is, here, as we move into the Summer season.
Fishing is good. I would choose a backcountry stream today. Evidently Elkmont is out of the question through June 9th. Only registered campers are allowed in according to the Great Smoky Mountains Twitter page. This is firefly season. You have to take a shuttle to Elkmont, in the afternoons, if you want to be there and the shuttle tickets are limited.
Mornings and evenings are best but you can catch trout through the day as well. Many different fly patterns will work, nymphs or dry flies. The trout are hungry and will eat just about anything that is reasonable. My choice would be a Yellow Neversink Caddis, Yellow Stimulator, small Bead Head Pheasant Tail, Isonychia nymph or Green Weenie. CLICK HERE to see a post guide David Knapp made on our Message Board this week. He caught some beautiful mountain trout.
FLY FISHING FOR BLUEGILL
One of my favorite pastimes during the Spring and Summer is fly fishing for bluegill. I fished all day Wednesday, on the Cumberland Plateau with my friend Frank Bryant. We had a tough day due to thunderstorms and we ran for cover off the lake twice. Once, heavy rain fell and the wind blew. We found a cabin that was uninhabited at the time. So, we tied up the boat and sought shelter under the cover of the front porch. It poured. After the storm passed we pumped out the boat and started fishing again. Then, a thunderstorm, with lightning and wind sent us running for cover once again.
We still managed to catch some gills and had a great day. Below is a photo of Frank holding one he had just caught.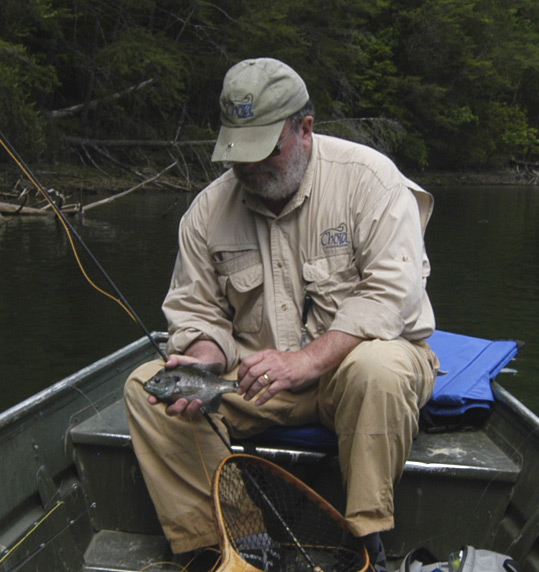 Fishing for bluegill, with poppers, takes me back to my childhood. I've spent countless evenings, catching these fish, on poppers. Paula and I plan to do just that next week. We haven't decided where.
Frank and I talked and laughed all day. We have become very close friends over the years. He and his wife Pat, own Chota Outdoor Gear. We've been doing business together for at least 15 years. Of course, we talked about business occasionally while fishing. Mostly, we talked about fun things, told stories and reminisced about fly fishing experiences in our lives. Spending a day, in a small boat, dodging thunderstorms, eating cold sandwiches, and catching fish with a buddy is hard to beat. Frank and Pat live in Crossville, and we plan to fish there often, from now on. I left the Plateau at 6:30 yesterday morning and drove back home to work.
Our boat house is a mess. Just about everything I took to Crossville is wet, spread out and drying. The trolling motor batteries are charged and ready to go again and the sooner, the better.
SMALLMOUTH BASS FISHING
Smallie fishing is red hot! I'm hearing stories from every direction, mostly Tennessee and Kentucky. The lower sections of the tailwaters here are particularly fishing well. And, they will only get better. Maybe Paula and I will go smallmouth bass fishing next week too.
It's a weekend and I'll be working. I hope you will be fly fishing.
Have a great day and thank you for being here with us.
Byron Begley
June 5, 2015
Respond to: byron@littleriveroutfitters.com