Townsend, Tennessee - Fly Fishing in the Great Smoky Mountains, East Tennessee and Western North Carolina

If you don't see today's fishing report, please refresh your browser to empty your cache.
Welcome to the Fishing Report from Townsend, Tennessee in the Great Smoky Mountains. Thunderstorms rolled across the area yesterday afternoon dropping quite a bit of rain in some places. The Knoxville airport recorded 1.04" of rain. I heard on the news that some areas of Blount County received close to 3 inches. That being said...Townsend and the Smokies didn't actually get very much rain at all.
Water levels on the Little River are still fishable this morning but the gauge is still rising. at 9:30 am the gauge was giving a reading of 2.03 feet or 228 c.f.s. This is higher than the daily normal of 150 c.f.s. There is a delay on the gauge and as I type this it is up to 2.10 feet. Check it before heading up this way. You can find a link to the gauge further down this page. The streams are cloudy this morning...but if we don't get too much more rain they should clear quickly.
Water temperatures cooled some overnight. Temps are down to 66.38F this morning. The cloudy weather should help to keep them from warming too much today.
More scattered storms are forecast for today. Keep an eye on the sky and water levels. The rest of the should be really nice with sunshine and highs in the low to mid 80's. Next weekend is going to be a scorcher with sun and highs in the 90's.
I was looking at generation schedules on the tailwaters. The Holston looked like it was going to run pulses. The Clinch is running one generator from 10 - 6 pm. I don't know much about the Clinch but I'm pretty sure that stops the wade fishing. Could be good with a boat or kayak. South Holston was going to run one generator from 3 - 10 pm.
If you decide to head to the mountains today I would start out with nymphs in the murky water. A bigger fly such as the Pat's Rubberleg could be a great option. Terrestrials like beetles, ants and green weenies should be good too. Rain knocks terrestrial insects into the water where they are easy prey for the trout. As the day goes on and water levels drop try the regular summer dry fly patterns. Yellow sallies are an excellent choice.
Check the weather and streamflow gauge later when you make that choice to fish. The storms have been in bands so not all areas are receiving as much rain as others. Have a great week and thank you for being here with us.
Daniel Drake
June 5, 2016
SPECIAL NOTE: The synchronous firefly viewing shuttles are in operation from the Sugarlands Visitor Center to the Elkmont Campground area. This will continue until the evening of June 7th. You may park and fish in that area. But, you must leave by 4 PM.
Respond to: info@littleriveroutfitters.com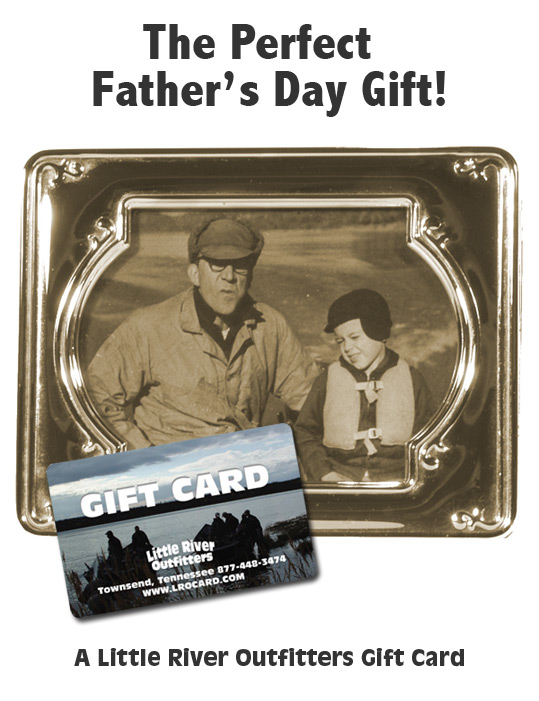 Thank Dad for all the great fishing times together. Or thank him for all he does for his family. Show your love.
A little River Outfitters Gift Card is the perfect gift for the fly fishing angler. You can choose whatever you really want now, or decide later. Our gift cards never expire. If you lose your card, we have your store credit stored on our computer. No problem! Use them to buy tackle, clothing, flies or schools. It's up to you.
You may order a gift card online by CLICKING HERE. We will send Dad (or you) a plastic gift card in a special greeting card, from you or whoever you choose to be the giver.
You may choose any amount. That's your call.
You may also order by phone by calling 865-448-9459. We are here 7 days a week to take your call.
Or, stop by the store and purchase a gift card. We're always glad to see you.
Redeem in many ways. You can use your gift card when visiting our store. Use it when you call us to order. Or, use it when ordering online. It's easy. It's better than cash. Redemption is flawless.

Visit our Online Store by CLICKING HERE.
Happy Father's Day to all and thank you for supporting all of us at Little River Outfitters.

Lake Information and Tailwater Generation Schedules



Please enter your e-mail address in the box to the left to sign up for our e-newsletter. You will receive news about the shop, events, sale information, fishing info and more important information a fly angler would want to have.

You can opt out at any time. If you decide you don't want to receive our information just change your status or click at the bottom of an e-mail we send you in the "Remove" box.

We do not sell or give your e-mail address to anyone. And, we won't hound you to death with e-mails. You will receive no more than one per week unless unusual or critical fishing news might be of interest to you.