Townsend, Tennessee - Fly Fishing in the Great Smoky Mountains, East Tennessee and Western North Carolina

If you don't see today's fishing report, please refresh your browser to empty your cache.
Welcome to the Fishing Report from Townsend, Tennessee in the Great Smoky Mountains. After a couple of days of storms the sun is returning today and will stick around most of the week. If you can believe the weather forecast, this week is going to be beautiful. The forecast I just looked at said that it is supposed to be dry with highs in the low to mid 80's. You can't ask for much better than that.
Rain over the last several days has brought water levels up. The Little River is at a good spring level of 2.30 feet or 303 c.f.s. This is higher than the daily normal of 151 c.f.s. The streams are flowing mostly clear.
I expect fishing to be really good this week. Dry fly fishing for rainbows and brook trout has been good. The firefly chaos is still going on at Elkmont so I would avoid fishing up above Elkmont for a few more days. There is still plenty of other places to go. Lynn Camp Prong continues to produce well. Sams Creek seems like it is all but forgotten about now that Lynn Camp is open. It can be a good destination if you are looking to avoid crowds.
Yellow Sally Patterns like Neversink Caddis, Little Yellow Stones, Stimulators etc in #14 - #16 have been good patterns. Terrestrials are a good choice also. Don't forget about the Green Weenie as a dropper.
I spent most of yesterday going through the fly bins. I didn't make it too far yet...just the nymphs and bead head flies. I'm trying to get my order form all fixed up and check to see which flies are on the online catalog and which are not. Flies is the next big catagory to be updated online.
I've let my paperwork duties pile up last week so today I'm going to get caught up. Don't waste this wonderful weather with mundane things like mowing grass. Head to the mountains and recharge on a small, cool stream.
Have a great week and thank you for being here with us.
Daniel Drake
June 6, 2016
SPECIAL NOTE: The synchronous firefly viewing shuttles are in operation from the Sugarlands Visitor Center to the Elkmont Campground area. This will continue until the evening of June 7th. You may park and fish in that area. But, you must leave by 4 PM.
Respond to: info@littleriveroutfitters.com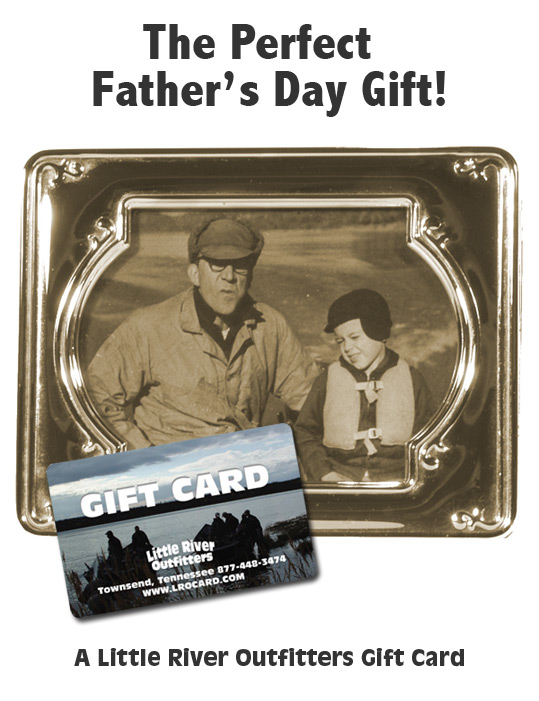 Thank Dad for all the great fishing times together. Or thank him for all he does for his family. Show your love.
A little River Outfitters Gift Card is the perfect gift for the fly fishing angler. You can choose whatever you really want now, or decide later. Our gift cards never expire. If you lose your card, we have your store credit stored on our computer. No problem! Use them to buy tackle, clothing, flies or schools. It's up to you.
You may order a gift card online by CLICKING HERE. We will send Dad (or you) a plastic gift card in a special greeting card, from you or whoever you choose to be the giver.
You may choose any amount. That's your call.
You may also order by phone by calling 865-448-9459. We are here 7 days a week to take your call.
Or, stop by the store and purchase a gift card. We're always glad to see you.
Redeem in many ways. You can use your gift card when visiting our store. Use it when you call us to order. Or, use it when ordering online. It's easy. It's better than cash. Redemption is flawless.

Visit our Online Store by CLICKING HERE.
Happy Father's Day to all and thank you for supporting all of us at Little River Outfitters.

Lake Information and Tailwater Generation Schedules



Please enter your e-mail address in the box to the left to sign up for our e-newsletter. You will receive news about the shop, events, sale information, fishing info and more important information a fly angler would want to have.

You can opt out at any time. If you decide you don't want to receive our information just change your status or click at the bottom of an e-mail we send you in the "Remove" box.

We do not sell or give your e-mail address to anyone. And, we won't hound you to death with e-mails. You will receive no more than one per week unless unusual or critical fishing news might be of interest to you.