Townsend, Tennessee - Fly Fishing in the Great Smoky Mountains National Park, East Tennessee and Western North Carolina


Welcome to the Fishing Report from the Great Smoky Mountains and good Sunday morning to you. Mine started out with some excitement. Our security service called at 5:30 am. Our burglar alarm was "going off". I drove to the shop, fully armed, and turned the alarm off. A motion detector picked up some movement. The building was secure. Nobody broke in.
WEATHER
It will be warm today, close to 90 degrees with a slight chance for thunderstorms. The chance for rain increases tomorrow night and continues through Tuesday night. Paula and I picked Wednesday to fish.
FLY FISHING IN THE SMOKIES
The water is low in most streams. Use low water tactics. Vern told me about some high water he and his daughter encountered in the West Prong of the Little Pigeon. There may be more streams with higher water than we have in the Little River watershed. The Little Pigeon gauge is reading 1.66 feet this morning. The flow on June 3rd peaked at 3 feet. That level dropped to 2 feet by midnight June 4. It has been slowly receding since then.
Flow in Little River is currently 63 cubic feet per second (cfs) or 1.28 feet on the flow gauge. Median flow for this date is 159 cfs. The water temperature at 6:20 am is 67.3 degrees.
Fishermen are catching trout, but the conditions are not what we would like to see. Hopefully, we'll get some rain this week.
TAILWATERS AND LAKES
The tailwaters in our area are all fishing very well for trout and smallmouth bass. Glenn said he fished with Josh Pfeiffer last week and they caught some very nice smallmouth bass.
FISHING KAYAKS
Our favorite lake, near here, has been lowered due to a possible leak in the dam. We had problems launching our boat the last time we fished there. Our trailer tires dropped off the end of the concrete ramp. So, we plan to return this week, in our kayaks. I'm having shoulder issues, and don't know for sure if I can paddle.
Fishing kayaks are selling like crazy. All the industry magazines and websites are talking about it. I read about one company, who reported a sales increase in these boats, at 40%. I think it was Old Town. Fishermen are talking about kayak fishing at the shop, often. It's the rage right now.
I prefer fishing from our boat. I can stand up and walk around. I can talk to whoever I'm fishing with. I don't really like fishing alone. Fly fishing is a social event for me. We use ours primarily in the ocean.
The advantages I've found with kayaks are, they are light, inexpensive, you are low on the water so fish don't see you, and they are quiet. Now that we have a kayak trailer, we don't have to lift them up to the top of my truck, which is a huge advantage. We can tow them with Paula's Subaru Outback. We took them to Florida last year, behind that car, and got 31 miles per gallon. Below is a photo of our kayaks and trailer, in front of the home we rent in Florida. If you are my age, a kayak trailer will change your life. Ours is made by Malone.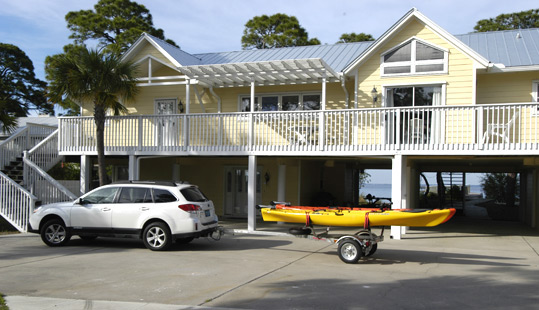 THE SHOP
We are open today, as we are every Sunday, from 9 am until 5 pm. Yesterday, the guys were hanging gear on the walls that arrived from Fishpond. It was a huge pre-season order. We've been busy. I ran payroll yesterday. I wrote 9 checks. Everyone who works at the shop, worked last week except Brian and Chuck. There are 11 of us, but seldom do all of us work during one specific week. Classes in our school cause that number to fluctuate.
You probably know that I turned the management of Little River Outfitters over to Daniel Drake and Dan Munger. My job is now website development and bookkeeping. Daniel is taking over the bookkeeping. We have some big website plans. I'll do that from home, or anywhere else for that matter, except for the photography. We have a photo studio at the shop. I'll still visit the shop every day and help when they need me. This move has proven, over the past 6 months, to be very good for our business. Maybe I was holding us back. Thank goodness I'm not the boss anymore. I've enjoyed (?) that role for 42 years.
AMERICAN PHAROAH
Finally, after waiting 37 years, we have a horse in America that won the Triple Crown. I had tears in my eyes last night when that great horse crossed the finish line. I couldn't speak. I was overcome with pride and joy.
Unlike the 70's, the decade of the Triple Crown, it seemed it would never happen again. The great horses, Secretariat, Seattle Slew and Affirmed, could not be matched, or so it seemed to me.
I grew up on a horse farm near Lexington, Kentucky. My family raised horses. Some were thoroughbreds. Some were thoroughbreds crossed with quarter horses. My father and sister were avid fox hunters and members of the Iroquois hunt near Lexington.
I took to fishing, especially fly fishing, instead of riding horses. That was safer and cheaper.
I'm not sure where I was at the time. I was probably at Fort Polk, Louisiana, doing some Army service. My Father and his business partner, George Sloan bought a race horse. George was an amateur steeplechase jockey, one of the best in America and England. I never saw the horse and don't remember its name. I liked George a lot and saw him race many times.
Dad and George decided to enter their horse in the Grand National Steeplechase, or that's what I remember. I do know they shipped the horse to England for a race. When the ship pulled into harbor in England, the horse was lame. It could not race. I think Dad and George cancelled their flights to England. I don't know what happened to the horse.
You should read this tribute to George Sloan on the Blood-Horse website by CLICKING HERE. He was an interesting man and a nice guy. He died in an accident, when his rifle fired as he crossed a fence on his farm in Franklin, Tennessee in 2001.
Have a great day and thank you for being here with us.
Byron Begley
June 7, 2015