Townsend, Tennessee - Fly Fishing in the Great Smoky Mountains, East Tennessee and Western North Carolina

If you don't see today's fishing report, please refresh your browser to empty your cache.
Welcome to the Fishing Report from Townsend, Tennessee in the Great Smoky Mountains. Today should be another beautiful day to be outside.
Water conditions in the Little River watershed are great. The gauge is giving a reading of 1.88 feet or 162 c.f.s. This is higher than the daily normal of 149 c.f.s. but a great flow for fishing. Water temperatures have cooled down to 61.88 F at 9 am.
Fisherman have been doing good catching trout in the Smokies. Danny Thornton stopped in and he has had several excellent days during this trip. Danny is from out of town but he has suffered through, put in his time and now catches quite a few. It takes time to learn the Smokies and work out the subtleties. Taking a class or having a guide with you speeds that process.
Yellow dry flies are a good bet for today. Sizes ranging from #14 to #16. Terrestrial patterns like beetles, ants and Green Weenies are good.
Do you use floatant on your dry flies? Floatants will allow you to keep the fly up on top of the water longer. There is gel floatants like Aquel and Gink and also powdered floatants like Frog's Fanny and Top Ride. I usually use the gel first. My favorite is the Loon Aquel. Gink is the old standby. It has been such a part or fly fishing for so long that it has almost become a generic term for gel floatants. To some it is also a verb. "Did you Gink your fly?" I prefer Aquel because it seems more stable. It doesn't gum up too bad in the cold weather and doesn't get watery thin in the summer.
When you use a gel floatant you want to apply it to the fly before you fish it. Applying it to a fly while the fly is wet is going to lock that water into the fly and cause it to sink. I put a drop of gel on my finger and rub it into the fly. Then it is just cast and catch. One thing I learned over time. After you catch a fish or even miss a good strike, rinse your fly off in the water. This will help to get the fish slime off the fly so it isn't as weighed down.
This Saturday June 11th is Free Fishing Day in Tennessee. Nobody needs a license to fish. A great event will be happening up on the Clinch River on the 11th. The Clinch River Chapter of Trout Unlimited will be hosting a Kids Fish Free Day event on the Clinch. There will be a bunch of volunteers helping the kids with all kinds of fishing. Boats will be on hand to get folks out in the water. They will also have food. Check out their website HERE to get more information. It will be a fun time for the kids and parents alike.
I got a report about Byron's trip. The tropical storm must have missed them and Paula said that Byron and Frank were having some really good fishing. I don't know how much fly fishing from the kayaks they have been able to do but fish are being caught.
I hope you are able to get out and fish this week. Have a great week and thank you for being here with us.
Daniel Drake
June 8, 2016
Respond to: info@littleriveroutfitters.com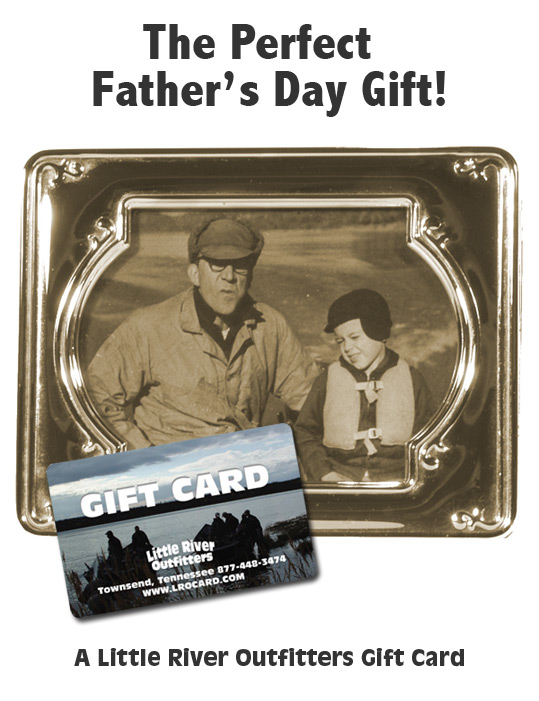 Thank Dad for all the great fishing times together. Or thank him for all he does for his family. Show your love.
A little River Outfitters Gift Card is the perfect gift for the fly fishing angler. You can choose whatever you really want now, or decide later. Our gift cards never expire. If you lose your card, we have your store credit stored on our computer. No problem! Use them to buy tackle, clothing, flies or schools. It's up to you.
You may order a gift card online by CLICKING HERE. We will send Dad (or you) a plastic gift card in a special greeting card, from you or whoever you choose to be the giver.
You may choose any amount. That's your call.
You may also order by phone by calling 865-448-9459. We are here 7 days a week to take your call.
Or, stop by the store and purchase a gift card. We're always glad to see you.
Redeem in many ways. You can use your gift card when visiting our store. Use it when you call us to order. Or, use it when ordering online. It's easy. It's better than cash. Redemption is flawless.

Visit our Online Store by CLICKING HERE.
Happy Father's Day to all and thank you for supporting all of us at Little River Outfitters.

Lake Information and Tailwater Generation Schedules



Please enter your e-mail address in the box to the left to sign up for our e-newsletter. You will receive news about the shop, events, sale information, fishing info and more important information a fly angler would want to have.

You can opt out at any time. If you decide you don't want to receive our information just change your status or click at the bottom of an e-mail we send you in the "Remove" box.

We do not sell or give your e-mail address to anyone. And, we won't hound you to death with e-mails. You will receive no more than one per week unless unusual or critical fishing news might be of interest to you.