Townsend, Tennessee - Fly Fishing in the Great Smoky Mountains, East Tennessee and Western North Carolina

If you don't see today's fishing report, please refresh your browser to empty your cache.
Welcome to the Fishing Report from Townsend, Tennessee in the Great Smoky Mountains. We are greeted by another pretty morning here in Townsend. The sun is shining and it is already starting to get warm. The mountains will be a good place to find some cool shade.
The Little River Gauge is giving a reading of 1.70 feet or 117 c.f.s. This is just a bit lower than the daily normal of 157 c.f.s. Water temperatures are warming and at around 64 F. The streams are flowing very clear.
Anglers have been doing well all week. Yellow dry flies are what most people are fishing. Yellow Sallies and Neversink Caddis in sizes #14 - #16 have been top producers. Terrestrial patterns are working well to.
We have a full Beginner Fly Fishing Class today and Onstream Class tomorrow. Rob Fightmaster and Walter Babb are teaching today. Tomorrow it will be Rob, Josh Pfeiffer and David Knapp.
Byron should be on his way back from his trip today. I'm not sure if he is going to be writing the Fishing Report tomorrow or if it will be me for another day. If you don't see a new report by 9 am you'll know it is me.
I guess it no secret anymore. Dave Carson is going to be joining the Little River family. He will be working on Schools and the Fly Tying Department and helping out with everything else. This is going to help free me up from things so I can do a better job on some stuff that has been slipping a bit lately. Great things are coming!
The Orvis Rod Swap is still going on until June 19th. If you haven't heard of this yet...just bring in a usuable (not broken) rod and trade it in on a US made Orvis rod and get 20% off. Your trade doesn't have to be an Orvis rod just anything. It needs to be usable because we are going to give the traded rods to Project Healing Waters. The offer is good over the phone also, you'll just need to mail your trade-in rod to us.
Have a great week and thank you for being here with us.
Daniel Drake
June 11, 2016
Respond to: info@littleriveroutfitters.com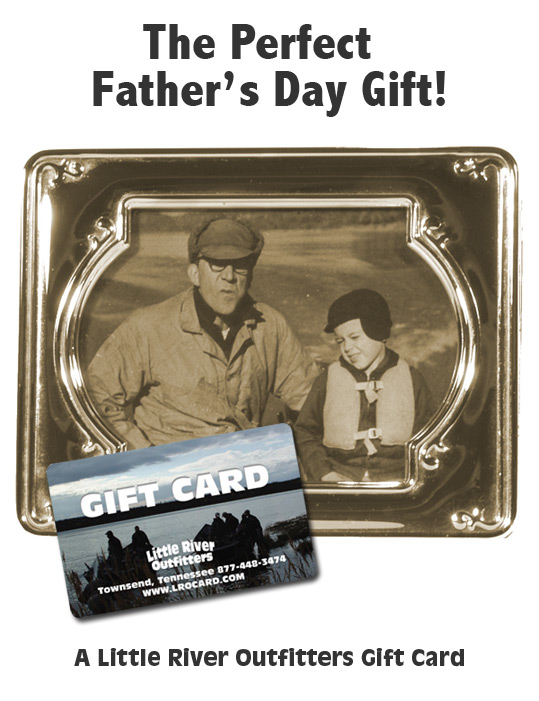 Thank Dad for all the great fishing times together. Or thank him for all he does for his family. Show your love.
A little River Outfitters Gift Card is the perfect gift for the fly fishing angler. You can choose whatever you really want now, or decide later. Our gift cards never expire. If you lose your card, we have your store credit stored on our computer. No problem! Use them to buy tackle, clothing, flies or schools. It's up to you.
You may order a gift card online by CLICKING HERE. We will send Dad (or you) a plastic gift card in a special greeting card, from you or whoever you choose to be the giver.
You may choose any amount. That's your call.
You may also order by phone by calling 865-448-9459. We are here 7 days a week to take your call.
Or, stop by the store and purchase a gift card. We're always glad to see you.
Redeem in many ways. You can use your gift card when visiting our store. Use it when you call us to order. Or, use it when ordering online. It's easy. It's better than cash. Redemption is flawless.

Visit our Online Store by CLICKING HERE.
Happy Father's Day to all and thank you for supporting all of us at Little River Outfitters.

Lake Information and Tailwater Generation Schedules



Please enter your e-mail address in the box to the left to sign up for our e-newsletter. You will receive news about the shop, events, sale information, fishing info and more important information a fly angler would want to have.

You can opt out at any time. If you decide you don't want to receive our information just change your status or click at the bottom of an e-mail we send you in the "Remove" box.

We do not sell or give your e-mail address to anyone. And, we won't hound you to death with e-mails. You will receive no more than one per week unless unusual or critical fishing news might be of interest to you.