Townsend, Tennessee - Fly Fishing in the Great Smoky Mountains National Park, East Tennessee and Western North Carolina

Welcome to the Fishing Report from the Great Smoky Mountains. It is raining lightly, overcast and 65 degrees in Townsend this morning. Rob Fightmaster was waiting in the parking lot for a client when I got here at 8:00. I noticed a Simms Motorhome Showroom parked in the lot. Rob's client arrived and they were going fishing in the Smokies. This is a perfect day for that.
Little River is flowing at 105 cubic feet per second (cfs) or 1.57 feet on the gauge. Median flow for this date is 159 cfs. The water temperature this morning is 66.7 degrees at the Townsend "Y". We had .10" of water in our rain gauge this morning.
I've been off for two days this week, which is rare lately. I haven't talked to any trout fishermen during that time. I know fly fishing in the Park is good, especially in the higher elevations.
Dry flies are working best for most anglers. A Yellow Sally Stonefly or terrestrial imitation is what I would use. Anything reasonable should work. Try a Parachute Adams too.
Nymphs dropped off a dry fly is a good idea right now. It does increase your chances for hooked trout and tangles. You decide if you want to use a dropper. Lots of fishermen use them.
We have rain and thunderstorms in the forecast this afternoon and tomorrow. Saturday and Sunday are going to be nice with highs in the 80's and lows in the 60's. The chance for rain both days is low. It is going to be warmer next week. My plan is to fish Tuesday next week and the high temperature is predicted to be in the 90's the last time I looked.
Fly fishing for smallmouth bass in the tailwaters is very good. Guide Josh Pfeiffer donated a float trip to our TU Chapter to be auctioned at Troutfest. Rufus King bought the trip and invited me to go with him. My only cost was Josh's tip. We met at 7:30 am in Maryville and floated the lower Holston River. It was awesome.
First, we caught a ton of small fish between 6" and 12". The spawn has been good the past 2 years. We also caught some larger fish. They were taking poppers and streamers. At one point I asked the guys, "Have we caught 50 or 100 bass?" Nobody knew. We didn't count. We had no idea. It was a lot!
Rufus caught many more than I did. He fished hard. He is also a very good fisherman. Of course, Josh is an excellent guide. I learned a lot from him Tuesday. I spent some quality time sitting in the back of the drift boat and enjoying the scenery. We saw a bald eagle and an osprey. There were ducks and geese with their young. That is a beautiful river.
Below is the photo of my largest bass but not my best bass of the day. This one is 20" long and weighed 3 ½ pounds. My best bass was smaller, 17 inches.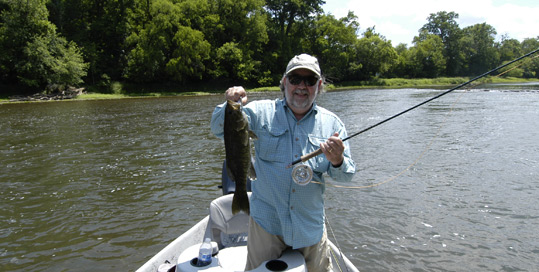 When I caught the smaller bass, I was fishing with one of Josh's rods. He winds left handed. I wind right handed. I cast a Blockhead Popper out into the river. I wasn't casting at anything in particular. When the fly landed, it was then I saw three good smallmouth bass swimming toward the fly. Now this was ""All Dumb Luck". I didn't even give the popper a twitch. I just left in laying on the water. They were 3 to 6 feet away when it landed. Of course, one of them rose up and ate the fly. I set the hook and had him on.
I quickly got the excess fly line on the reel left-handed which made the fight more challenging. Also, a large log was laying on the bottom of the river and that bass was determined to get tangled in it. I had to put a lot of pressure on him several times to keep the fish away from the log. It was a very exciting fight. We finally landed him.
Rufus, Josh and I had a great day. I doubt if we'll forget that one for a long time. I've been fishing with a lot of guides since I was a kid. Josh is right up there at the top. Not only is he very knowledgeable and a great oarsman, he has the right attitude and enthusiasm. To me, that goes a long way. He is also a good friend who I enjoy being with. Rufus is my friend and we always have a good time together. It was a wonderful day.
My buddy Frank and I are planning to float with Josh next Tuesday. I can't wait.
Have a great day and thank you for being here with us.
Byron Begley
June 12, 2014