Townsend, Tennessee - Fly Fishing in the Great Smoky Mountains National Park, East Tennessee and Western North Carolina

Welcome to the Fishing Report from the Great Smoky Mountains. At 6:05 am it is partly cloudy and 69 degrees.
HEAT WAVE
It is going to be hot for at least the next 10 days. Highs will be in the high 80's to low 90's. Low temperatures in the high 60's to low 70's are expected during this period. We have only a slight chance for rain until Tuesday. Then, the chance for rain is predicted to be 30% to 50% through Monday June 22nd.
I left the shop yesterday and the temperature was 89 degrees. I got home, and it was 80 degrees here. We live at the same elevation as the shop. The difference is trees. Our house is built in the forest. For instance, our main un-covered deck, is built around a large oak tree. It looks odd to many people, seeing a large tree growing up through a deck. That tree was a lot smaller when I started building this house 23 years ago. It is always shaded here during the warm months.
A nice, small, shaded stream in the backcountry, especially in the higher elevations, is where I would go, for the same reasons. It will be and cool and comfortable there.
LITTLE RIVER CONDITIONS
Little River is flowing at 92 cubic feet per second (cfs) or 1.44 feet on the flow gauge. Median flow for this date is 164 cfs. The water temperature is 68.2 degrees this morning.
FISHING IN THE SMOKIES
The streams in the Park are fairly low again. Use your low water tactics. Dress to blend in. Fish the choppy water in riffles and runs.
You will probably encounter tubers and swimmers on the larger streams. Today will be cloudy at times. Tomorrow will be sunny. I would fish early and late or hike into the backcountry to find shaded small streams and solitude.
Dry flies are working well. Any Yellow Sally stonefly will do. Terrestrial dry flies such as ants and beetles will catch trout. Try a Green or Pink Weenie for sub-surface fishing.
TAILWATERS
All the tailwaters in our area are fishing well for trout and smallmouth bass. I'm hearing particularly good reports from the Caney Fork River. The Clinch and Holston are fishing well. Reports of warmer than normal water in the lower Holston has not seemed to slow down the smallie fishing. I haven't heard much lately about the French Broad River.
LAKES
My advice is to go early and late, unless it is cloudy. Fly fishing is good on the lakes then, but slow during the day. I think Paula and I are going kayaking next week. We may fish some. And, we may take the boat out late in the evening, one day.
DRONES IN THE PARK
I heard a friend of mine, took a small drone into the Park, and had it follow him while he fished. The drone used a homing device to stay close as he fished. It shot video of him fishing. That sounded like a good idea, lots of fun, and probably provided great video to view.
The National Park Service is telling you and me to keep our drones at home. They are illegal in all National Parks. I didn't know that.
HIKING OFF TRAIL
A woman and three youngsters were lost near the Rainbow Falls hiking trail yesterday. They were hiking off trail. Rangers located and escorted them back to civilization. Hiking off trail is a bad idea. Lately, quite a few off trail incidents have required Ranger rescues. It's a little different for fishermen. We are following a river. We probably know where that river is going. Without a wet point of reference, like a stream, people become disoriented and are…lost.
I know personally, several fishermen who became lost on Abrams Creek and had to spend the night in the forest. They were all fishing the "Big Horseshoe". Before finishing the big loop, they decided to bushwhack out to find the Abrams Falls Trail. They didn't make it. Darkness forced them to stay put and spend the night. One person told me, when daylight came the next morning, he found himself just a few feet from a cliff. Had he fallen off, he would have probably died. He didn't see the cliff the night before. If there is no moon, or it is cloudy, you can't see your hand in front of your face out there.
GOOGLE ANALYTICS
I use Google Analytics often. On each page of our main website, I have some code place at the end of each page. That allows Google Analytics to track everything pertaining to that page and the whole website. We don't use it on our online store or message board.
It's amazing what can be learned and we use that information to make important decisions about our marketing program. It's a wonderful tool.
It's fun too. Sometimes, after I finish writing this report, I look at one of the features to find out how many people are clicking on this page, and where they are. Look at the map below.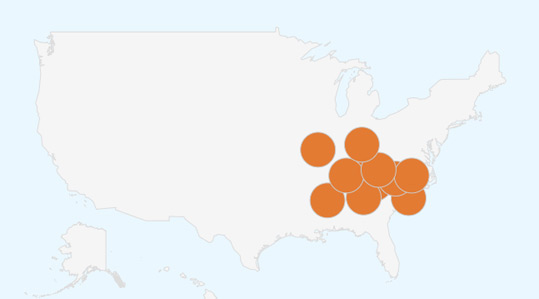 This is a screen shot taken at 9:05 am yesterday. At the time I clicked on this page, there were 15 computers viewing the pages on our site. By the time I got the screen shot, there were 10. The orange circles indicate a viewer. I can click on the circle and see what town they are viewing from. I can see what pages people are viewing. When someone leaves the site, the orange circle goes away. A new viewer shows up as a green circle first, then that circle turns to orange. There can be more than one viewer in each circle, if they live in the same town.
Early in the morning, the circles appear in the East United States. As the morning progresses, they appear in the West, in different time zones, as people wake up and get going. If someone in Europe or other parts of the world, clicks on our site, the map shrinks so I can see what country they are from. Milt, in Hawaii, will show up later in the day. It's too early for him right now. Hi Milt!
The data is archived so I can see how many people visited and exited a page. I can see how long they visited, on average. For instance, people spend 4 minutes and 45 seconds reading the fishing report. We have between 500 and 1,000 visitors to this page every day. Graphs, depicting a time period, show me which days had the highest visitation. This is Saturday at 8:14 am. Internet traffic on our site is low on weekends. Right now there are only 5 computers on the site. They are from Irvine, Ky, Knoxville, Charlotte, NC, Erin, TN, and Fairport, New York.
If you don't own a website you probably don't know this information exists. I don't know who you are. That would be illegal. This is really interesting to me.
We have a beginner fly fishing class today and tomorrow. I'm staying home and working on some new website pages and tying Knuckleheads today.
Have a great day and thank you for being here with us.
Byron Begley
June 13, 2015