Townsend, Tennessee - Fly Fishing in the Great Smoky Mountains, East Tennessee and Western North Carolina

If you don't see today's fishing report, please refresh your browser to empty your cache.
Welcome to the Fishing Report from Townsend, Tennessee in the Great Smoky Mountains. At 5:50 am, the temperature is 65.5 degrees. This heat will remain through Thursday. Expect highs in the high 80's to low 90's. Lows will be in the high 60's through the period. We have a decent chance for rain every day through Thursday.
It will be cooler this weekend. High temperatures will be in the mid-80's, with lows in the high 50's to mid 60's.
Little River is flowing at 94 cubic feet per second (cfs) or 1.60 feet on the flow gauge. Median flow for this date is 151 cfs. The water temperature is 69.6 degrees.
If you are fly fishing for trout in the Smoky Mountains today, you will be wise to fish the higher elevation streams. It will be more comfortable for you and the water will be cooler. I would walk up the trail above Elkmont or high on the Middle Prong of Little River, probably Lynn Camp Prong. You may want to drive up the West Prong of the Little Pigeon. Hike into the backcountry, where the streams are smaller and shaded.
Dry flies are working well. We are telling customers to use Yellow Sally Stonefly patterns, Green Weenies or Pink Weenies. The water is lower than normal, so be careful not to be seen by the trout. Blend in. Try not to wade much at all. Fishing will be best early and late.
Water flows could improve over the next few days if we get some rain. When you are fishing, be aware that the water could rise quickly, should a storm drop rain in the watershed you are fishing.
There will be some wade fishing opportunities today on the tailwaters. TVA will be generating at times, so you will have to work around their schedule. Right now, it appears the best schedule will be on the Caney Fork River below Center Hill Dam. Check the TVA website to see if their generation schedules work for you.
The lowland rivers are flowing low today. Go early or late. Again, this could all be different if it rains.
A couple of ladies who work at the Appalachian Bear Rescue (ABR), told me someone poached a bear out of season near their facility which is located a few hundred yards from our house. That evidently occurred last week while I was in Florida. They said the person who shot the bear, was arrested by our police chief. I can't find anything about it in the news. I'll have to talk to our chief to get the details. Maybe I will see him today.
They also told me there are only 3 bear cubs left at the facility. At one time this year, they were caring for 30 cubs or more. All but the three have been released into the wild. ABR has had a busy year. They do great work at ABR.
It is tourist season in the Smoky Mountains. Townsend is busy. We are busy at the shop. This will continue through July. Many of our Summer visitors, are young families with children. When the first week of August arrives, everything will slow down when the kids go back to school.
I am walking two miles per day. I'm trying to get into better shape, sleep better and lose weight. Paula walks with me, on the gravel road where we live. Our schedule is, one mile after I finish the Fishing Report at 8 am, and another mile in the evening when I finish working for the day. It has become a habit and I'm seeing excellent results. Yesterday was the first day.
Well, hopefully we'll get some rain and the cooler temperatures this weekend will improve fishing and our comfort on the streams, lakes and tailwaters. We are expecting to see lots of anglers this weekend.
Have a great day and thank you for being here with us.
Byron Begley
June 14, 2016
Respond to: info@littleriveroutfitters.com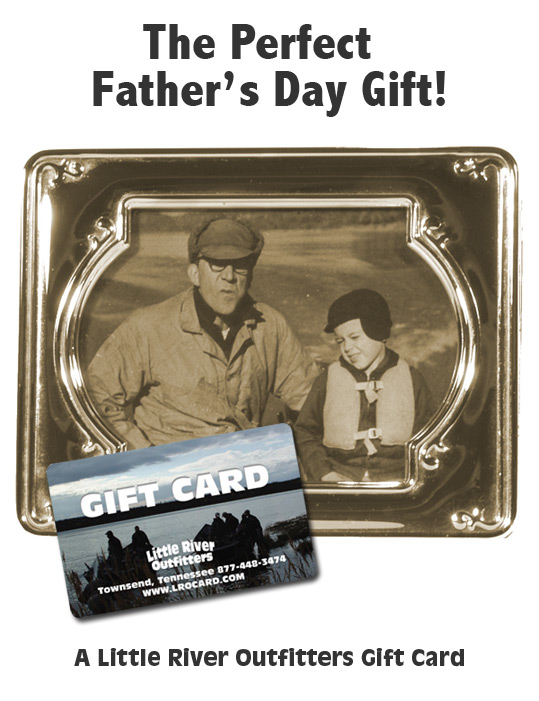 Thank Dad for all the great fishing times together. Or thank him for all he does for his family. Show your love.
A little River Outfitters Gift Card is the perfect gift for the fly fishing angler. You can choose whatever you really want now, or decide later. Our gift cards never expire. If you lose your card, we have your store credit stored on our computer. No problem! Use them to buy tackle, clothing, flies or schools. It's up to you.
You may order a gift card online by CLICKING HERE. We will send Dad (or you) a plastic gift card in a special greeting card, from you or whoever you choose to be the giver.
You may choose any amount. That's your call.
You may also order by phone by calling 865-448-9459. We are here 7 days a week to take your call.
Or, stop by the store and purchase a gift card. We're always glad to see you.
Redeem in many ways. You can use your gift card when visiting our store. Use it when you call us to order. Or, use it when ordering online. It's easy. It's better than cash. Redemption is flawless.

Visit our Online Store by CLICKING HERE.
Happy Father's Day to all and thank you for supporting all of us at Little River Outfitters.

Lake Information and Tailwater Generation Schedules



Please enter your e-mail address in the box to the left to sign up for our e-newsletter. You will receive news about the shop, events, sale information, fishing info and more important information a fly angler would want to have.

You can opt out at any time. If you decide you don't want to receive our information just change your status or click at the bottom of an e-mail we send you in the "Remove" box.

We do not sell or give your e-mail address to anyone. And, we won't hound you to death with e-mails. You will receive no more than one per week unless unusual or critical fishing news might be of interest to you.