Townsend, Tennessee - Fly Fishing in the Great Smoky Mountains, East Tennessee and Western North Carolina

If you don't see today's fishing report, please refresh your browser to empty your cache.
Welcome to the Fishing Report from Townsend, Tennessee in the Great Smoky Mountains. At 6:00 am, the temperature outside is 68.9 degrees. Scattered thunderstorms moved into our area late yesterday. Some were strong, with strong wind and heavy rain. More are expected today and tonight. It will be hot and humid today and tomorrow.
The weekend looks to be beautiful. High temperatures will be in the low to mid 80's. Lows will be in the low 60's. No rain is expected Saturday or Sunday.
Little River is flowing at 299 cubic feet per second (cfs) or 2.29 feet on the gauge. Median flow for this date is 144 cfs.
2.29 feet on the Little River flow gauge is not too high to wade or fish. I start getting anxious about the flow at 2.5 to 3 feet. But, we could get more rain in the Little River watershed today and tonight. We'll have to see how this plays out.
If you go today, watch the water levels when you are fishing. A strong storm with heavy rain is possible today, in the watersheds within the Park. Stream levels could rise quickly.
I don't know, this morning, if some of the streams are stained. They could be. Or they may be clear.
Nymphs may work best under these conditions. Try a dry fly. They may work. I would use a Yellow Sally Stonefly imitation for the dry fly. A Green Weenie, Pheasant Tail, Prince Nymph, Copper John or other reasonable nymphs may work.
Fishing this weekend could be excellent. Flows will probably be good. Water temperatures will drop. I think we are going to have a great fishing weekend in the Smokies. You never know what the weather is going to do to us. I'm betting fishing will be very good.
Generation schedules at Norris, Cherokee and Center Hill dams vary greatly today. Opportunities for wade fishing look best at Cherokee and Center Hill dams. Check the TVA website, look at the schedules, and pick a river that suits the times you want to fish and where on the rivers.
You may find better lowland river fishing today. The rivers could be stained, so maybe not. And, we will probably get more rain. Fishing in these rivers may be very good this weekend, depending on what happens with the weather.
We had some issues with our remote server yesterday. Access to our website and online store were sporadic. I think that problem has been fixed. It happened at a bad time. We had just sent out several thousand e-mails advertising Fishpond products. Anglers tried to use the links on the e-mail to pages to our site, and they appeared to be broken links. They were not. Our server was just running very slow at times.
The problem affected my e-mail. I hope I received all of your e-mails and you got a response from me. There are a few I will answer this morning that came in later in the day. Believe me, I tried. I answer all e-mails from fishermen and customers, every day. If I don't answer your e-mail, I didn't get it or see it. I receive e-mail daily, from those who read this report. I am always glad to hear from you.
Yesterday was a great mail order day. Frankly, I surprised, because of the internet problems we had. Thank you all for being patient. Many of our mail orders are called in, not bought directly from our online store. That is probably what happened.
Yesterday I mentioned that a man had been arrested for killing a bear out of season last week while I was fishing in Florida. I heard it happened a few hundred yards from our home. It turns out, the bear was killed about a mile or so away. You can read a short story on the WBIR website by CLICKING HERE. I don't know the man.
Today I am meeting with a representative from the Tennessee Department of Transportation at his office in Strawberry Plains. The reason for the meeting is to settle a dispute we have, concerning our boundary lines at the shop. Basically, we will have to buy land I thought Paula and I owned. Our survey and the TDOT survey, do not agree. This problem became apparent in 2010 and affected about 80 landowners on Highway 321.
I represented the City and citizens in the negotiations. You can read one of several stories written about this problem by CLICKING HERE. I'm glad to finally get this behind us. I'm sure the folks at TDOT feel the same.
It is after daybreak and time for Paula and I to take our morning walk.
I hope you have a great day and thank you for being here with us.
Byron Begley
June 15, 2016
Respond to: info@littleriveroutfitters.com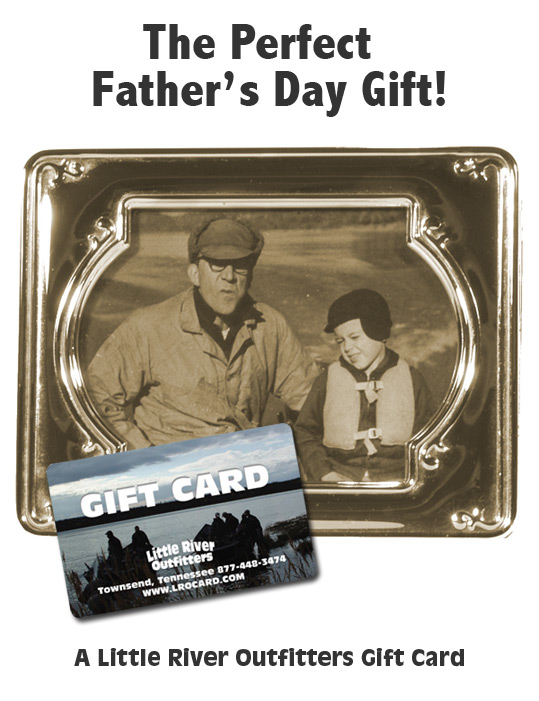 Thank Dad for all the great fishing times together. Or thank him for all he does for his family. Show your love.
A little River Outfitters Gift Card is the perfect gift for the fly fishing angler. You can choose whatever you really want now, or decide later. Our gift cards never expire. If you lose your card, we have your store credit stored on our computer. No problem! Use them to buy tackle, clothing, flies or schools. It's up to you.
You may order a gift card online by CLICKING HERE. We will send Dad (or you) a plastic gift card in a special greeting card, from you or whoever you choose to be the giver.
You may choose any amount. That's your call.
You may also order by phone by calling 865-448-9459. We are here 7 days a week to take your call.
Or, stop by the store and purchase a gift card. We're always glad to see you.
Redeem in many ways. You can use your gift card when visiting our store. Use it when you call us to order. Or, use it when ordering online. It's easy. It's better than cash. Redemption is flawless.

Visit our Online Store by CLICKING HERE.
Happy Father's Day to all and thank you for supporting all of us at Little River Outfitters.

Lake Information and Tailwater Generation Schedules



Please enter your e-mail address in the box to the left to sign up for our e-newsletter. You will receive news about the shop, events, sale information, fishing info and more important information a fly angler would want to have.

You can opt out at any time. If you decide you don't want to receive our information just change your status or click at the bottom of an e-mail we send you in the "Remove" box.

We do not sell or give your e-mail address to anyone. And, we won't hound you to death with e-mails. You will receive no more than one per week unless unusual or critical fishing news might be of interest to you.