Townsend, Tennessee - Fly Fishing in the Great Smoky Mountains, East Tennessee and Western North Carolina

If you don't see today's fishing report, please refresh your browser to empty your cache.
Welcome to the Fishing Report from Townsend, Tennessee in the Great Smoky Mountains. At 5:54 am, the temperature is 67.3 degrees. The high temperature today will be at or above 90 degrees, once again. There is a 30% to 40% chance for showers and thunderstorms after 2 pm.
Cool air moves into the area tomorrow. Expect high temperatures in the low to mid-80's through the weekend. Low temperatures will be in the low to mid-60's. No rain is expected this weekend. It is going to be nice! It will be Smoky Mountains fishing weather. You might need a jacket early or late in the high elevations.
Little River is flowing at 139 cubic feet per second (cfs) or 1.79 feet on the flow gauge. Median flow for this date is 159 cfs. The water temperature is 68.7 degrees this morning.
If you plan to fish in the Smoky Mountains today, fish the mid to high elevation streams where the water is cooler. Dry flies are working well. The most popular dry fly patterns right now are Yellow Sally Stonefly imitations, or basically any small yellow dry fly. A yellow Elk Hair Caddis, Yellow Neversink Caddis or a #16 Yellow Stimulator are good choices. There are many other yellow stonefly patterns that will work for you.
Terrestrials are an important food source for trout this time of year. I would certainly try a black foam beetle right now.
I would use a Green or Pink Weenie as a sub-surface fly.
There are many species of aquatic insects on the water. Still, I would stick with the yellow flies.
Stealth is very important to fly fishing success in the Smoky Mountains, this time of year. The water levels are what we normally see in the Summer months. The trout are spooky. If they see you, they probably can't be caught.
TVA plans to generate at Center Hill, Cherokee and Norris dams today. There are times today when you should be able to wade fish on all three tailwaters. The Caney Fork River and the Holston River appear to be the best options today for wading anglers. Check the TVA website and make that determination yourself.
You may do fairly well fishing the lowland rivers. I would go early or late. What we have now are Summer flows. Use poppers or other foam topwater flies. Hit the shaded banks. Go early or late.
Summer is a great time to fly fish for smallmouth bass on the tailwaters. Fishing can be fantastic, even in August. Lately, some very large trophies have been caught below the dams. Drifting in a boat or canoe is the best way to go. I would use poppers, Knuckleheads or other foam top-water flies. You will be doing a lot of sight fishing. Seeing a smallmouth bass first, casting to the fish, and watching it rise to your fly is a thrill I will never get over.
I'm tying Knuckleheads again. I delivered several dozen to the shop a week or so ago. They are not on our online store right now but they will be soon. We are low on Yellow, but I'll start tying them today. We have a good amount of Black and Chartreuse in stock. You can order these flies by calling the shop at 865-448-9459. Shipping is free. When I feel like we have a good back-stock of these flies, I'll flip the switch on our online store again. Hopefully, that will be in a week or so.
I just visited Rob Fightmaster's new website. Rob is a great fly fishing guide who has spent much of his life, in the fly fishing industry and guiding. Rob also teaches fly fishing at our school, and he is awesome. We have been close friends for many years. Visit his website by CLICKING HERE. Book a trip with Rob and you will learn how to be a better fly fisherman. He is also a fun person to spend the day with.
I have re-named our private, gravel, ½ mile road. It is now called "Huff N' Puff Highway". Paula and I are walking its entire length twice, two times a day, for a total of two miles.
My favorite part of the walk is "Heart Attack Hill"… going down. The hill is shaded, with a cool breeze and a view of Great Smoky Mountains National Park. I detest going up.
I've noticed I'm drinking more. At the end of our evening struggle, I indulge quickly, in a refreshing Summertime beverage called Gin N' Tonic. By more, I mean a "double".
Have a great day and thank you for being here with us.
Byron Begley
June 16, 2016
Respond to: info@littleriveroutfitters.com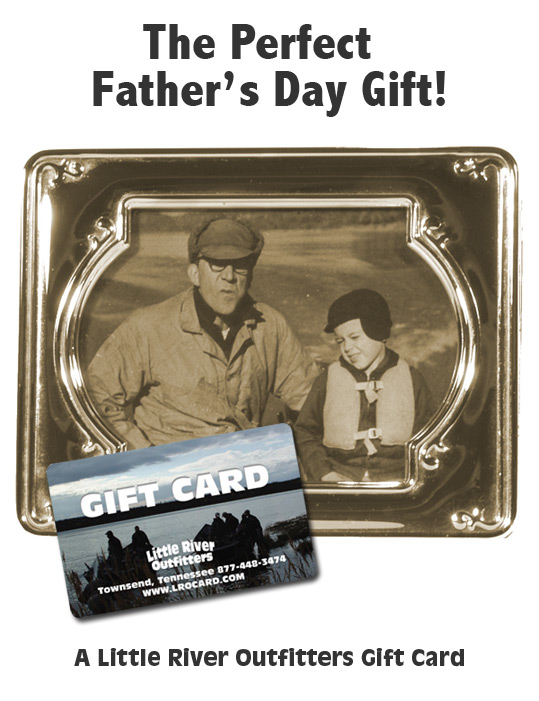 Thank Dad for all the great fishing times together. Or thank him for all he does for his family. Show your love.
A little River Outfitters Gift Card is the perfect gift for the fly fishing angler. You can choose whatever you really want now, or decide later. Our gift cards never expire. If you lose your card, we have your store credit stored on our computer. No problem! Use them to buy tackle, clothing, flies or schools. It's up to you.
You may order a gift card online by CLICKING HERE. We will send Dad (or you) a plastic gift card in a special greeting card, from you or whoever you choose to be the giver.
You may choose any amount. That's your call.
You may also order by phone by calling 865-448-9459. We are here 7 days a week to take your call.
Or, stop by the store and purchase a gift card. We're always glad to see you.
Redeem in many ways. You can use your gift card when visiting our store. Use it when you call us to order. Or, use it when ordering online. It's easy. It's better than cash. Redemption is flawless.

Visit our Online Store by CLICKING HERE.
Happy Father's Day to all and thank you for supporting all of us at Little River Outfitters.

Lake Information and Tailwater Generation Schedules



Please enter your e-mail address in the box to the left to sign up for our e-newsletter. You will receive news about the shop, events, sale information, fishing info and more important information a fly angler would want to have.

You can opt out at any time. If you decide you don't want to receive our information just change your status or click at the bottom of an e-mail we send you in the "Remove" box.

We do not sell or give your e-mail address to anyone. And, we won't hound you to death with e-mails. You will receive no more than one per week unless unusual or critical fishing news might be of interest to you.