Townsend, Tennessee - Fly Fishing in the Great Smoky Mountains, East Tennessee and Western North Carolina

If you don't see today's fishing report, please refresh your browser to empty your cache.
Welcome to the Fishing Report from Townsend, Tennessee in the Great Smoky Mountains. At 6:03 am, the temperature is 68.9 degrees. The humidity is 97%. I walked outside earlier and it was dark of course. Dew was collecting in the trees we live under, and falling like rain. At first I thought it had rained. I found an area, with an opening in the canopy above. The ground was dry.
The high temperature yesterday at the Knoxville Airport was recorded at 93 degrees. Paula took a photo of the outside temperature reading in her car at Cosco in Knoxville. That number was 106 degrees. She drove home and pulled into our drive, which is shaded. We have no asphalt. The temperature here was 86 degrees. We are at a higher elevation here.
It is going to be cooler today, and through the weekend. Highs are expected to be in the high 70's to low 80's. Low temperatures at night should drop to the high 50's to low 60's, depending on elevation. No rain is expected except for a small chance today.
Little River is flowing at 119 cubic feet per second (cfs) or 1.71 feet on the flow gauge. Median flow for this date is 159 cfs. The water temperature is 70.5 degrees.
If you go fishing today, you may want to drive or walk to a mid or high elevation stream, where the water is cooler. I would use dry flies and they would likely be some sort of Yellow Sally Stonefly imitation. A black beetle would be good to use. I would tie a Green Weenie to the dry fly as a dropper. Sourwood, or inchworms are active. All terrestrial insects are active. Fishing is still good.
This cold front will drop the water temperatures significantly over the weekend. I believe fishing will improve in the lower elevations.
I wish the water levels were higher. After today, no rain is expected for several days. The trout will be spooky, so dress for stealth and stay hidden. Fish the choppy water. Hit the pockets in riffles.
Tennessee Valley Authority is offering us some wade fishing opportunities today. Center Hill Dam won't be too active today. Douglas, Cherokee and Norris will, at times. Check the TVA website to see if you can fit your schedule into theirs.
You will do best, fishing the lowland rivers early or late. Use poppers or foam floating flies. Hit the shaded water. You will catch smallmouth bass, rock bass and panfish.
As the sun fell behind the mountains last evening, I grabbed a fly rod off the wall in the boat house, with a popper tied on, and walked to a neighbor's pond. Bluegill were in the shallow water and they were all over that popper. This is a recently stocked pond. The bluegill are small. My popper was too large. I caught two and missed about 25 in 15 minutes. Tonight I'm going back with a Neversink Caddis. I will wear those bluegill out tonight. I'm going to move a bunch of bluegill from that pond, to another that was dug recently and is located nearby.
If you can, float the lower tailwaters to fish for smallmouth bass. They are probably fishing very well right now. They usually are, this time of year. The smallmouth bass will be taking poppers and other foam floating flies, like a Knucklehead, during the summer months.
I'm tying a few Yellow Knuckleheads through the day at times and at night before retiring for the evening. When I have 20 dozen tied, of all three colors in total, I'll switch on those flies on our online store. That will probably happen next week. They will sell like crazy, wait and see. They are available now, at the shop. Then, I'll have to keep up all Summer. I love tying those flies to sell, but it kills my back.
I play music every evening for about an hour. The instruments are a Gibson Les Paul electric guitar or a Yamaha electric piano I have here in my office. I accompany songs picked from the iTunes collection on this computer, which is hooked up to a stereo in this room.
Sometimes I listen to a song in my mind, and watch it being played on an instrument. Later, I find the song on the computer and play along.
This morning while trying to wake, the song "Imagine", by John Lennon played in my head.
It is hard to hear his songs, without thinking about John's life and the tragedy that took his life in 1980. What if he were still living? What would it be like if he lived our tragedies? What would he tell us in his songs? What he would be saying.
Except for Viet Nam, he missed the recent wars. He missed 911, Sandy Hook, Charleston, Paris, ISIS, other mass shootings, and now Orlando.
John Lennon was a great songwriter, poet, and he was certainly an activist. He was influential. He influenced us with his music, and still does. I think about what this world would be like or unlike, if he were still with us. His message would be peace and love.
This is going to be a beautiful weekend in the Smoky Mountains. We will see calm, foggy mornings. It will feel good, day and night. We'll have camping, fishing and hiking weather. I plan to enjoy this weekend. I hope you do too.
Have a great day and thank you for being here with us.
Byron Begley
June 17, 2016
Respond to: info@littleriveroutfitters.com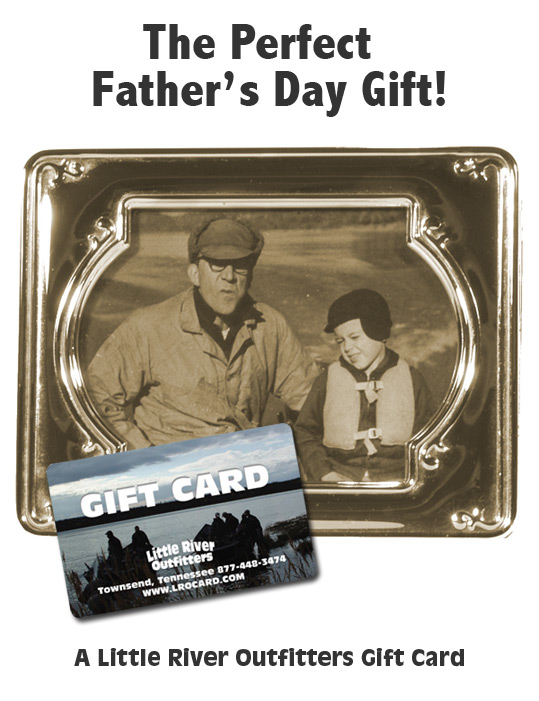 Thank Dad for all the great fishing times together. Or thank him for all he does for his family. Show your love.
A little River Outfitters Gift Card is the perfect gift for the fly fishing angler. You can choose whatever you really want now, or decide later. Our gift cards never expire. If you lose your card, we have your store credit stored on our computer. No problem! Use them to buy tackle, clothing, flies or schools. It's up to you.
You may order a gift card online by CLICKING HERE. We will send Dad (or you) a plastic gift card in a special greeting card, from you or whoever you choose to be the giver.
You may choose any amount. That's your call.
You may also order by phone by calling 865-448-9459. We are here 7 days a week to take your call.
Or, stop by the store and purchase a gift card. We're always glad to see you.
Redeem in many ways. You can use your gift card when visiting our store. Use it when you call us to order. Or, use it when ordering online. It's easy. It's better than cash. Redemption is flawless.

Visit our Online Store by CLICKING HERE.
Happy Father's Day to all and thank you for supporting all of us at Little River Outfitters.

Lake Information and Tailwater Generation Schedules



Please enter your e-mail address in the box to the left to sign up for our e-newsletter. You will receive news about the shop, events, sale information, fishing info and more important information a fly angler would want to have.

You can opt out at any time. If you decide you don't want to receive our information just change your status or click at the bottom of an e-mail we send you in the "Remove" box.

We do not sell or give your e-mail address to anyone. And, we won't hound you to death with e-mails. You will receive no more than one per week unless unusual or critical fishing news might be of interest to you.