Townsend, Tennessee - Fly Fishing in the Great Smoky Mountains, East Tennessee and Western North Carolina

If you don't see today's fishing report, please refresh your browser to empty your cache.
Welcome to the Fishing Report from Townsend, Tennessee in the Great Smoky Mountains. At 6:00 am, the temperature outside is 66.4 degrees.
Today should be partly cloudy with a high temperature in the low to mid 80's. We have a 40% to 50% chance for rain today and tonight. The chance for thunderstorms continues through Friday. It will be warmer, day and night as we progress through this period.
Little River is flowing at 86 cubic feet per second (cfs) or 1.56 feet on the flow gauge. Median flow for this date is 130 cfs. The water temperature is 68.4 degrees.
As water temperatures rise this week, fishing will be best in the mid to high elevations. Hopefully, we will get rain in the mountains. The stream flows are low. Low flows are normal this time of year.
Fishing is pretty good. You will need to concentrate on staying hidden from the trout. Dress in muted clothing that blends with the forest. Fish the choppy water, in riffles and runs. Dry flies are working well. I would use a Yellow Sally Stonefly imitation or something similar for the dry. Fishermen are doing well by dropping a Green Weenie off the dry fly. Other fly patterns will work. Fishing will be best early and late, unless we have cloud cover or you are fishing the shaded streams in the backcountry.
The expected rain may change everything. I hope it does.
TVA will be generating at times on the tailwaters today. Check the TVA website and decide if their schedule works with yours.
The lowland rivers are flowing low right now. You will do best going early or late. Fish the shaded areas. Poppers will produce for you. These are not ideal conditions for fishing lowland rivers.
Floating the tailwaters and fly fishing for smallmouth bass on those rivers is very good to excellent. The bass wil be taking poppers or foam floating flies vigorously at times. Streamers or crawfish patterns may work best at other times.
The ad below is a small version of one that will be sent to thousands of our e-mail subscribers this morning. It is meant to draw attention to popper fishing and the poppers we sell. The photo is me, holding an average size smallmouth bass in one of the lakes we fish near our home.
I love fly fishing with poppers. It is a southern tradition that takes me back to my childhood. I enjoy making poppers from foam cylinders. You can read an instructional I wrote years ago describing how to make these poppers by CLICKING HERE. You can skip a lot of the steps if you want to. Cupping the face of a popper requires a special tool. You don't have to do that.
Commercially made poppers has in the Southern United States has a long and rich history. Walt Cary made and sold poppers from his home in Virginia for decades. I know Walt and talked to him a couple of months ago. His cork bodied poppers are famous in the South. Walt is still making and selling poppers, though he told me he has cut back on his work load and selling to only a few shops now.
Another large producer of poppers in the South was Bob Guess. Bob owned "Mr. Bob's Lucky Day Lures" in Chattanooga, Tennessee. He actually had a staff of people, making poppers, and a retail store.
Pierce Yates, who owns BoogleBug, worked for Mr. Bob in the 70's. There, he learned the art of making high quality bugs. We buy a lot of poppers from Pierce, and sell them to you.
Here is a "Small World" story for you. My buddy Frank and I were surf fishing on the beach in Florida two weeks ago. A guy pulled up to us driving a nice ATV. Strapped in the seat was his baby boy. We talked for a while. He showed us photos of some grouper he caught on his offshore boat the day before. He lives in South Georgia.
During the conversation, I mentioned that I am in the fly fishing business in Tennessee. He told us, that his family tried to buy a company in Chattanooga, years ago, called "Mr Bob's Lucky Day Lures". He said his parents and Bob could not agree on the terms of the sale.
I said, "You are kidding me". "Mr. Bob was one of the most famous popper makers in America." The fellow seemed surprised I knew about a company that sold that long ago. The company was sold to someone in Georgia. I bought poppers from them for our store until they closed the business about 15 to 18 years ago, from what I remember.
Then, Pierce started BoogleBug in Birmingham. We had a new source for quality poppers once again.
Today, many fly fishermen will be reminded that popper fishing is alive and well, when the e-mail is sent. That was my intent when I designed the ad yesterday. I am certain we will sell more poppers than usual this week. That was my intent too.
Have a great day and thank you for being here with us.
Byron Begley
June 21, 2016
Respond to: byron@littleriveroutfitters.com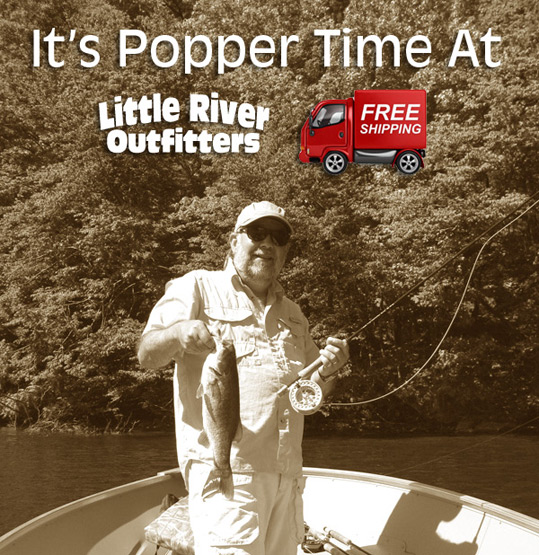 That's right! The bass, bluegill, and trout, are looking up. It is time to fly fish on your favorite lake, lowland river, pond or tailwater with poppers. We offer a large selection of poppers. And, we'll ship them to you without any charges for ground shipping or handling.
You can see our BoogleBug popper selection on the online store by CLICKING HERE. Or, pick out what you want and call us at 865-448-9459 to order. We'll pack them and mail them to you. We pay the ground shipping. Or, come by the shop and browse the complete selection of poppers and warmwater flies. We are open 7 days a week for your convenience.

Below is a small sampling of poppers we sell.
| | | |
| --- | --- | --- |
| | | BoogleBug BoogleBullet – This is one of the best looking sliders you have seen. Of course, you can't beat the quality, beauty and durability of BoogleBug poppers. We offer these in Solar Flare, Black Galaxy, Electric Damsel and Pearly White in sizes #6 and #8. |
| | | |
| --- | --- | --- |
| | | BoogleBug BooglePopper – This popper makes noise, pushes water and gets their attention. It is a killer bass popper. We offer these in the colors Yella Fella, Black Galaxy, Electric Damsel, Pearly White and Solar Flare. Sizes vary by color but they come in #4, #6 and #8. |
| | | |
| --- | --- | --- |
| | | BoogleBug Amnesia Bug – This popper is an excellent choice for panfish. The come in colors Black Galaxy, Electric Damsel, Pearly White, Solar Flare and Yella Fella in the size #10. |
| | | |
| --- | --- | --- |
| | | This is Byron's Knucklhead, our best selling warmwater fly. He came up with this pattern in 2011 and ties them for the shop. They are in a different category on our online store. You can see them by CLICKING HERE. They are available individually in Black, Yellow and Chartreuse, or you can buy a 6-Pack for $19.95. |
Lake Information and Tailwater Generation Schedules



Please enter your e-mail address in the box to the left to sign up for our e-newsletter. You will receive news about the shop, events, sale information, fishing info and more important information a fly angler would want to have.

You can opt out at any time. If you decide you don't want to receive our information just change your status or click at the bottom of an e-mail we send you in the "Remove" box.

We do not sell or give your e-mail address to anyone. And, we won't hound you to death with e-mails. You will receive no more than one per week unless unusual or critical fishing news might be of interest to you.