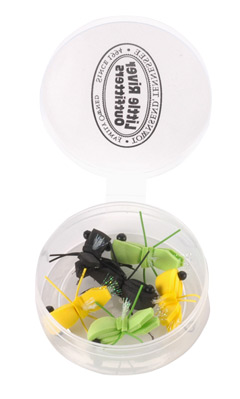 Back on the Market!
Byron's Knuckleheads



6-Pack For $19.95



Free Ground Shipping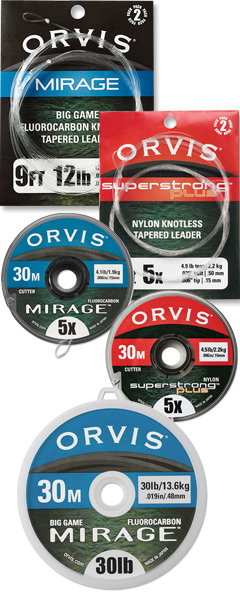 Orvis Leaders & Tippet
FREE GROUND SHIPPING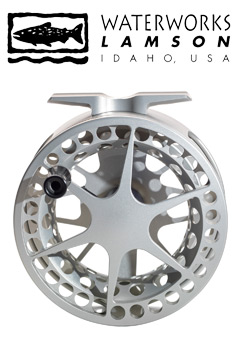 LiteSpeed Fly Reels
Starting at $339.95

FREE GROUND SHIPPING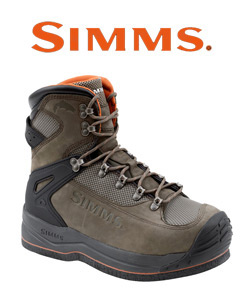 Wading Boots From
Chota, Simms & Korkers

FREE GROUND SHIPPING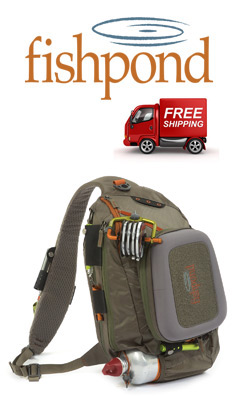 Fishpond
Sling Packs

Free Ground Shipping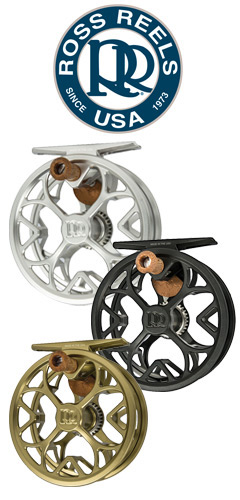 Ross Colorado LT
Trout Reels

Starting at $285

FREE GROUND SHIPPING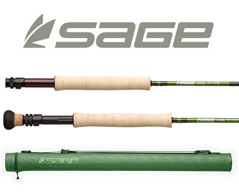 Sage Fly Rods
FREE GROUND SHIPPING





Copyright 2006-2016 Little River Outfitters, Inc.
Townsend, Tennessee - Fly Fishing in the Great Smoky Mountains, East Tennessee and Western North Carolina

If you don't see today's fishing report, please refresh your browser to empty your cache.
Welcome to the Fishing Report from Townsned, Tennessee in the Great Smoky Mountains. At 6:54 am, the temperature is 69.3 degrees.
Today's high temperature will be in the mid to high 80's. It will be hot through the end of the week. Low temperatures at night will be in the high 60's. We have a chance for scattered thunderstorms each day through Sunday.
I am taking today off, the first in 10 days. I slept late, no exercise is planned, and I'm not going to work, unless you consider writing the fishing report work. I don't. I always write this report when I take a day off at home. I may take off tomorrow too.
Little River is flowing at 84 cubic feet per second (cfs) or 1.55 feet on the flow gauge. Median flow for this date is 133 cfs. The water temperature is 68.9 degrees.
Stream flows are low, which is normal in late June. The low elevation streams are going to be warm. Fish the mid to high elevation creeks, where the water is cooler and fishing will be fine.
I would use dry flies, something that looks like a Yellow Sally Stonefly. That could be a yellow Parachute Adams, Elk Hair Caddis, Stimulator, Neversink Caddis or any Yellow Sally dry fly pattern. Yellow is always a good color to use in the Smoky Mountains during the Summer months.
Try a dropper off the dry. I would use a Green Weenie, but a Bead Head Pheasant tail may work just as well. If you are fishing the brook trout streams, try a Pink Weenie. A lot of knowledgeable anglers use pink.
Generation schedules on the tailwaters are unusual today. There are probably times you can wade fish. Check the TVA schedule yourself and decide if it will work with yours.
We should have some overcast days or partially overcast days this week through Sunday. I would go fishing on those days. If you plan to fish on a lake, certainly do so on a cloudy day, if possible. Go early and late. If you are out there on a sunny day this week, you are going to be HOT!
Some friends of ours were standing in their yard this week, minding their own business, and a bear fell out of a tree right next to them. Can you imagine that? Evidently, when they walked outside, they startled the bear and it quickly climbed the tree. They did not see that happen. I guess the bear did not have a "sure footing" and fell to the ground. The bear ran away and probably won't come back after that experience.
Berries and fruit are plentiful this Summer. That is great news if you are a bear living here. Paula and I walk by our neighbor's orchard 4 times each day. Those trees are loaded with apples and plums. Frost got the pear trees. When those apples ripen this Fall, we'll see bear down at the orchard every evening. That was the case last Fall. The animals would walk by our house and head to the orchard almost every day for a while. We saw a cub climb an apple tree one evening.
Hunters are telling me they see evidence of a good mast crop of acorns this year. Last year was not good at all. We have many species of oak trees around our house. Some are very large. I don't see evidence of a large mast crop, but I don't know what to look for. I don't see acorns.
Anglers are going to be fishing with poppers this weekend. We sent out a larger version of the ad below yesterday morning to thousands of people. Our online store lit up like a Christmas tree. We sent poppers and Knuckleheads to people as far away as Texas. I just checked. More orders came in last night and this morning. It is Popper Time at Little River Outfitters.
I checked yesterday. I have only 20 dozen Knuckleheads tied. I keep a log. Last year, at this point, I had 60 dozen in inventory. So, I'm planning to tie 1 dozen per day for a few weeks, to catch up. Then I can cut back to ½ dozen per day. Six per day works out to 2,190 Knuckleheads per year. That should be enough, or more than enough, to fulfill our orders this year. It takes me 6 minutes to tie one. I go slow, to make sure they are well tied, and there are two steps that require a special type of Super Glue to make them durable.
The glue I use is LocTite Ultragel Control. I buy it at Ace Hardware in Townsend. This is great stuff. The glue comes in an applicator bottle, that allows you to add just the right amount. It takes some time to set up. After applying the glue, I use a toothpick to spread it out and work it into the wraps. This glue is waterproof and does not turn white when wet.
I wipe off the applicator tip of the bottle and the toothpick after every use, with a paper towel. If you do that, you won't have any glue buildup problems.
I saw a lot of experienced and expert fly tyers using this glue at Fly Tyers Weekend in 2014. I started using it then. I highly recommend this glue for tying many fly patterns, if you want ease of use and durability. It can be purchased at most hardware stores, including Home Depot and Lowes. I opened my last bottle this week. I'll buy more before the weekend, unless people who read this report beat me to it.
Well, we've got some interesting weather coming up and hopefully just enough rain to fill the streams, without blowing them out.
Have a great day and thank you for being here with us.
Byron Begley
June 22, 2016
Respond to: byron@littleriveroutfitters.com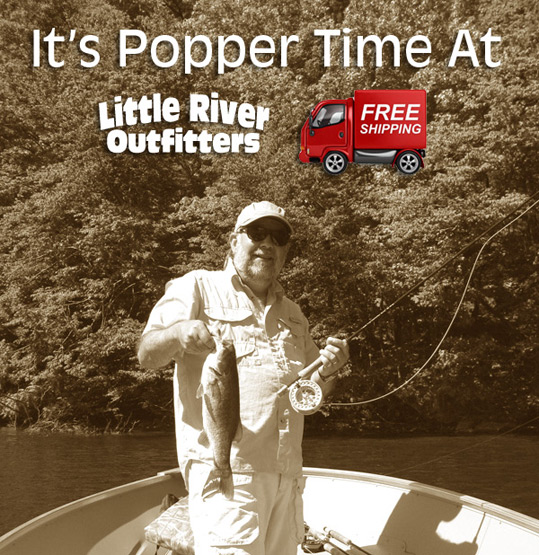 That's right! The bass, bluegill, and trout, are looking up. It is time to fly fish on your favorite lake, lowland river, pond or tailwater with poppers. We offer a large selection of poppers. And, we'll ship them to you without any charges for ground shipping or handling.
You can see our BoogleBug popper selection on the online store by CLICKING HERE. Or, pick out what you want and call us at 865-448-9459 to order. We'll pack them and mail them to you. We pay the ground shipping. Or, come by the shop and browse the complete selection of poppers and warmwater flies. We are open 7 days a week for your convenience.

Below is a small sampling of poppers we sell.
| | | |
| --- | --- | --- |
| | | BoogleBug BoogleBullet – This is one of the best looking sliders you have seen. Of course, you can't beat the quality, beauty and durability of BoogleBug poppers. We offer these in Solar Flare, Black Galaxy, Electric Damsel and Pearly White in sizes #6 and #8. |
| | | |
| --- | --- | --- |
| | | BoogleBug BooglePopper – This popper makes noise, pushes water and gets their attention. It is a killer bass popper. We offer these in the colors Yella Fella, Black Galaxy, Electric Damsel, Pearly White and Solar Flare. Sizes vary by color but they come in #4, #6 and #8. |
| | | |
| --- | --- | --- |
| | | BoogleBug Amnesia Bug – This popper is an excellent choice for panfish. The come in colors Black Galaxy, Electric Damsel, Pearly White, Solar Flare and Yella Fella in the size #10. |
| | | |
| --- | --- | --- |
| | | This is Byron's Knucklhead, our best selling warmwater fly. He came up with this pattern in 2011 and ties them for the shop. They are in a different category on our online store. You can see them by CLICKING HERE. They are available individually in Black, Yellow and Chartreuse, or you can buy a 6-Pack for $19.95. |
Lake Information and Tailwater Generation Schedules



Please enter your e-mail address in the box to the left to sign up for our e-newsletter. You will receive news about the shop, events, sale information, fishing info and more important information a fly angler would want to have.

You can opt out at any time. If you decide you don't want to receive our information just change your status or click at the bottom of an e-mail we send you in the "Remove" box.

We do not sell or give your e-mail address to anyone. And, we won't hound you to death with e-mails. You will receive no more than one per week unless unusual or critical fishing news might be of interest to you.