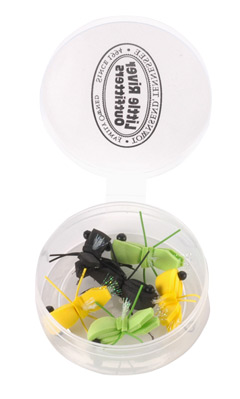 Back on the Market!
Byron's Knuckleheads



6-Pack For $19.95



Free Ground Shipping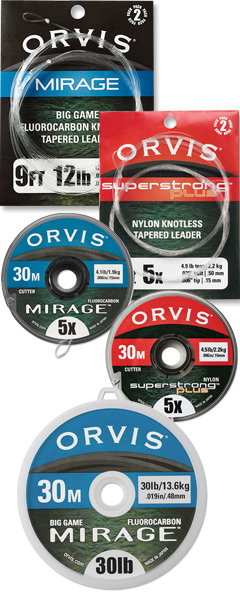 Orvis Leaders & Tippet
FREE GROUND SHIPPING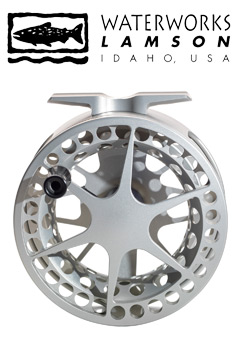 LiteSpeed Fly Reels
Starting at $339.95

FREE GROUND SHIPPING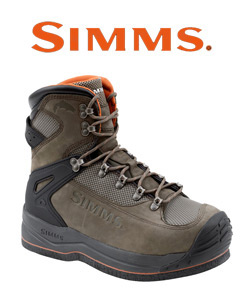 Wading Boots From
Chota, Simms & Korkers

FREE GROUND SHIPPING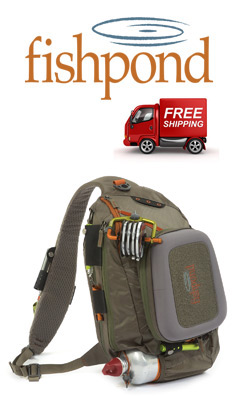 Fishpond
Sling Packs

Free Ground Shipping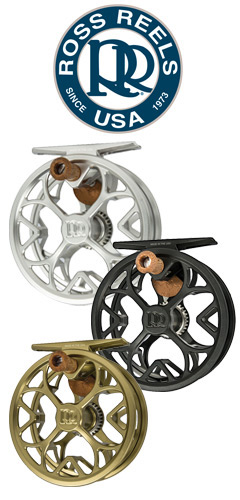 Ross Colorado LT
Trout Reels

Starting at $285

FREE GROUND SHIPPING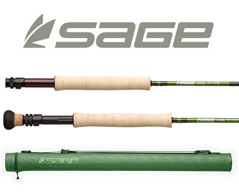 Sage Fly Rods
FREE GROUND SHIPPING





Copyright 2006-2016 Little River Outfitters, Inc.
Townsend, Tennessee - Fly Fishing in the Great Smoky Mountains, East Tennessee and Western North Carolina

If you don't see today's fishing report, please refresh your browser to empty your cache.
Welcome to the Fishing Report from Townsend, Tennessee in the Great Smoky Mountains. At 5:48 am, the temperature is 70.7 degrees.
We have a high chance for thunderstorms this afternoon and tonight. It may also rain tomorrow. Temperatures will be cooler, with highs in the mid 80's and lows in the mid to high 60's through Friday.
The National Weather Service is telling us to be aware of the potential for heavy rain and possible localized flooding this afternoon and tonight. High winds may accompany these storms.
Little River is flowing at 82 cubic feet per second (cfs) or 1.54 feet on the gauge. Median flow for this date is 123 cfs. The water temperature is 72.9 degrees this morning. This is the warmest morning reading I have reported all year.
If you fish in the Smoky Mountains today, go to the higher elevations where the water is cooler. You will probably be fishing smaller, shaded streams. Dry flies will work. I would use a Yellow Sally Stonefly pattern but others will produce for you. Trout in the high elevations will be looking for food, and likely eager to eat anything that is well presented.
Consider using a Green or Pink Weenie as a sub-surface fly. You may use one as a dropper or alone and weighted.
The water is low, so stealth is important. Dress to blend with the forest. Watch out for thunderstorms and quickly rising water this afternoon.
We should see water temperatures fall over the next few days. And, we may see higher water levels.
TVA will be generating at Norris and Cherokee Dams today. The schedule looks more wade angler friendly at Center Hill Dam. Check the TVA website yourself before going.
Fly fishing lakes and ponds has been best early and late. Poppers will provide action for bluegill, if the sun is off the water. The larger bass and bluegill will likely be found in deeper water during the day.
I love fishing for Summer bluegill using Dragons. I use the term "Dragons", to describe a Rubber Legged Dragon or the many variations of the fly. Below is a photo of the Carter's Rubber Legged Dragon. This fly is designed to get down deep where the bull bluegill spend much of their day during the Summer months.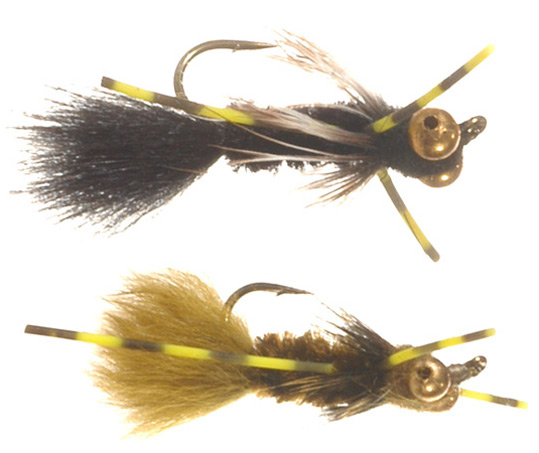 I tie these flies in a variety of colors and sizes. Large bluegill can often be found deep, in 5 to 10 feet of water, this time of year. I just cast these out in likely spots along deep banks, keep my line tight, and let the fly fall. Bluegill will often grab this fly as it drops. If they don't, wait until you know the fly is deep, then begin a very slow retrieve. The hook rides up, so you won't snag limbs too often.
Use heavy tippet, 6 to 8 pound. Some of these bluegill are really large. Also, you may catch other species, like smallmouth or largemouth bass. Carp will eat them. I've even caught catfish on these flies. We have caught trout on Dragons, in the Little Tennessee River impoundments. I would never fish on a lake, during the Summer, without a good selection of Dragons. My favorite color is "Burnt Orange". I have not seen that color for sale anywhere. You will probably have to tie your own. They are easy to tie.
This fly was developed by Carter Nelson, to use on the lakes at Calloway Gardens during the hot months.
I worked all weekend and spent 14 hours of that time, tying Knuckleheads.
Yesterday, a neighbor showed up at our house. He told us a bear and her cub were at our barn. The sow was playing with the cub in the grass. He watched them for 15 minutes. This was happening during the middle of the day, which is unusual. I was busy and didn't walk down there to see them.
It is shaded down there. The barn is close to the spring creek. It is a nice cool place to hang out. The water temperature in the creek is almost always in the high 50's. When bears walk by our house, they usually come from that direction.
Paula heard a bobcat screaming from that direction night before last.
Whip-poor-wills are mating. I heard them several times during the past week. I heard one last night. I don't think I have ever heard them this late. It used to happen in April. During the past few years, they have been mating in May. It is almost July. I don't know what is going on with those birds.
Well, I guess we'll see what the weather changes for us this week. I'm looking forward to cooler temperatures and higher water.
Have a great day and thank you for being here with us.
Byron Begley
June 27, 2016
Respond to: byron@littleriveroutfitters.com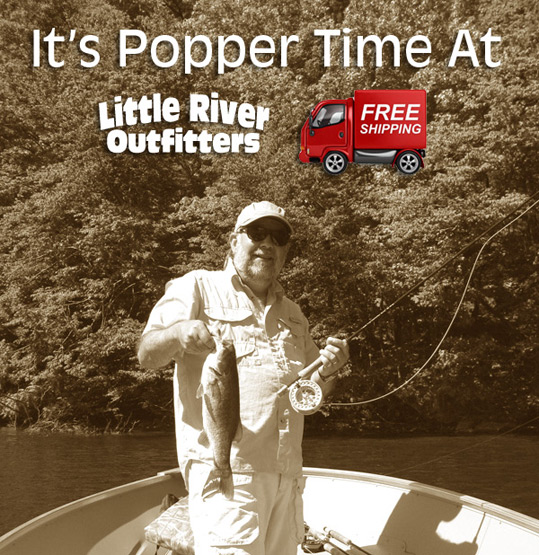 That's right! The bass, bluegill, and trout, are looking up. It is time to fly fish on your favorite lake, lowland river, pond or tailwater with poppers. We offer a large selection of poppers. And, we'll ship them to you without any charges for ground shipping or handling.
You can see our BoogleBug popper selection on the online store by CLICKING HERE. Or, pick out what you want and call us at 865-448-9459 to order. We'll pack them and mail them to you. We pay the ground shipping. Or, come by the shop and browse the complete selection of poppers and warmwater flies. We are open 7 days a week for your convenience.

Below is a small sampling of poppers we sell.
| | | |
| --- | --- | --- |
| | | BoogleBug BoogleBullet – This is one of the best looking sliders you have seen. Of course, you can't beat the quality, beauty and durability of BoogleBug poppers. We offer these in Solar Flare, Black Galaxy, Electric Damsel and Pearly White in sizes #6 and #8. |
| | | |
| --- | --- | --- |
| | | BoogleBug BooglePopper – This popper makes noise, pushes water and gets their attention. It is a killer bass popper. We offer these in the colors Yella Fella, Black Galaxy, Electric Damsel, Pearly White and Solar Flare. Sizes vary by color but they come in #4, #6 and #8. |
| | | |
| --- | --- | --- |
| | | BoogleBug Amnesia Bug – This popper is an excellent choice for panfish. The come in colors Black Galaxy, Electric Damsel, Pearly White, Solar Flare and Yella Fella in the size #10. |
| | | |
| --- | --- | --- |
| | | This is Byron's Knucklhead, our best selling warmwater fly. He came up with this pattern in 2011 and ties them for the shop. They are in a different category on our online store. You can see them by CLICKING HERE. They are available individually in Black, Yellow and Chartreuse, or you can buy a 6-Pack for $19.95. |
Lake Information and Tailwater Generation Schedules



Please enter your e-mail address in the box to the left to sign up for our e-newsletter. You will receive news about the shop, events, sale information, fishing info and more important information a fly angler would want to have.

You can opt out at any time. If you decide you don't want to receive our information just change your status or click at the bottom of an e-mail we send you in the "Remove" box.

We do not sell or give your e-mail address to anyone. And, we won't hound you to death with e-mails. You will receive no more than one per week unless unusual or critical fishing news might be of interest to you.